Location
Conference Room - Rabbit Skips
Rabbit Waste Management Ltd
37 Chartwell Road
Lancing
BN15 8TU
United Kingdom
Description
Register FREE as a guest – then come along on the day and enter our prize draw for a chance to win a fantastic VIP day out at Sussex County Cricket Club, as well as meeting fellow businesses on Lancing Business Park.
Tweet that you are coming and we will retweet you: @LancingBID #LBPintertrade
Share on Facebook @LancingBID #LBPintertrade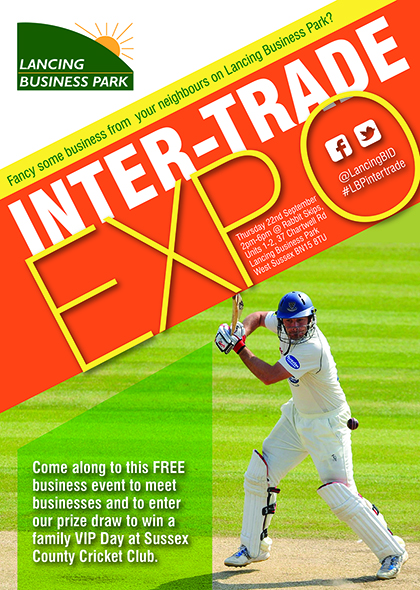 After listening to BID members in Lancing Business Park, we discovered that some businesses intertrade with many clients and suppliers in the park, however, other businesses don't, but would like to.
There are many advantages to working with organisations in Lancing Business Park either as a supplier or customer. Intertrade businesses have told us that they are able to order products in smaller quantities which is essential for lean manufacturing. They are also able to save on delivery costs and it has been much easier to build stronger relationships with local business.
If you've not taken a look at the Lancing Business Park directory of businesses in a while, we recommend that you do because we are pleased to be home to several UK leaders in their field and Royal Warrant holders.
If you are a BID member, we want to support your business. We have organised this free intertrading event so that you can meet and network to build relationships and do business with each other. Therefore, if you are available on Thursday 22nd September 2016, we will be pleased if you book a stand at this free event which takes place between 2pm and 6pm in the Conference Room at Rabbit Skips, 37 Chartwell Road, Lancing Business Park.
There are only 18 spaces available for exhibitors and with over 150 businesses in the Park, spaces are limited, therefore exhibitor spaces are strictly booked on a first come first served basis. If you are unlucky in securing a space as an exhibitor, don't worry, you can still come along and meet the businesses, free of charge, as a valued guest. If you are not a BID member and would like to attend, you can also book, free of charge, as a guest.
If you would like to exhibit:
We need your commitment to being available between 1pm-6.30pm to set up and dismantle your banner
You must bring a roll-up banner, no wider than 850mm. Please contact vicky@thebrandsurgery.co.uk if you would like a banner designed and printed for you.
Please bring business cards, leaflets and promotional material. Please contact vicky@thebrandsurgery.co.uk if you would like these designed and printed for you.
Please share this event - tweet about it @LancingBID #lbp-intertrade and we will retweet your messages. And like our page on Facebook @LancingBID.
There will be teas and coffees available throughout the day. There will be a variety of light refreshments, however, if you have any special dietary requirements, please let us know.
If you are unable to commit to the whole day but would like a presence, we have a board where you can put a small A4 sized poster to promote your business.
Please call Vicky Vaughan at The Brand Surgery on 07909 693172 if you have any queries about this event.
We look forward to hearing from you soon.