Description
As the world approaches the projected 9.8 billion population mark by 2050 and the pressure on natural resources raises, there is increasing recognition that land is and remains central to many facets of human life, including gender equality, social justice, rural development, fair and sustainable food systems, urban planning, peace-building, mitigation and adaptation to climate change and ecosystems management.
Considering this multi-layered view, research on land-related issues is often fragmented among various government and university departments, NGOs and other civil society institutions, and the different approaches and actions are rarely integrated in a more holistic and interdisciplinary strategy.
In order to tackle this extreme fragmentation, a committee of doctoral students from the School of Agriculture, Policy and Development (SAPD) is organizing the first Land Symposium at the University of Reading.
The Symposium is a unique opportunity to connect, discuss and showcase ongoing research on land-related topics in a multidisciplinary platform, which will bring together a high-level panel of experts from the School of Law, Department of Geography and Environmental Science, the School of Agriculture, Policy and Development, the University of Groningen, and the University of Coventry.
The Symposium will be a one-day event organized around three broad but intertwined thematic sessions, each comprising of keynote addresses, presentations and discussions.

Land and Justice – including human rights, law, justice, ethics and land policy.

Land and Development – including agricultural innovation, food economics and policy, political economy, and livelihoods.

Land and Environment – including land use, climate change, and environment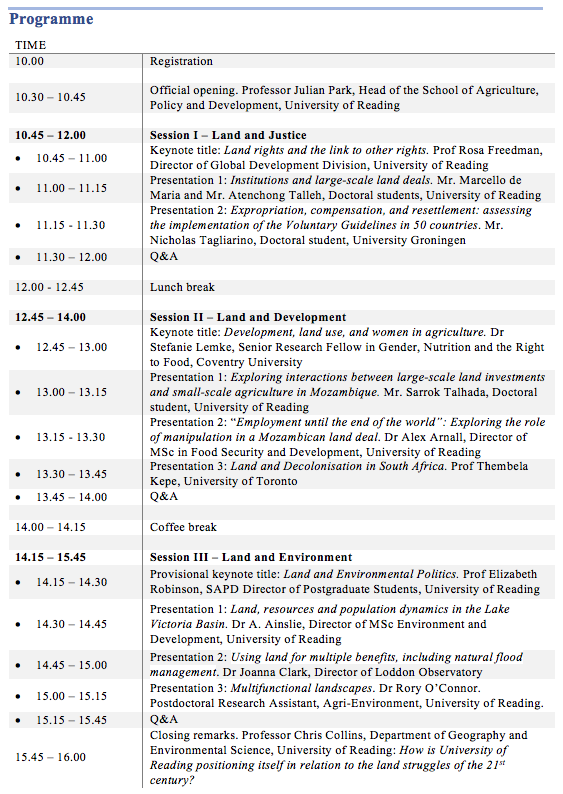 Additional Information
Participation is free, but booking is required due to limited space.
Coffee breaks and lunch will be provided during the event.

For more information, please contact us at landsymposium@reading.ac.uk