Description
ATTEND THE LANDING.JOBS FESTIVAL AND LAUNCH YOUR EUROPEAN TECH CAREER
---


What is it?
The Landing.jobs Festival is a career event where you can meet 60+ of Europe's booming tech companies with jobs on offer and launch your European tech career.
What's in it for me?
Two days to:
present yourself to 60+ of Europe's fastest-growing companies

know about the jobs they have on offer

land a top tech job in Europe

network with the tech industry & tech peers

attend company and international guest speaker presentations

get to know the market first-hand

have fun!
What will happen?
1. Speaker Sessions: international guest speakers will be invited by Landing.jobs to discuss various career-related topics
2. Peer Presentations: attending companies will share different aspects of what it's like to work with them
3. Fearless Fun: we will set sail on the Tejo River once more, but this year you can expect a lot of other fun and exciting activities only the fearless will dare to try out
Can I come?
Are you a tech professional wanting to meet 60+ of Europe's fastest-growing tech companies while enjoying the marvelous Lisbon sun? Then, yes. Let's make it happen.
We have a lot of seats to fill and we're accepting applications for every category on our platform, including:
Product Management

UX & UI Design

Web/Mobile Design

Digital Marketing (Growth Hacking, Performance Marketing, Social Media, Community Management,…)

Analytics/Business Intelligence

CTO & Lead Engineer

Front-end, Back-end & Full-stack Development

Mobile Development (iOS, Android,…)

Data Science, AI & Machine Learning

DevOps & SysAdmin

QA/Testing

Electronics & Telecommunications

Business Applications & Business Development

Maintenance & Support
How can I go?!
Easy!
1. Register here until May 31, 2016
2. We'll choose candidates according to their tech skills on Landing.jobs
3. We'll let you know until May 31, 2016 if you're one of the attendees


* We may ask some candidates in certain categories to carry out tests if needed.

** Candidates will receive confirmation or rejection notices between May 1st until May 31st.






See you in June!

Are you a company/partner/sponsor/press/other interested person? Contact us at festival@landing.jobs

--------------------------------------------------------------
> Companies already confirmed for the Landing.jobs Festival: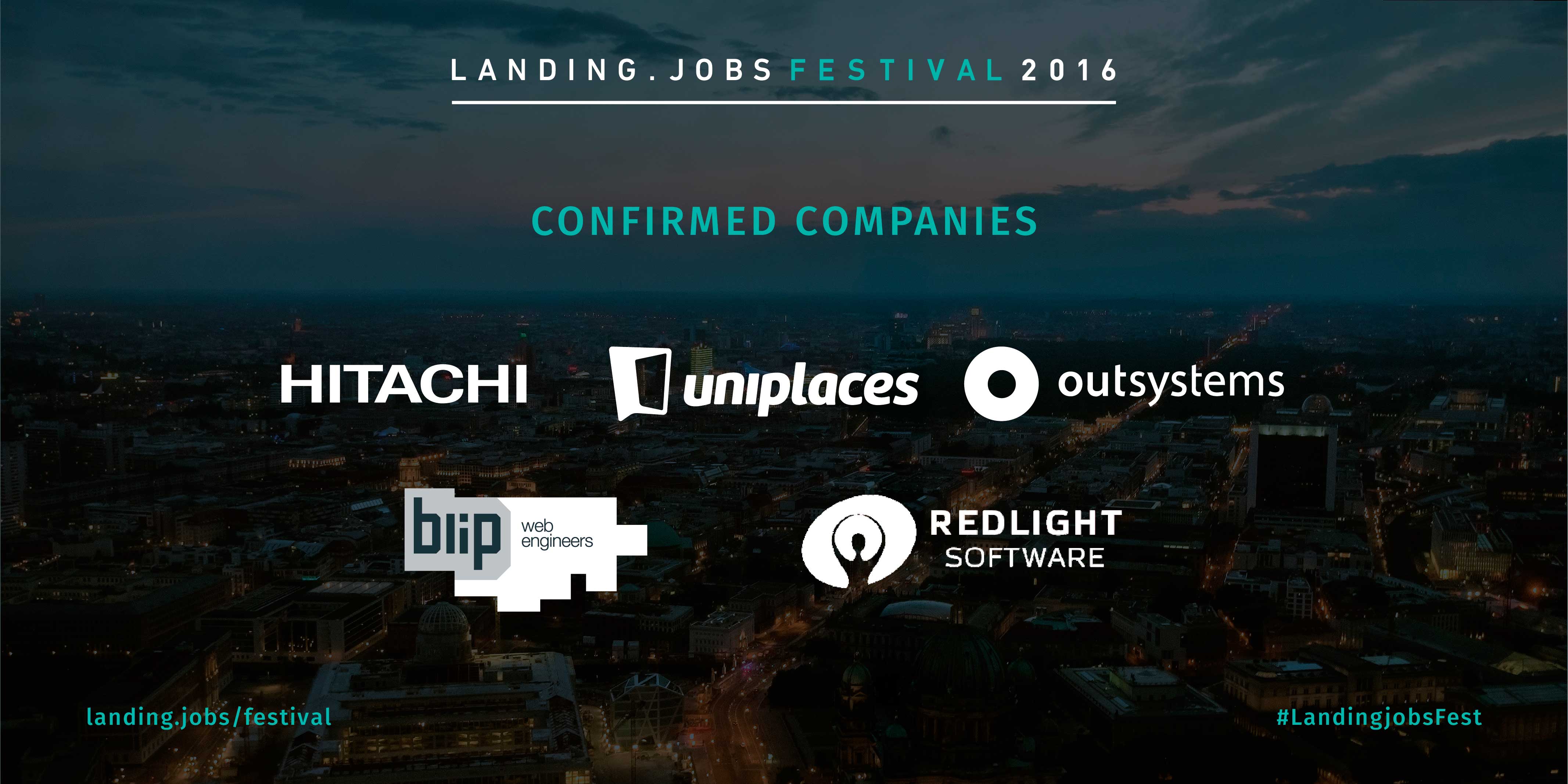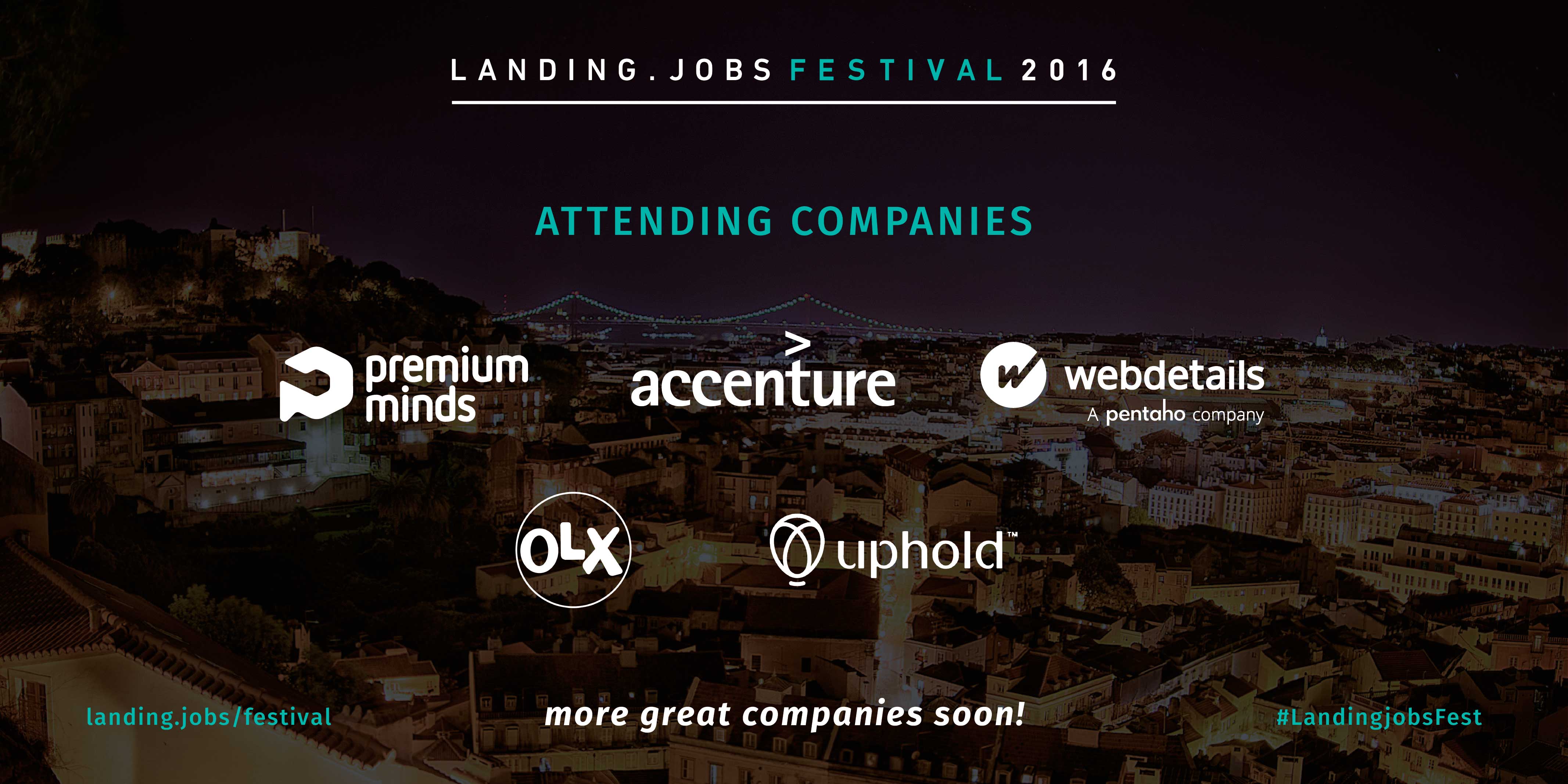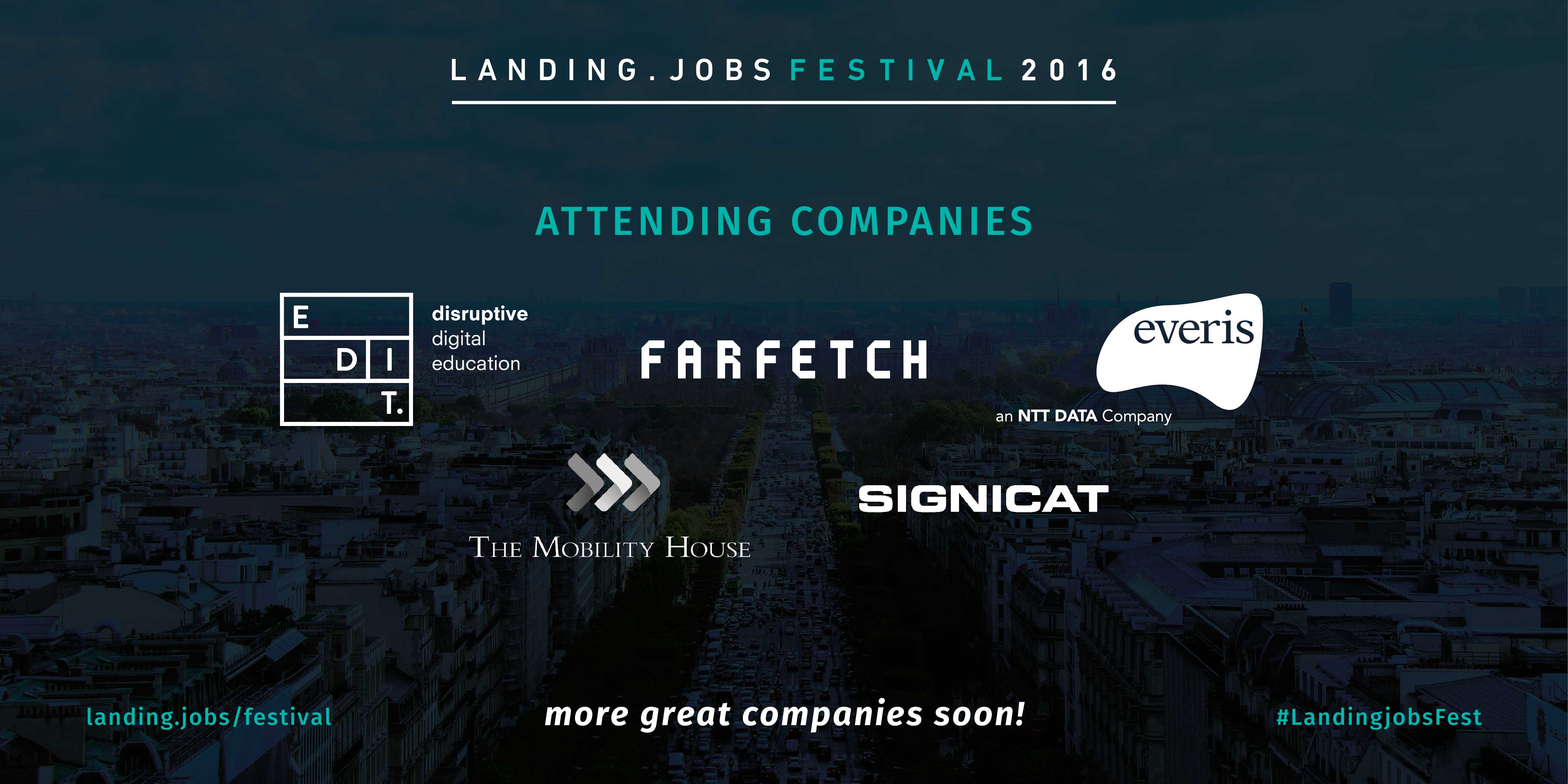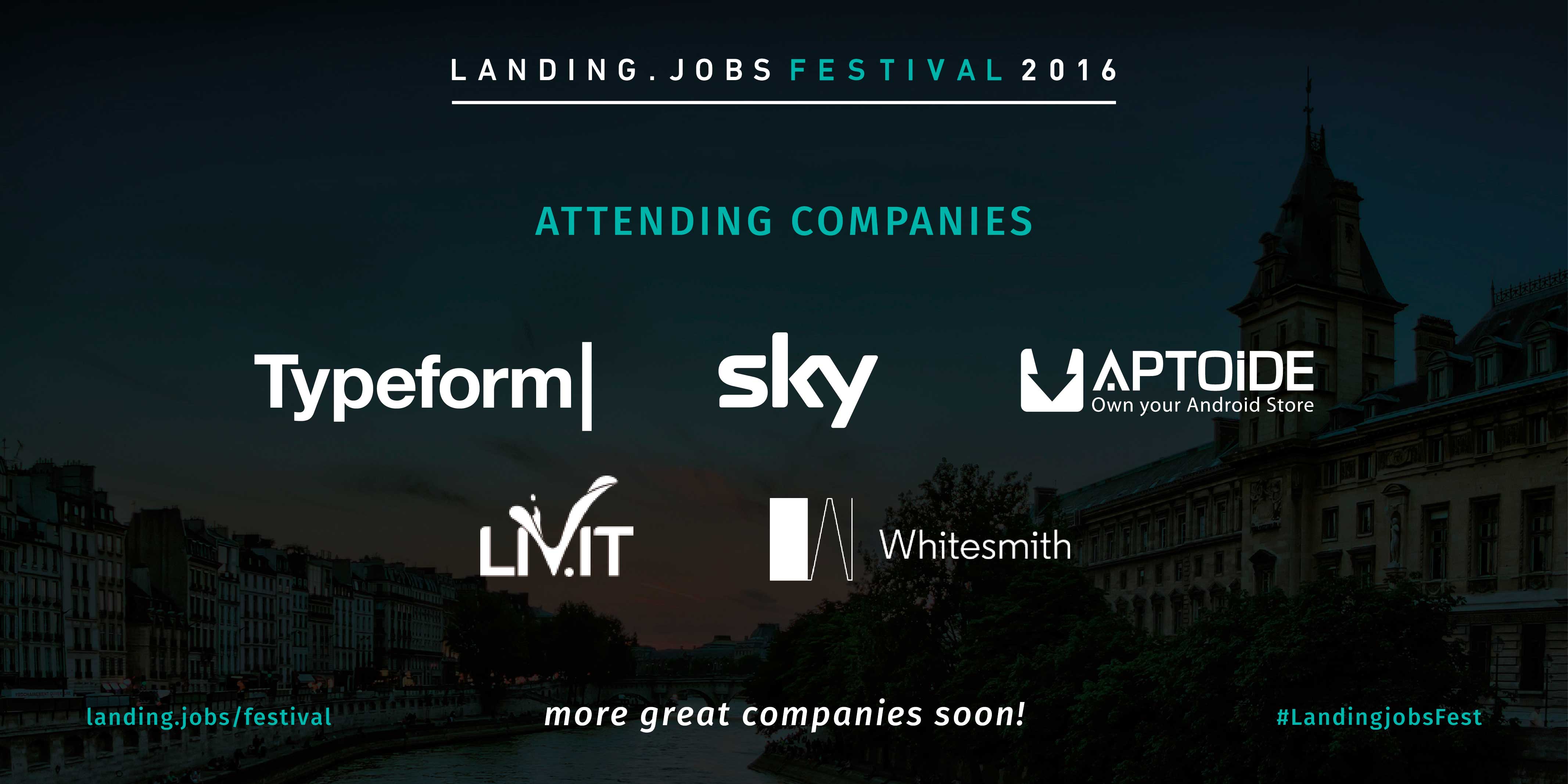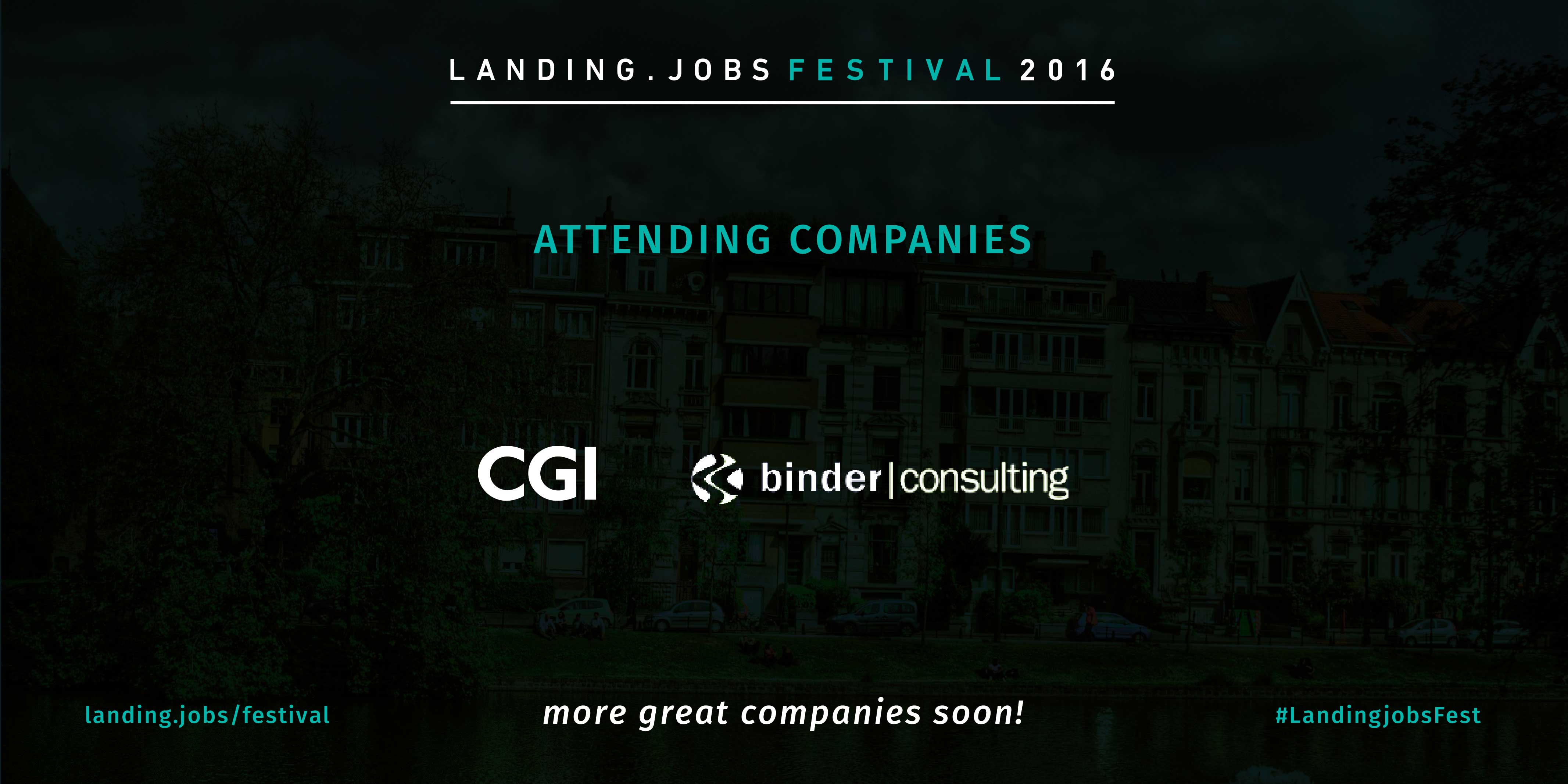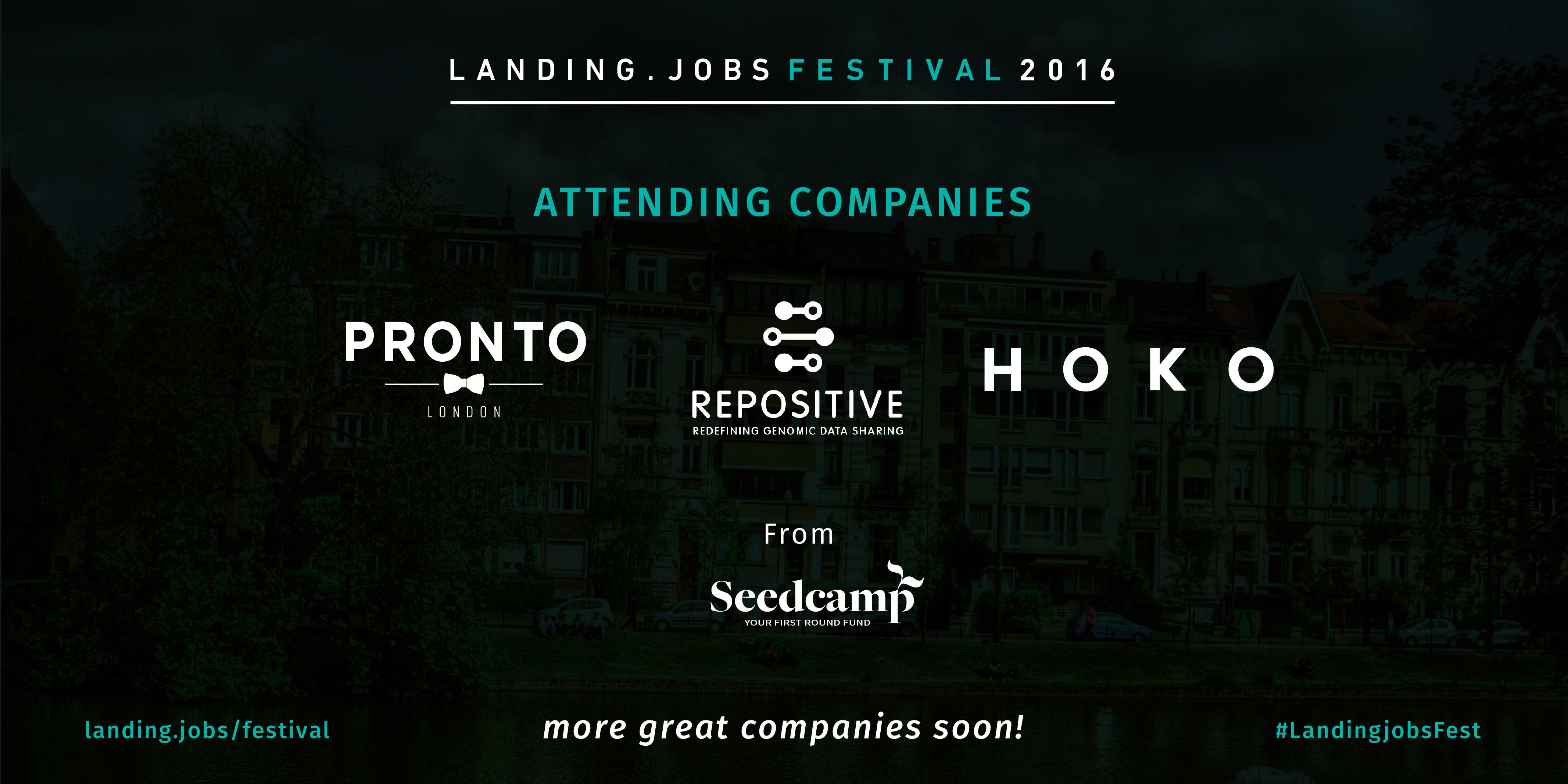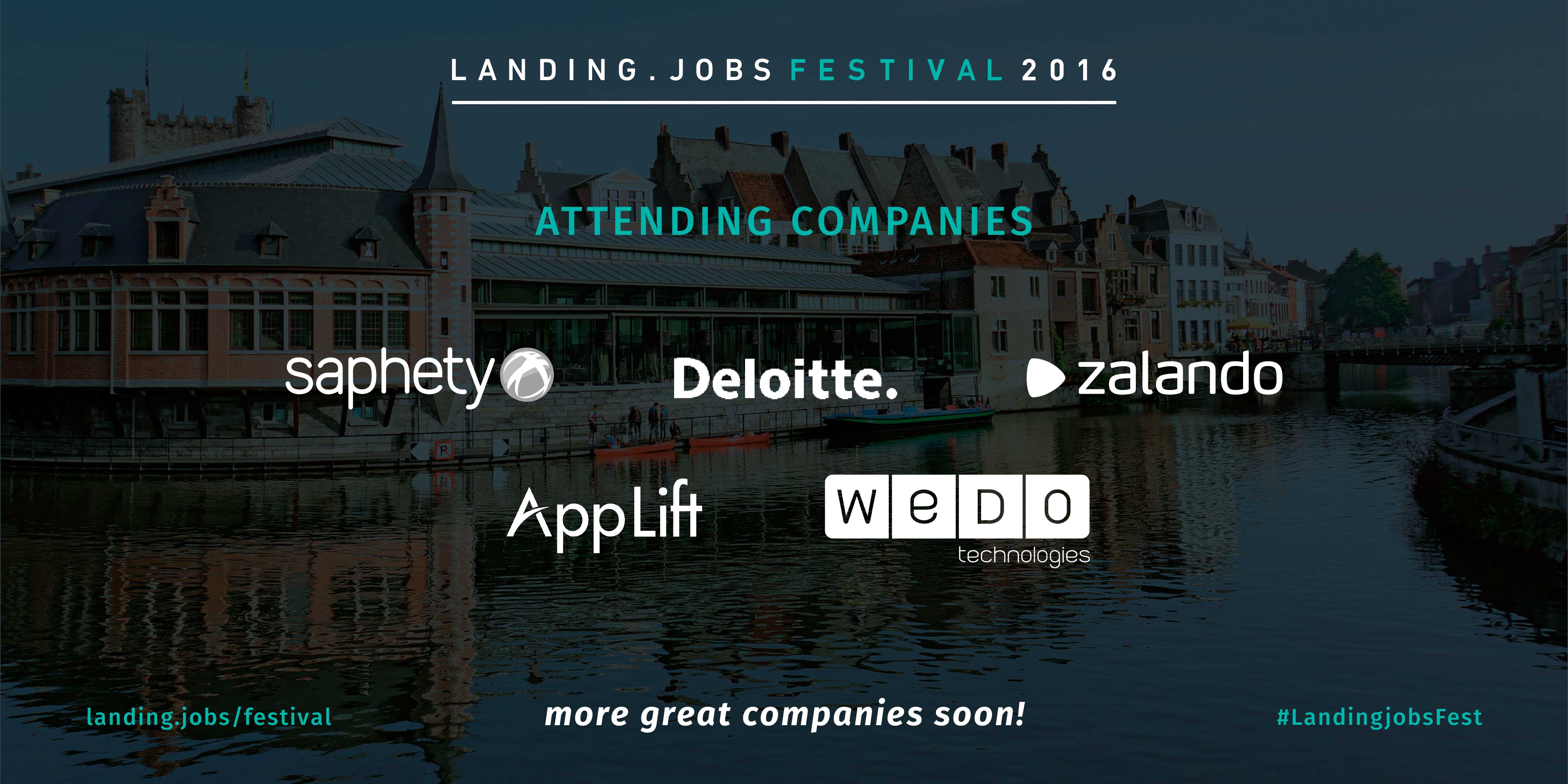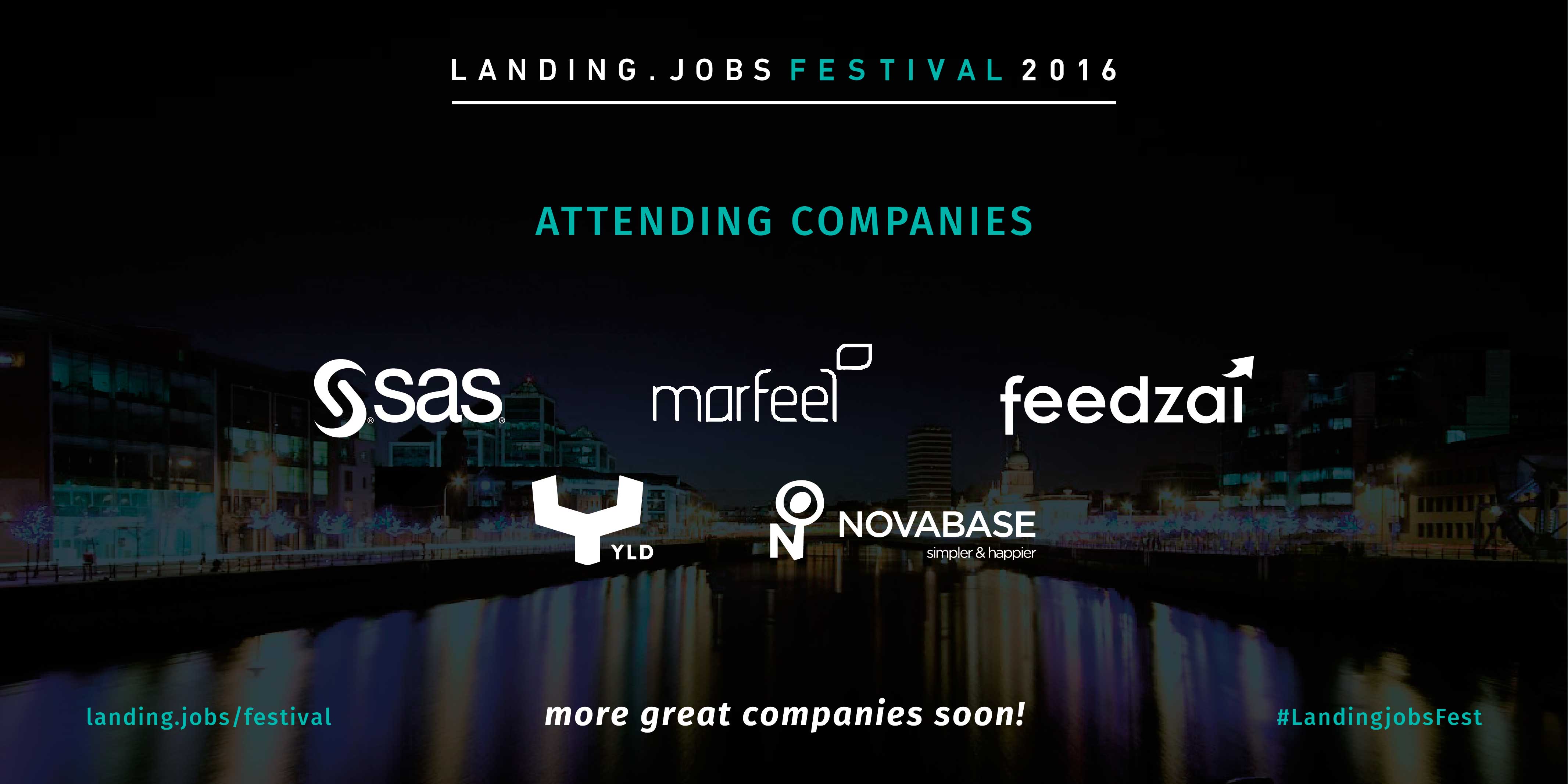 > TAP PORTUGAL is now the official Carrier of the Landing.jobs Festival!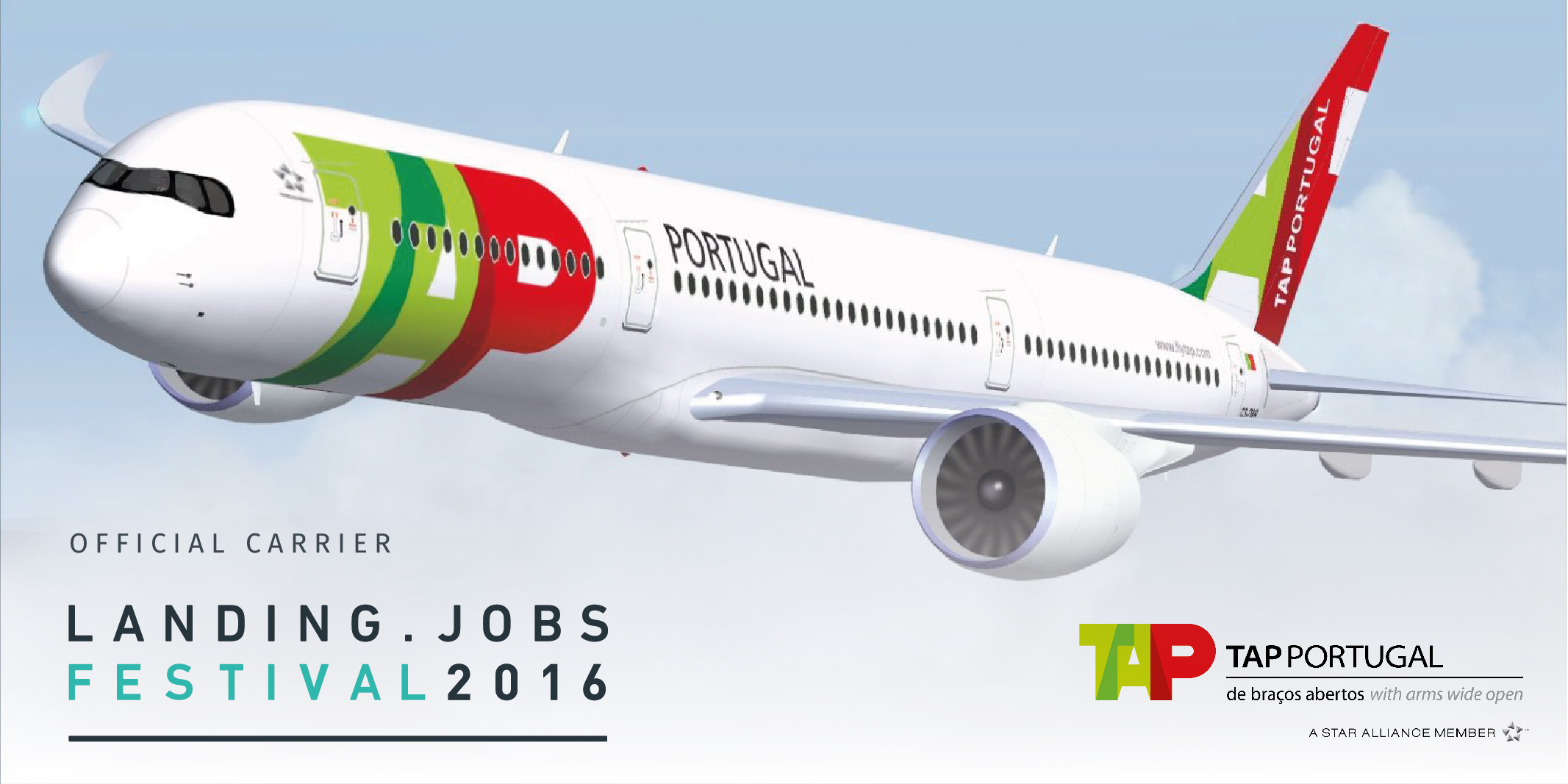 ---
WHAT HAPPENED IN 2015?
30 companies 600+ tech professionals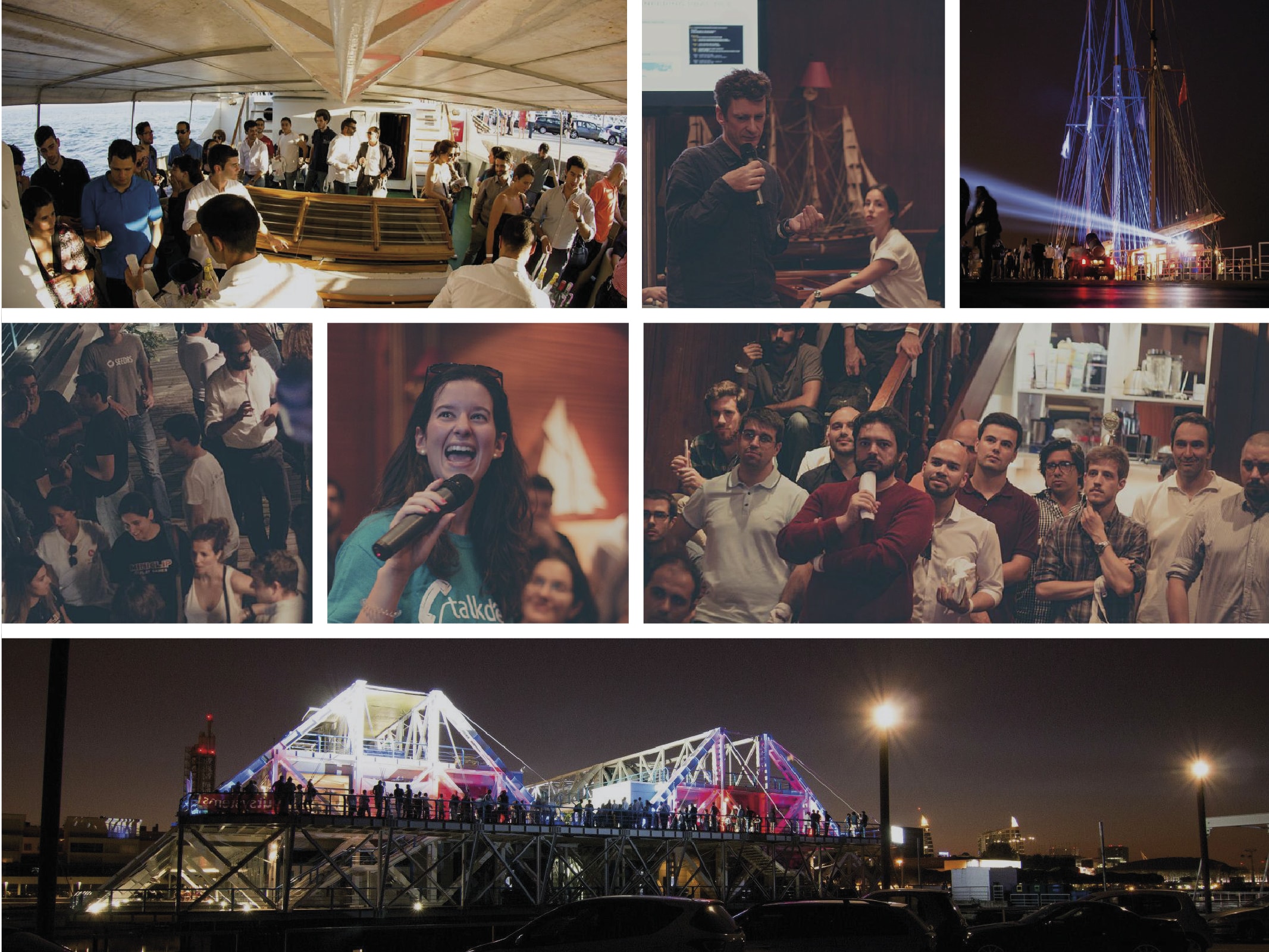 ---

While you're eagerly waiting for June to arrive,
check out which companies are hiring at Landing.jobs


---