Description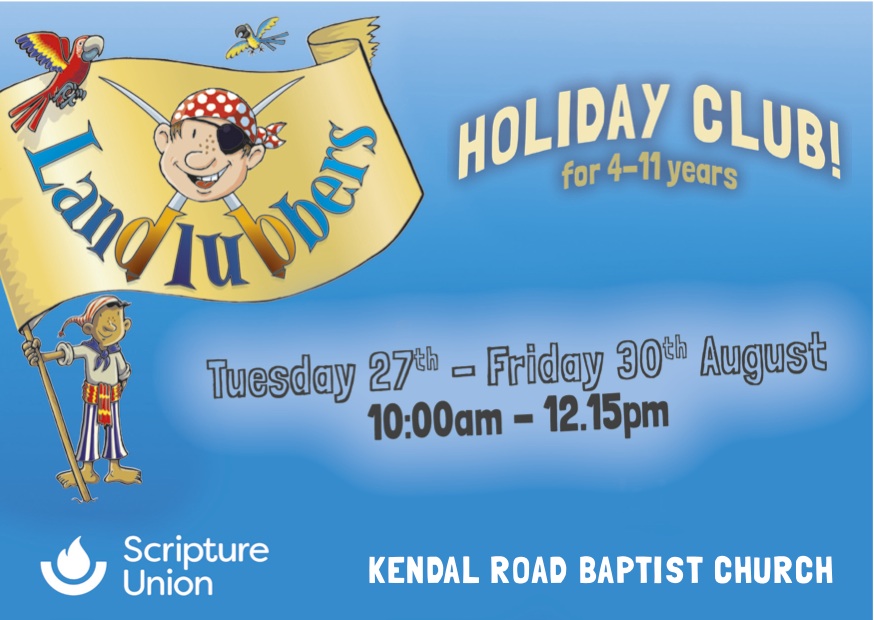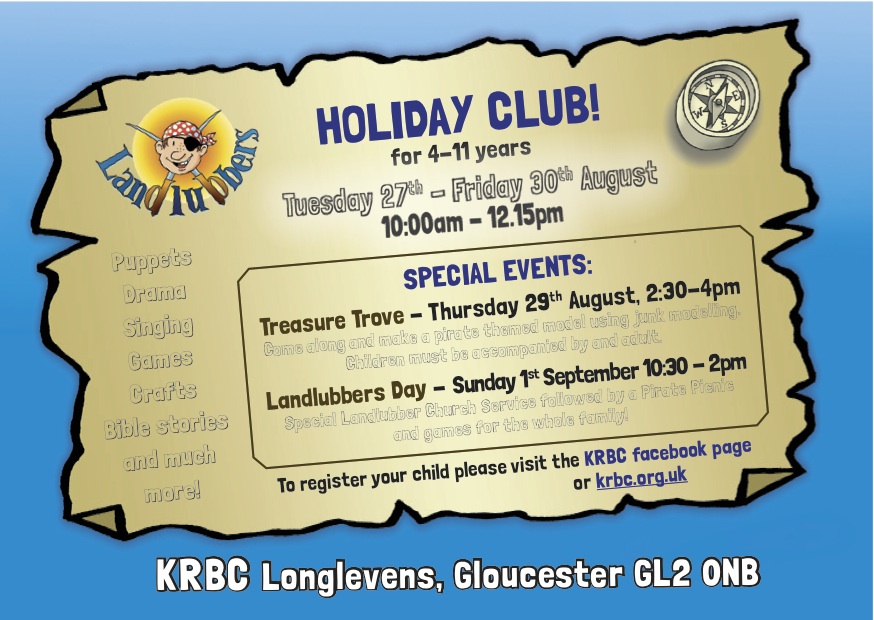 Following previous years' successes with "Under Construction" and "Mega Makers!", we are pleased to announce even more fun and games this year, over FOUR days!
Based on Scripture Union's Landlubbers holiday club material, children become Landlubbers, joining Captain Yo-ho and Captain Heave-ho to look for the treasure that a mysterious pirate castaway has left for them. All four days will be full of puppets, drama, singing, games, crafts, Bible stories and much more.
The holiday club runs from Tuesday, 27th to Friday, 30th August, 10:00am - 12:15pm, and is open to all children aged 4 to 11.
Please register each child separately, providing their full details on the Order Form.
Children don't need to be registered for Treasure Trove (the afternoon activity on Thursday, 29th August from 2:30pm - 4:00pm) just turn up - children must however be accompanied by an adult for the afternoon!!
Please also join us for Landlubber's Day on Sunday, 1st September for a special Landlubber Church Service, followed by a Pirate Picnic - the whole family is welcome!
FAQs
What are the age requirements to enter the event?
The holiday club is for 4-11 year olds - this includes children about to start Reception and those who have just finished Year 6.
Parents/guardians/carers are welcome to stay for coffee & cake.
Take-A-Break, which is a "stay and play" for under 4's, will be taking place on all four days (10:00am – 12:15pm).
How do I register my child?
Please register each child that will be attending Landlubbers Holiday Club, and provide all the information requested. Once completed you will receive a booking confirmation via e-mail - please note, there is no need to print out your ticket(s).
Alternatively, send an email to childrensworker@krbc.org.uk advising how many children you want to register, and we will send you the booking form as an attachment, which you can print out (one form is required for each child) and bring with you on Tuesday, 27th August.
Will I need to sign a consent form?
Yes! We will do all we can to protect the safety of your child and it will help us greatly to know that we have your support and consent for the activities we will be running. You will be asked to sign a Consent Form on the morning of registration - signing this consent form will agree to the following:
I authorise the leaders and first aiders at this activity to give permission for my child to receive any emergency dental, medical or surgical treatment, including anaesthetic, as considered necessary by the medical authorities present if attempts to contact me have failed.
I understand that while the staff in charge of the Holiday Club will take all reasonable care of the children, they cannot necessarily be held responsible for any loss, damage or injury suffered by my child during or as a result of an activity.
I give permission for images (photographs / videos) of my child engaged in Holiday Club activities to be used within church for display purposes, other printed church publications, the church website and on other church social media sites (e.g. Facebook). Care will be taken to ensure that names of individuals are not given out.
I am happy to be notified occasionally of other KRBC events that are taking place. I understand my information will not be passed onto anyone else.
What if my child needs to be collected by someone other than me?
Parents/guardians/carers will be required to provide a password on the morning of registration - this password will be needed when your child is picked up (regardless of who collects).
How can I contact the organiser with any questions?
Please contact Claire Smit on childrensworker@krbc.org.uk for information about the Holiday Club, or Wendy Dickie-Clark on wendydc@gmail.com for any queries/problems with registering your child/children online.