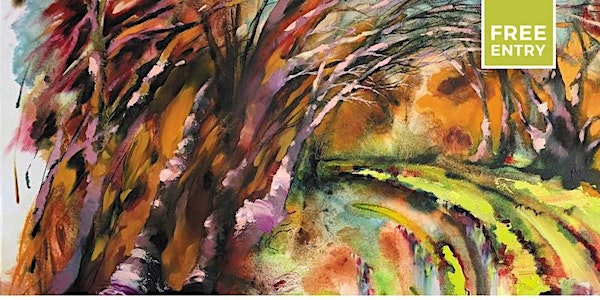 Landscape Inside Out Exhibition Liz Ackerley and Hugh Winterbottom
Event Information
Location
Gallery Oldham
35 Greaves Street
Oldham
OL1 1AL
United Kingdom
A guided visit to the exhibition by Liz Ackerley and Hugh Winterbottom about local landscapes, moors, and the valleys between.
About this event
Liz and Hugh both live and work in Mossley where we have artist studios at Woodend Mill. For the last 2 years (since the beginning of the pandemic) they have developed a body of artwork about our local landscapes:
Moors, woods and the valleys between. Their approaches in creating finished paintings are very different (Hugh is more of a representational oil painter and Liz's work is more abstract and about her feelings for the places and created using mixed media collage). They both work extensively on location, as a start point for their work. The exhibition not only shows their finished paintings but also the studies (140 drawings and over 25 sketchbooks) and processes that lead to the finished work.
A film that charts our development of the work both on location and in the studio is included in the exhibition.
We plan to go on to a local bar or cafe afterwards for an informal social
Date and time
Location
Gallery Oldham
35 Greaves Street
Oldham
OL1 1AL
United Kingdom