LandSCAPE: Interdisciplinary Perspectives

Friday, 6 September 2013 from 14:00 to 17:00 (BST)
Event Details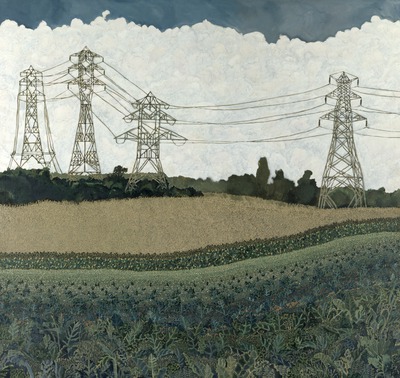 Join us for an afternoon dedicated to exploring the theme of landscape curated by UCL's Researchers in Museums.
From the aesthetics of the pastoral horizon, through mythical lands and blitzed urban spaces, to the gaping expanse between mental and physical healthcare, visitors will be taken to a variety of locations to learn about various research projects and discuss the many potential interpretations and ways of experiencing scape.
Work from the UCL Art Museum will be used to illustrate and support the talks and discussions.
Light refreshments will be served at the end of the afternoon.
Programme:
14:00 UCL Art Museum
Introduction

14:15 UCL Art Museum
Bridging the Gap: A Journey Across the Healthcare Landscape - Ruth Blackburn
Our current healthcare landscape both supports and challenges the provision of effective physical healthcare to people with severe mental illness such as schizophrenia and bipolar disorder. I will use maps, prints and sketches from the UCL Art Museum to help guide the exploration and discussion of novel research that aims to reduce the risk of heart disease and stroke in people with severe mental illness. Depictions of divided landmasses and bridges from a range of viewpoints will be used to illustrate the healthcare needs, existing service provision and differing perspectives of people involved in providing care that spans the gap between physical and mental health.
14:30 UCL Art Museum
The Great 19th Century Female Medical E(scape) – Lisa Plotkin
The trope of the nineteenth hysterical woman in the asylum is familiar; we see her as a misunderstood victim of a Victorian healthcare system, which sought to regulate and control women's lives. However, what if these 19th century women wanted to stay in hospitals, asylums, and sanatoria? What if they preferred life in a medical institution to their lives at home? Did the public health boom of the Victorian period actually allow women to do what they really wanted: escape from an unsatisfying home? Taking place in the UCL Art Museum, this session starts off with a reading from Wilkie Collins's Armadale and continues on using images from the collection as well as medical tools, to explore how the changing public health landscape of 19th century Britain provided women with the perfect medical escape.
14:45 UCL Art Museum
Imaginary Landscapes – Tzu-I Liao
Greek literature concerns more for human behaviours than natural scenery. When nature is described, it is used metaphorically to assign human values to it. In trying to communicate "how landscape work for people," authors point out what they considered communicable: memorable features of mythological, historical, and ideological landmarks. Knowledge of the landmarks and imagination are put to work together at the prompting of a visual or literary clue. My talk will take us through various ancient literary landscapes and meet the imaginary creatures/communities living within— such as Odysseus' fantastic journey back home, Herodotus' intellectual investigation in foreign lands, and Xenophon's experiences of getting lost and finding things near his own neighbourhood. Between narratives of inclusion and exclusion of landscapes, I wish to explore the enactment of imagination in ancient literature and thus the construction of a landscape for the human community. Visual depictions of imaginary landscapes and creatures from Greek art and UCL Art will be used for supplement.
15:05 Rock Room
BLAST: postwar landscapes in Britain and beyond – Kevin Guyan
Between the rubble of 1945 and man's landing on the moon in 1969 the possibilities of landscape went intergalactic!
 Advances in science and technology encouraged people to look beyond our own planet into outer space, where a universe of new landscapes became a human possibility.
 Beamed into the heart of domestic spaces through radio and television and bolstered by consumerism associated with an increasingly affluent society, the horizons of landscape reached new frontiers in the aftermath of the Second World War.
 This multi-sensory experience will offer an insight into new landscapes emerging in the postwar age, using examples from Eduardo Paolozzi's 'Bunk Series' as well as sound and video from the period.
15:20 Japanese Garden
Seen and Unseen: Re-Reading Meinig's The Beholding Eye – Felicity Winkley
My 15 minute session will consist of a guided reading of D. W. Meinig's paper 'The Beholding Eye: Ten Versions of the Same Scene' (1979). In the paper, Meinig sets forth ten potential reactions encountered when a hypothetical group of individuals are asked to assess the same view, and these will be used to structure the discussion with inserts and images gathered from my own fieldwork into metal detectorists' attitudes to landscape:
1. landscape as Nature
2. landscape as Habitat
3. landscape as Artefact

4. landscape as System

5. landscape as Problem
6. landscape as Wealth
7. landscape as Ideology

8. landscape as History
9. landscape as Place
10. landscape as Aesthetic
It is hoped that Meinig's attempt to divide the issue into these ten distinct parts - and the occasionally controversial way these are delivered - will provoke discussion amongst the audience about whether landscape can indeed be approached so simplistically.
15:40 Grant Museum of Zoology
Tangled Banks, Organic Harmonies, and The Irrepressible New: A Foray into The Literary Landscapes of Thomas Hardy and Charles Darwin – Niall Sreenan
"Landscape" is a term absorbed into English through the Dutch landschap in the 16th Century, denoting firstly terrestrial cultivation and subsequently a specifically artistic concept in painting. This reminds us of the extent to which the notion of landscape is a culturally constructed idea – a geo-aesthetic frame into which ideas of territory, nature, and art are inscribed. I wish to explore some of the ways in which this idea is inscribed via literary writing in the Victorian period in Britain and its role in anticipating and precipitating modern visions of disunified or fragmentary space.
Inspired by the biophilosophy of Jakob Von Uexkull, who conceptualizes organic life as a polyphonic musical assemblage of harmony and disharmony, this presentation will take the form of a guided reading through the literary and scientific landscapes of Thomas Hardy and Charles Darwin, accompanied by musical tributes to Hardy's landscape by Gustav Holst and William Russo.
In journeying through the written and musical landscapes of Hardy and Darwin, I wish to explore ways in which notions of landscape emerge and are recalibrated in 19th Century novel-writing and scientific literature.
16:05 Jeremy Bentham Auto-Icon
Panic Behind the Mask: The Human, Emotional, and Psychological Landscape of London during Spanish Influenza  – Sarah Savage

As epidemics spread, disease transforms the human, emotional, and psychological landscapes of communities. In front of the Jeremy Bentham auto-icon, this talk will explore how the 1918-19 Spanish Influenza pandemic and 1917-30 Encephalitis Lethargica epidemic affected lives in post-WWI London and incited fear among residents. With the use of abstract works from the Slade within the UCL Art collection, maps showing the physical landscape of WWI London, and medical depictions of both diseases, I will demonstrate interpretations of the emotional landscape associated with illness and how the outbreaks spread throughout London. Throughout the talk I will use the listed materials to enhance the audiences' visual understandings of disease, while providing the opportunity for visitors to imagine the landscape of London during an epidemic.
16:25 UCL Art Museum
Closing discussion, thoughts and light refreshments.
When & Where

UCL Art Museum
Gower Street
London
United Kingdom


Friday, 6 September 2013 from 14:00 to 17:00 (BST)
Add to my calendar
Organiser
More than 10,000 prints, drawings, sculptures, paintings, and media works dating from the 1490s to the present day. Public opening times: Monday to Friday, 1pm-5pm during UCL term time.
UCL Art Museum is situated in a traditional Print Room at the heart of UCL, its collections publicly accessible through temporary exhibitions and displays across the university campus. Under UCL's dome in the library is The Flaxman Gallery, the pinnacle of a vast collection of art works by John Flaxman (1755-1826), showcasing the artist's plaster models in a unique architectural setting.