Event Information
Refund Policy
Contact the organiser to request a refund.
Eventbrite's fee is nonrefundable.
About this Event
The Beauty of the Outdoors is a series of 4 talks all focussing on how the outdoors has inspired different artists in different ways. Lydia Bauman, an Art Historian and artist herself, will look at the History, th Nude in the Outdoors, Monet and Matisse, and finally her own experience when she travelled to New Mexico in the footsteps of Georgia O'Keeffe creating her own artworks in response to the landscape.
This series will give a unique inside in how nature can inspire artists and how it is used in their creative processes. No one could do this better than Lydia who has both an understanding of creating works of art and the knowledge of the history and artists who came before her.
Friday 31/1/20: A short History of Landscape Painting
This lecture aims to inspire you to learn more about ways of decoding landscape paintings and get a better understanding of technique, colour, space, light and shade, composition and symbolism.
7/2: The Nude and the Outdoors
We do not associate the nude with landscapes, however have you noticed how often these appear together? This weeks lecture is aimed at addressing the recurring presence of female and male nudes in outdoor settings, why they are there and what they add.
14/2: Painting in the modern garden: Monet to Matisse
Monet, perhaps the most important painter of gardens in the history of art, once said that he owed his painting " to flowers" . But there were so many other artists who not only created their own gardens, but made them into the subject of their work - among them, Pissarro, Liebermann, Sargent, Sorolla, Tissot, Kandinsky, Klee, Van Gogh, Klimt and Matisse.
The modern garden, changed by c19th innovations such as hybridisation, the use of glasshouses and foreign exploration, was part and parcel of a period of great social change and the changing face of modern cities to which artists responded from the 1860s onwards.
We will explore the ways in which the theme of the garden inspired so much of the most beautiful and innovative art of late 19th and early 20th century. The talk will trace not only the appearance of the garden as a modern phenomenon but the development of new art movements which adopted it as a subject
21/2: Looking for Georgia: Lydia's travels New Mexico in the footsteps of Georgia O'Keeffe
Legendary American painter Georgia O'Keeffe ( 1887-1986 ) lived in and painted the New Mexico desert over 5 decades, calling it "my backyard". In September 2017Lydia travelled in her footsteps to find the iconic landscape motifs O'Keeffe made her own. The art historian in Lydia wanted to deepen her understanding of Georgia's work. The artist in Lydia needed to challenge her own landscape painting practice.
This last lecture is an account of her journey, her adventures, her insights and her artistic challenge.
Fridays 11.00-12.00
Whittaker Suite, Old Town Hall, Whittaker Avenue, Richmond TW9 1TP
delivered by Lydia Bauman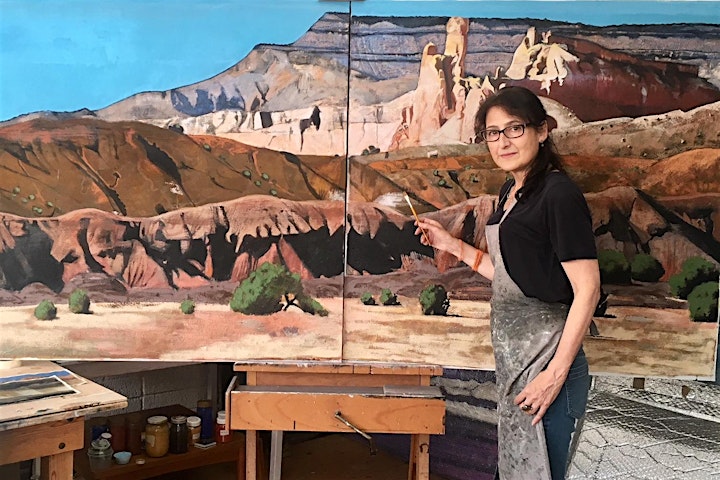 Date and Time
Location
Refund Policy
Contact the organiser to request a refund.
Eventbrite's fee is nonrefundable.