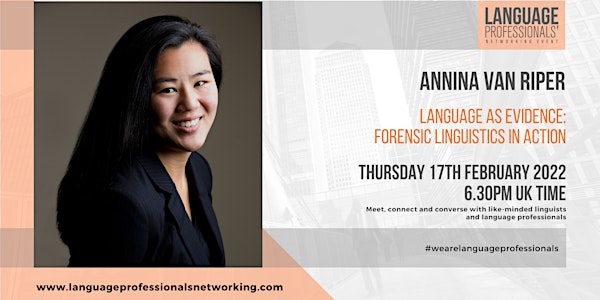 Language Professionals' Networking Event - February 2022
Meet, connect and converse with like-minded linguists and language professionals.
About this event
Meet, connect and converse with like-minded linguists and language professionals.
Language Professionals' Networking Event takes place once a month. The purpose of these regular meetings is to provide a platform where language teachers, coaches, trainers, tutors, translators, interpreters, voice-over actors, voice coaches, language and speech therapists, language and translation consultants, editors, proofreaders, copywriters, researchers, transcreators, forensic linguists - you name it, can meet, learn from each other, be inspired by talks and interviews with some brilliant minds from the linguist world, ask for support from like-minded professionals, and learn of new opportunities.
In the times we are in, community spirit is more important than ever. Join us online for a thought-provoking talk followed by networking and great conversations. We'll also have the opportunity to discuss our challenges in a private, supportive environment.
Date: Thursday 17th February 2022, 6.30pm-8pm – London, UK time
Location: Zoom
Programme and agenda:
(All times displayed are UK London times.)
➡️ 6.30pm: The virtual doors open. Grab a drink and join us.
➡️ 6.35pm: Welcome by the host
➡️ 6.40pm: Language as Evidence: forensic linguistics in action. A talk and presentation by Annina Van Riper
➡️ 7.10 – 7.30.pm: Q&A with Annina
➡️ 7.30 – 8pm: 30-second intro pitch round. Structured networking, exchange of contact details, drinks, great conversations
Language is one of the most powerful tools that humans have; the role of a forensic linguist is to analyze how people use this tool at the interface of language and law. Join Annina Van Riper on Thursday, 17 February 2022 as they discuss how linguistics use core linguistic tools (e.g. phonetics, syntax, semantics etc.) to examine language in forensic contexts.
About the Speaker:
Annina Van Riper is a current student pursuing a Master of Arts in Forensic Linguistics. They are passionate about studying the way language is used in everyday life as well as legal contexts. In the case of the latter, Annina has applied their forensic linguistic skillset by performing an authorship analysis for a missing person case. In addition, their recent research was focused on examining authorial stance in threatening communications. They one day hope to open their own consulting firm that specializes in forensic linguistics.
Language can be soft and sacred just as sure as it can be explosive and incendiary; it is an everyday tool that is used to communicate information, share feelings, and create opportunities. Equally, language has been leveraged to intentionally marginalize communities, legitimize injustice, and stoke division. It is for this reason that I am drawn to linguistics: language is faithfully fluid and linguistics offers the key to studying its elements.
Annina Van Riper
More about the 30-second intro pitches:
Everyone who'd like to participate will have the chance to introduce themselves in 30 seconds flat.
Why 30 seconds? Isn't it too short? - No!
It's the optimum length to grab people's attention.
It's powerful and respects everyone's time.
It's a way to share your expertise and credentials quickly and effectively with people who don't know you.
When people approach you after the pitch, you'll have the chance to explain more to those who would like to find out more about you.
What's the best format for a 30-second intro pitch?
There are multiple ways to tackle an elevator pitch. There isn't one single recipe, so experiment and see what works best for you. Kick off with an intro of what you do, share some skills, mention recent successes, ask questions -it's up to you.
You can do this in 4 powerful sentences, less than 30 seconds. Those who'd like to find out more about you will certainly want to connect with you afterwards and that's where you'll have the chance to share more about yourself.
As this will be an online networking event, you'll have the opportunity to exchange contact details and have private conversations with participants.
Date: Thursday 17th February 2022, 6.30-8pm UK time
Location: Zoom
Come along, be part of this initiative, and enjoy an evening with like-minded language professionals.
Registration is required.
Tickets are offered on a Pay What You Can basis to give you the freedom to choose. Pay What You Can Tickets are donations that enable us to support the pioneering research work of Moorfields Eye Charity, making a difference for patients at Moorfields Eye Hospital and for people with sight problems around the world. Every little helps.