Description
Join us for the LAPG Annual Dinner at the Courtyard Restaurant, Aston University on Thursday 3rd October 2019. The Dinner is open to all, including those who cannot make the conference on 4th October 2019.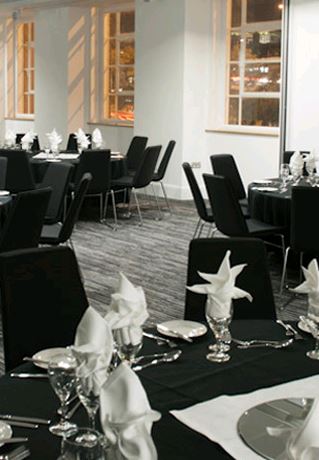 This three-course meal with wine and coffee costs £38.00 plus VAT. The price includes a drinks reception from 6.30pm and wine, beer and mineral water for each table.
If you want to book a table please use the 'Group Booking' ticket option which offers a small discount per head.
This is a fantastic occasion to meet colleagues and to network. There will also be a raffle to raise funds for LAPG.
LAPG's Annual General Meeting will take place prior to the drinks reception, from 5.30pm, at the same venue.
There will be drinks at 6.30pm, with dinner commencing at 7.15pm.
Dress code: lounge suits or equivalent.
If you would also like to attend the LAPG Annual Conference on Friday the 4th of October please book here or contact us for further details: office@lapg.co.uk
Menu
(Choose one starter, one main and one dessert)
STARTER
Plum tomato soup, pumpkin seed pesto (vegan)
Smoked haddock & leek tart, mustard-grain dressed leaves
Heritage tomatoes, mozzarella, black olive oil, & micro basil (v)
Cropwell Bishop stilton, gem, walnut & mustard dressing, red wine poached pear (v)
Ham Hock Bon Bons, piccalilli gel, watercress salad

MAIN
Pan roasted 'red tractor' chicken breast, white truffle dressing, thyme jus*
'12' hour braised Derbyshire blade of beef, roasted shallots, red wine jus*
Pan seared sea bass, crispy samphire, lemon & herb cream*
Steamed quinoa, roasted sweet potato, kale, pickled beets, carrot top pesto dressing (vegan)
Herb gnocchi, wild mushrooms, roasted walnuts, spinach & butternut squash puree(vegan)
*All served with seasonal vegetable & potatoes

DESSERT
Cherry & amaretti panacotta, biscotti crisp (v)
Chocolate Brownie, vanilla ice cream (vegan)
Sticky toffee pudding clotted cream & praline crumb
Vanilla bean cheesecake, red berry compote
Mango delice, mango gel, mango sorbet
Includes coffee and mints
*If you have any specific dietary requirements please contact office@lapg.co.uk to discuss them further.