Large-Scale Online Learning and Decision Making Workshop 2014

Wednesday, 10 September 2014 at 09:00

-

Friday, 12 September 2014 at 16:00 (BST)
Event Details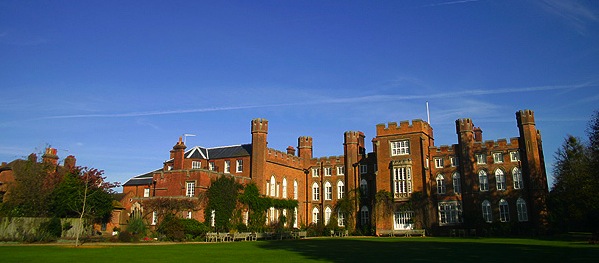 We are pleased to invite you to this year's Large-Scale Online Learning and Decision Making (LSOLDM2014) workshop that will take place at the historic Cumberland Lodge, Windsor, UK from Wednesday 10th to Friday 12th September 2014.
This year's workshop will seek to build upon the success of previous events and will bring leading researchers from academia and industry together to share their experiences of implementing large scale learning tasks. The workshop aims to provide a friendly and relaxed environment that enables researchers to share their work with a wider audience, to engage in informal discussions and to learn about the latest developments happening within this exciting field of research.
The CompLACS (Composing Learning for Artificial Cognitive Systems) project plays an important role in this year's theme and we will pay particular attention to topics such as reinforcement learning, scalability, deep learning, natural language processing, stochastic optimisation and bandits. A selection of example applications include, but are not limited to, robot-control, banner advertisement selection, news story selection, targeted email, and recommender systems.
Keynote Speakers
We are pleased to announce this year's keynote speakers:
-> Antonio Criminisi - Microsoft Research Cambridge
-> Nello Cristianini - Professor of Artificial Intelligence, University of Bristol
-> Ralf Herbrich - Director of Machine Learning Science, Amazon
-> Manik Varma - Microsoft Research
Special Big Data Tutorial
This year Marko Grobelnik will also present a tutorial on best practices when working with Big Data, which should be an exciting addition to the programme.
Call For Papers
This year there will be the opportunity for a number of contributed talks from workshop delegates. For those wishing to present at the workshop we ask that you submit an extended abstract (no longer than three pages) detailing the content of your proposed talk to the email address: lsoldm2014@cs.ucl.ac.uk
Confirmed Speakers
Christian Daniel - Technische Universität Darmstadt
Learning Reward Functions for Efficient Robot Learning using Bayesian Optimization
Tom Diethe - University of Bristol
SPHERE - a Sensor Platform for HEalthcare in a Residential Environment
Blaz Fortuna - Ghent University
Towards Large-Scale Event Detection and Extraction from News
Benoit Huyot - CeNTAI Thales Communications and Security
Online unsupervised classification for anomalies detection in large network cybersecurity
Bert Kappen - Radboud University Nijmegen
Path Integral Control and State Dependent Feedback
Wouter M. Koolen - Queensland University of Technology
Efficient Minimax Strategies for Square Loss Games
Gerhard Neumann - Technische Universität Darmstadt
Exploiting Modular Representations for Robot Learning
Ronald Ortner - Montanuniversitaet Leoben
Selecting Near-Optimal Approximate State Representations in Reinforcement Learning
L.A Prashanth - INRIA Lille
Fast gradient descent for drifting least squares regression with applications to news-recommendation systems
Andreas Ruttor - Technische Universität Berlin
Nonparametric learning of a continuous time stochastic process
Yevgeny Seldin - University of Copenhagen
Adaptation in Online Learning
Sohan Seth - Helsinki Institute for Information Technology
Retrieval of Experiments by Efficient Comparison of Marginal Likelihoods
Maja Skrjanc - Jozef Stefan Institute
Semantic Fact Extraction from Real-Time News Streams
Andrew Symington - University College London
Multi-agent quadrotor Path Integral Control
Long Tran-Thanh - University of Southampton
New Concentration Bounds and Their Application in Finite-Time Analysis of Bayesian Bandit Algorithms
Organisation
This year's event is sponsored by Google DeepMind and the organising committee consists of:
-> Simon Cousins, University College London
-> Nello Cristianini, University of Bristol
-> Thore Graepel, Microsoft Research Cambridge
-> Bert Kappen, University of Nijmegen
-> John Shawe-Taylor, University College London
-> David Silver, University College London
Further Information
Visit the workshop website: LSOLDM2014 Website
Alternatively, visit our previous website and the videos recorded during past events.
LSOLDM2012 Videos: http://videolectures.net/lsoldm2012_cumberland_lodge/
LSOLDM2013 Videos: http://videolectures.net/lsoldm2013_cumberland_lodge/
LSOLDM2013 Website: http://www.complacs.org/lsoldm2013/
For further information feel free to contact us at: lsoldm2014@cs.ucl.ac.uk
Best,
LSOLDM2014 Organising Committee
K4A (Knowledge 4 All Foundation)
When & Where

Cumberland Lodge

SL4 2HT Windsor
United Kingdom


Wednesday, 10 September 2014 at 09:00

-

Friday, 12 September 2014 at 16:00 (BST)
Add to my calendar
Organiser
The Centre for Computational Statistics and Machine Learning (CSML) spans three departments at University College London, Computer Science, Statistical Science, and the Gatsby Computational Neuroscience Unit. The Centre will pioneer an emerging field that brings together statistics, the recent extensive advances in theoretically well-founded machine learning, and links with a broad range of application areas drawn from across the college, including neuroscience, astrophysics, biological sciences, complexity science, etc. There is a deliberate intention to maintain and cultivate a plurality of approaches within the centre including Bayesian, frequentist, on-line, statistical, etc.