Description
Join us at Red Dog Music Leeds for a showcase of stunning Larrivée acoustic guitars. With a huge range of models to play this is your chance to get hands on with these amazing acoustics that have taken the press by storm.
Larrivée Guitars UK product specialist Elliott Thomas will be on hand to talk through and demonstrate the guitars.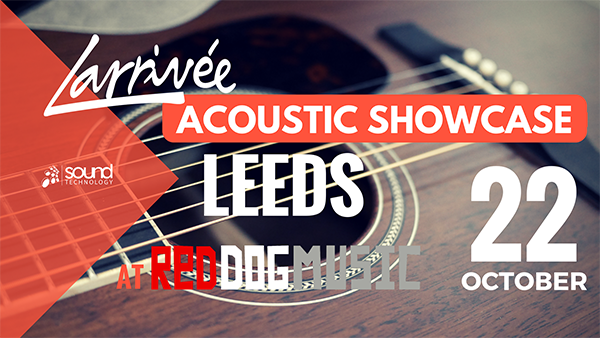 The event is of course free, but please register your attendance.
Any purchases of Larrivée on the day will receive an extra bonus: an AKG C1000S recording microphone, ideal for acoustic guitar recording, worth £109, with every Larrivée purchase on the day.
We hope to see you there!
- - -
"Every conceivable facet of the OM-03's construction is just ludicrously good. In all my days, I don't think I've ever come across a guitar builder that can rival the consistency of quality that Larrivée offer".
Acoustic magazine review "ludicrously good" Larrivée OM-03WW
- - -
"Plays like a dream"
Guitar Interactive on the All-Walnut Larrivée P-03WW

- - -
"I am glad to say my first encounter with a Larrivée has been a really good one and it's easy to say nice things about an instrument when it's fully justified, because this really is a lovely guitar".
Guitar Interactive on the All-Walnut Larrivée OM-03Z Zebrano
- - -
"Larrivée delivers stylishly-designed, cleanly-built guitars. These two are no different, but the timber choices add character in a very welcome way…All-solid wood guitars with a reputable name, made in California, at this price, with cases? It's hard to say no".
- - -
Eight Larrivée models featured in MusicRadar's "best acoustic guitars"
Three Larrivée acoustic guitars featured in MusicRadar's "37 of the best acoustic and electro-acoustic guitars under £1,000/$1,500". Five models included in "38 of the best high-end acoustic guitars" roundup.
https://www.soundtech.co.uk/music-retail/larrivee/news/eight-larrive-models-featured-in-musicradars-best-acoustic-guitars
- - -