Description
Laser Applications in Lightweight Structures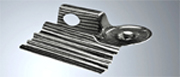 ---


Introduction from the Workshop Chair - Jon Blackburn (TWI)

'Light-weighting' is a topic of increasing focus in the automotive and aerospace sectors, as manufacturers seek to reduce the weight of structures to:
Adhere to new emissions targets set by Government policy

Reduce cost of ownership for end-users, through improved fuel economy

Meet the growing 'green agenda' expectations of the public
The adoption of new materials with higher specific strength (e.g. carbon-fibre reinforced plastics, metal-matrix composites, high strength steel, and aluminium/titanium/magnesium based alloys) is the principal approach to reduce the weight of structures. Additive Manufacturing (AM) also has the potential to be used for light-weighting, by producing structures with novel load paths not possible with conventional techniques. However, the integration of these new materials into structures is not necessarily straightforward, as there are challenges relating to the cutting, forming and joining of these materials. Furthermore, the adoption of new materials and/or processing techniques (such as AM) needs to be achieved at low-cost, if they are to be widely adopted and have broad impact.
Laser technology has been adopted by the automotive and aerospace sectors, principally for its ability to perform high quality processing at high speed, and at low relative cost. In recent years several advancements have been made in laser technology which have the potential to support many of the processing and material challenges faced when light-weighting structures.

This workshop will include presentations from equipment-providers, end-users, and academic and industrial researchers in the light-weighting field. This will create a forum so that you will hear and see how the latest developments in laser technology and academic and industrial research are supporting the light-weighting agenda, and how these could be applied to other industry sectors.
---
PROGRAMME
Please see below for topics and speakers.
Laser joining developments for light-weighting
Sullivan Smith, TWI

Fiber laser joining next generation alloys and dissimilar materials for automotive body-in-white and powertrain applications​
Mark Thompson, IPG
Lightweight design software for Additive Manufacturing​
Luke Ambrose, Materialise
IR, Green and UV Lasers enhance manufacture of lightweight and composite materials used in automotive
DeChang Dai, Andritz Powerlase
Remote laser welding of Al alloys
Darek Ceglarek & Pasquale Franciosa, University of Warwick
Plastic laser welding for car door panels
Sergio Saludes Rodil, CARTIF, Spain
Laser joining of titanium
Bryan Humphreys, CAVAT
ATI's technology strategy for UK aerospace
Edward Andrews, ATI
Roadmapping the future. Understanding low carbon technology trends.
Jon Beasley, APC
Opportunities and support for enhancing innovation​
Louise Jones, KTN
Use of lasers for joining plastics and thermoplastic composites
Ian Jones, Laserweld Plastics
Laser processing tools and sensor technology for lightweighting applications
Markus Kogel-Hollacher, Precitec, Germany
Dissimilar materials joining using non-laser techniques
Andre Oliveira, NSIRC