Description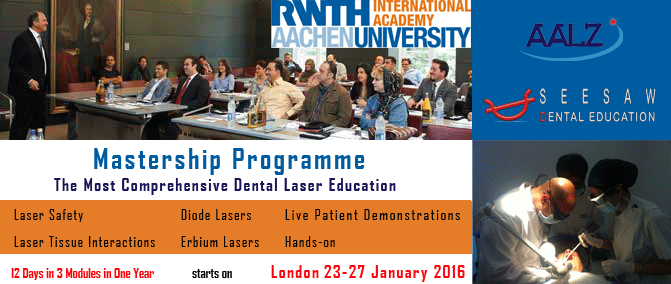 The certified Fellowship Status Certification Course is a one-year clinical specialisation course in laser dentistry, in which the dentists can participate beside their daily practice. The programme spans a period of one year, in which three modules are held, including the realisation of five clinical cases. An internet-based e-learning environment supports the participants in their homework between the modules.
The certificate "Fellowship Status Laser Therapy in Dentistry" is awarded by the RWTH Aachen University International Academy.
The course director is Prof Dr Norbert Gutknecht (Executive Director of the World Federation of Laser Dentistry (WFLD) and the main lecturer Dr Ilay Maden DDS, MSc, PhD is representative of Aachen Dental Laser Centre (AALZ), Aachen University, Germany and World Federation for Laser Dentistry (WFLD) in the United Kingdom.
DATES
Module I : 23- 27 January 2016
Module II : 11 - 15 May 2016
Module III: 16 - 17 January 2017

From 9 am to 5 pm each day
Participants receive extensive course materials. Coffee breaks and catering is included.
To be able make the payment in instalments visit www.seesawdc.com for details or simply send an email to info@seesawdc.com or call 00 44 203 5000 770.