About this Event
A free event celebrating and showcasing emerging creatives from Chelsea College of Arts with a vibrant mix of art, music, film, drop-in workshops and pop-up talks.
Bring your friends, join us for a drink, a bite to eat and be inspired by an eclectic and immersive mix of installations, sound and visuals by the artists of tomorrow.
Experiment, take part and explore at this late evening event taking place on the last Friday of the Undergraduate Summer Show.
UAL Short Courses will be giving away two courses worth up to £600 to the winners of their creative competition and Great Art London will be giving away art vouchers to the winners of Chelsea's #lateatchelsea Instagram photography competition.
Some of the live performers, workshops and activities can be seen below!
Sponsored by UAL Outreach and GreartArt London
Please be aware that guests are not permitted to bring alcohol into events, in line with University policy. In the interest of security, bag searches will be in operation.
Last entry 20:40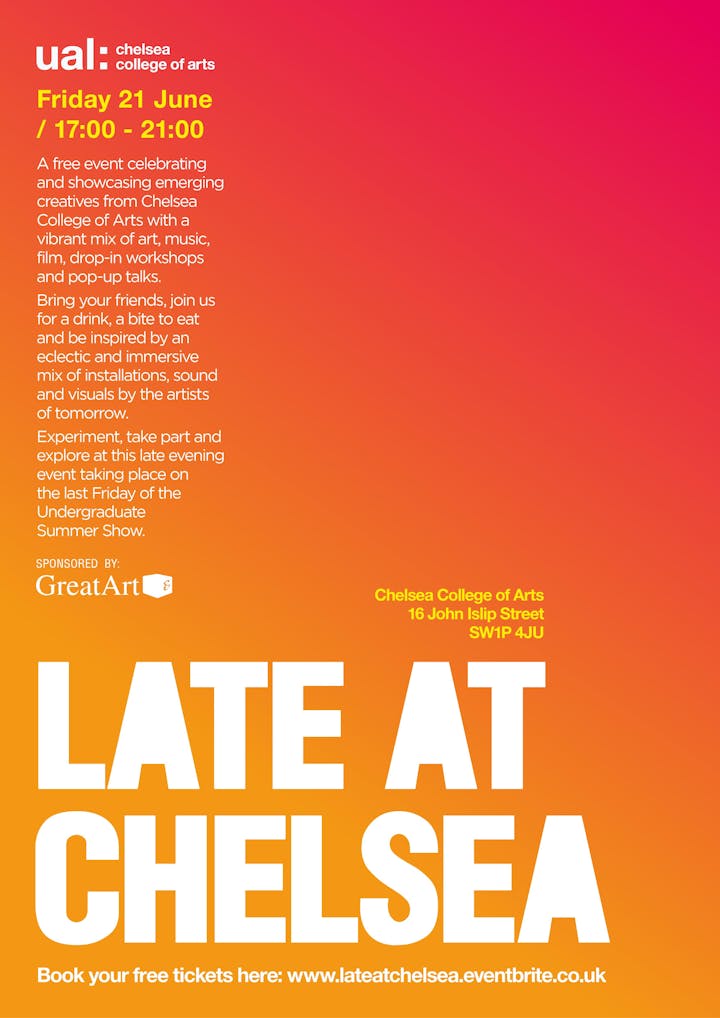 Micro Acts
Chelsea College of Arts has invited Micro Acts to collaborate on an exciting artists film screening at Late at Chelsea, with contributions from students, staff and alumni across UAL.
MicroActs has been running for over 2 years in Central London as an exciting and intersectional programme of Artist Film, showcasing artists & filmmakers from the UK & all over the world. These events have created a space to champion subjective & personal-political moving image works, promote artist film in London, and create a community of creatives exchanging their stories with each other & the public.
Curated by MA Fine Art alumna Liberty Antonia Sadler
Instagram: @microacts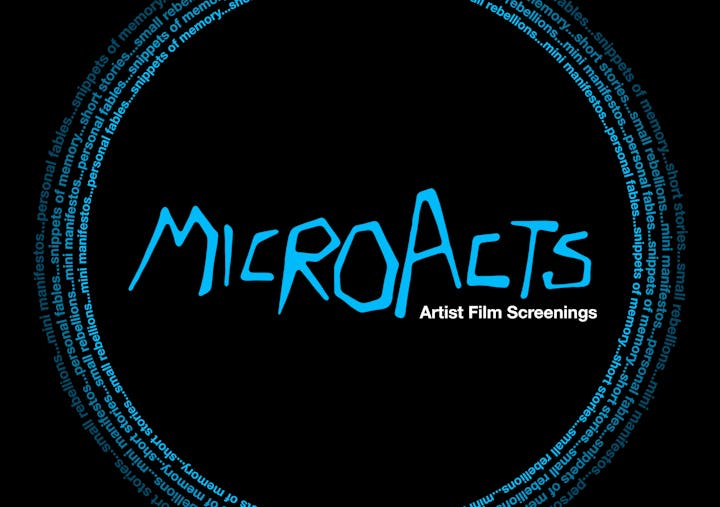 Stitch School
Stitch School are pleased to facilitate embroidery events based around the large 3 meter embroidery table. These events are called 'The Supper Cloth' providing a space for people to sit down, slow down and feed their creativity through stitching and co-creating a communal Supper Cloth in wonderful environments.
Participants explore the wealth of embroidery stitches, learn together and create a communal supper cloth to celebrate the art of needlework. Discovering the benefits of stitching as a form of de-stressing, which encourages making as an antidote to modern life and a creating a sense of well being and relaxation.
Instagram:@stitch_school
Website: www.stitch-school.com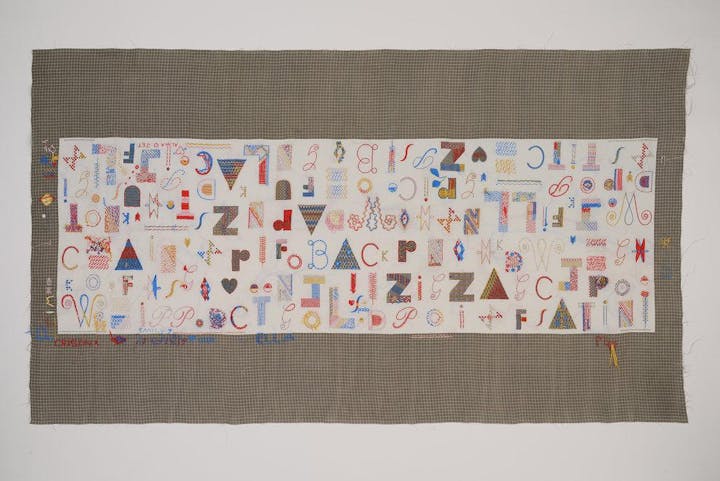 Fashion Life drawing
A mid-summer themed performative live fashion life drawing session.
Sessions will be relaxed and stylish, with accompanying music designed to get participants inspired.
Previously hosted sessions include the Wallace Collection, Sketch and the UAL Saturday Club.
Curated and hosted by Rosemary Cronin, Outreach Practitioner and BA Fine Art graduate Ocean Baulcombe-Toppin.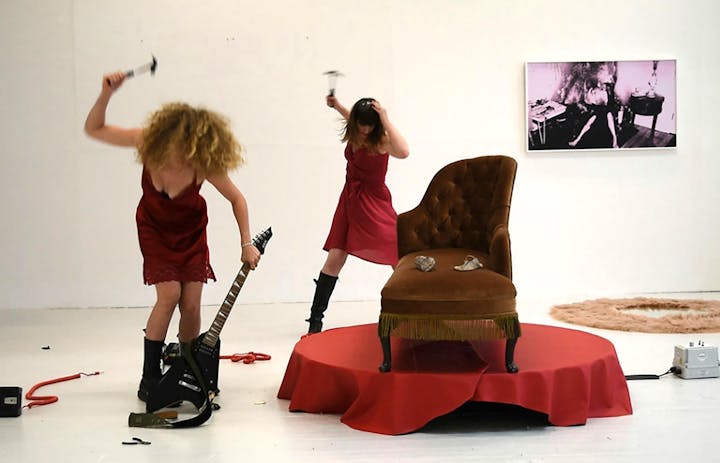 Fire In Her Eyes
Presenting Fire In Her Eyes an all-girl, three-piece band from London who make catchy, "psychedelic music influenced by pop, rock, folk and soul with three-part harmonies that will mesmerise you".
Previous performances include: The Victoria Dalston, Spiritual Bar, The Monarch and ICMP London,
Instagram: @fireinhereyesofficial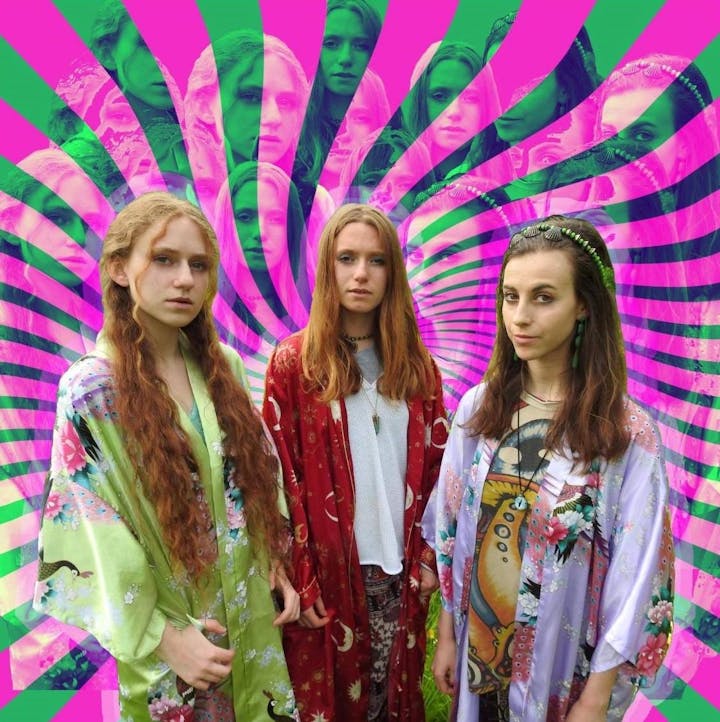 False Idols
Introducing False Idols who made their debut at Chelsea College of Arts in 2016 and who are now back to perform on the Late at Chelsea stage after releasing their first EP.
They are "pedlars of dance beats and dark melodies" and will bringing their energy to the Chelsea Parade Ground this June, check out their work and be entranced by their experimental soundscapes.
Previous performances include: Whitechapel Gallery, Brixton Windmill, Paper Dress Vintage and The Waiting Room.
Instagram: @falseidols_uk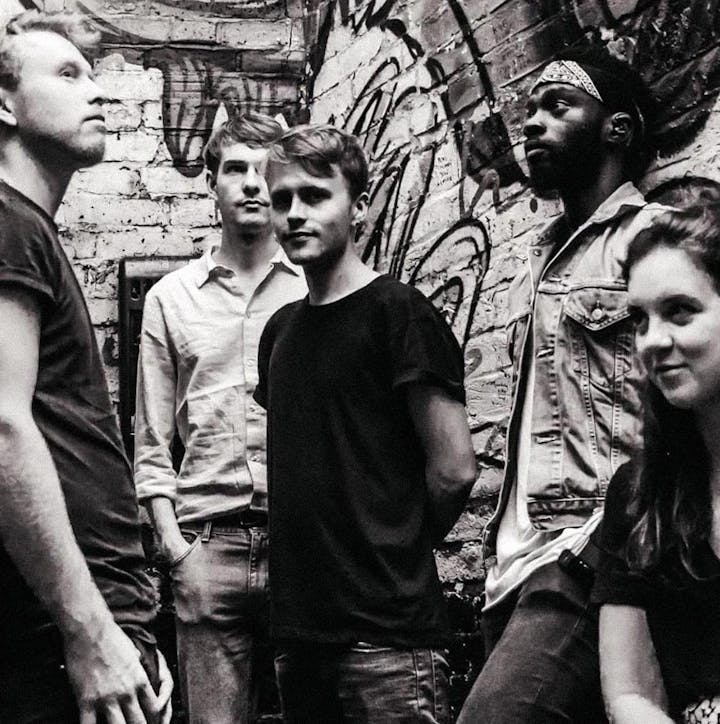 The Valley of the Dolls
"Orlando Sadler [of The Valley of The Dolls] explores recesses of Gen-Z consciousness through provocative Art Pop-Indie Rock and post-modern poetry", he'll be bringing his spoken word & looped sounds from his European tour to the Late at Chelsea stage.
Previous performances include: Secret Garden Party, The Great Escape Festival, Tivolivredenburg Utrecht, The 02 Islington.
Instagram: @orlando_thevalleyofthedolls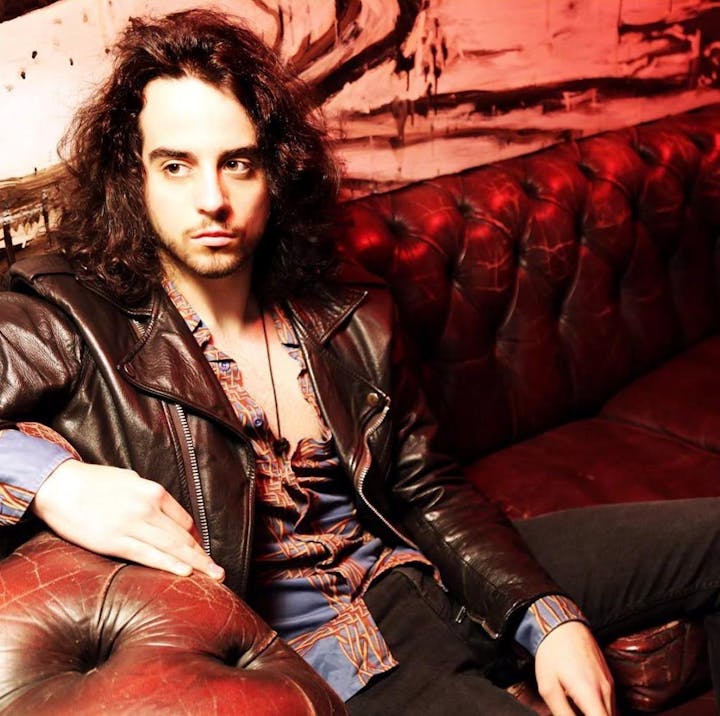 Live Mime Performance - Troupe Colours
Troupe Colours celebrates the creative union of Queerrot and Gerolazzo - two mimes from two separate marginalised groups - who were searching for company. The two playful characters cannot wait to interact with their audience with the use of hand-made props and improvised street theatre techniques, during their durational live art performance at Late at Chelsea.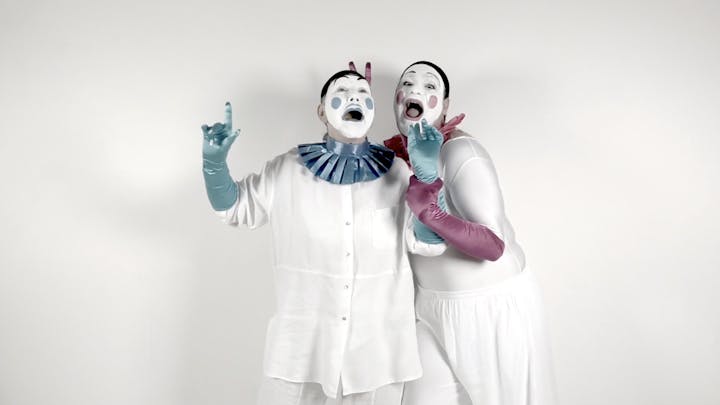 Robyn and Margaret
Robyn and Margaret are an artist duo playing with live music, puppetry, improvisation and ritual to celebrate queerness. Their performances are plunges into the calamity of identity. Their work takes place in cabaret venues, galleries, backs of vans, queer clubs and lecture theatres.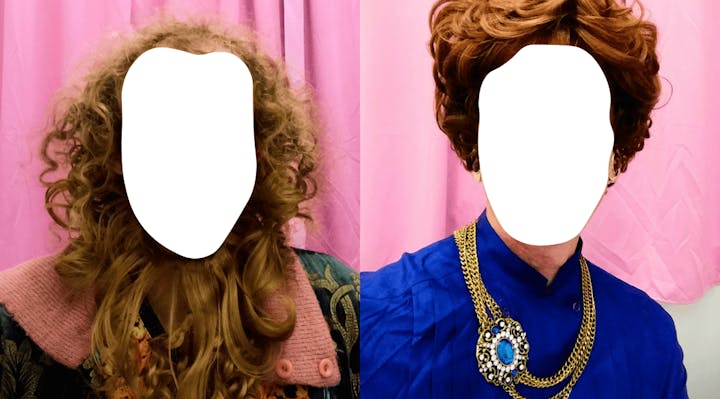 Freeborn Yoga
A relaxing and educational workshop where Chelsea staff member Gavin Freeborn will share knowledge from his recent 200hr Hatha yoga teacher training in Rishikesh, India...where the Beatles, Steve Jobs Apple founder and many more travelled to seek spiritual enlightenment.
Freeborn will share yoga history and knowledge, engage you gentle yin yoga, yoga nidra and meditation.
Suitable for beginners, intermediate and advanced.
Normal clothes are fine but feel free to bring yoga wear if you like and changing rooms are available.
All welcome!
Instagram: @freebornlive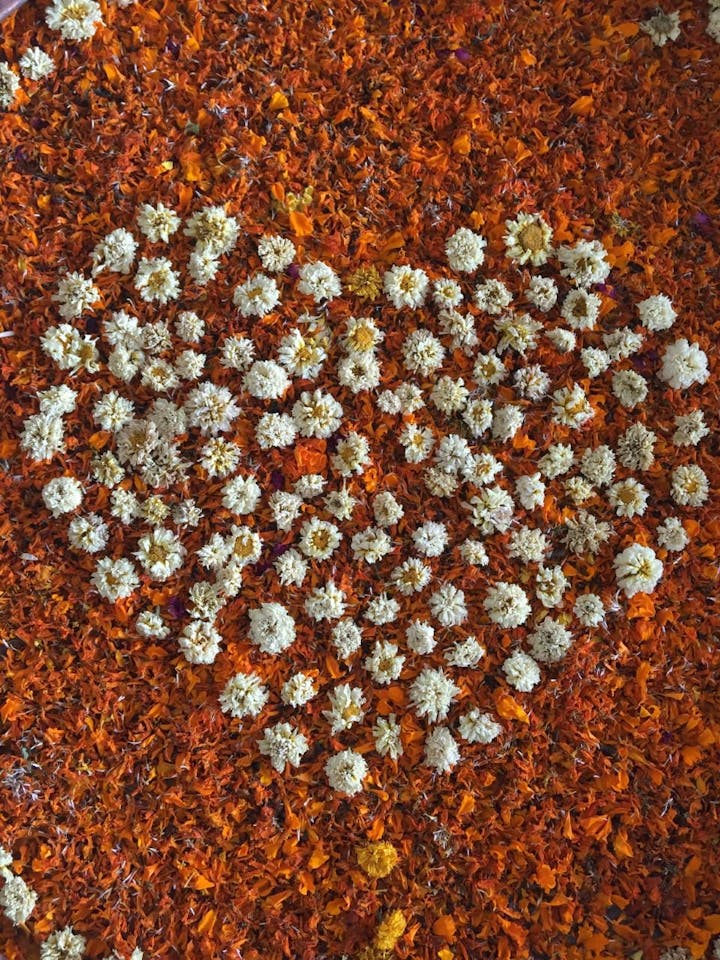 Book Binding with Rachel Littlewood
Rachel Littlewood is a London based risographer & designer. She has been working in risograph printing presses for over 5 years and leads creative workshops as part of her practice. Currently she works at London College of Communication in Print Finishing, helping the students bind books and finish their printed projects. Rachel also creates notebooks & zines which she distributes online and at fairs.
Instagram: @racheyvongrimm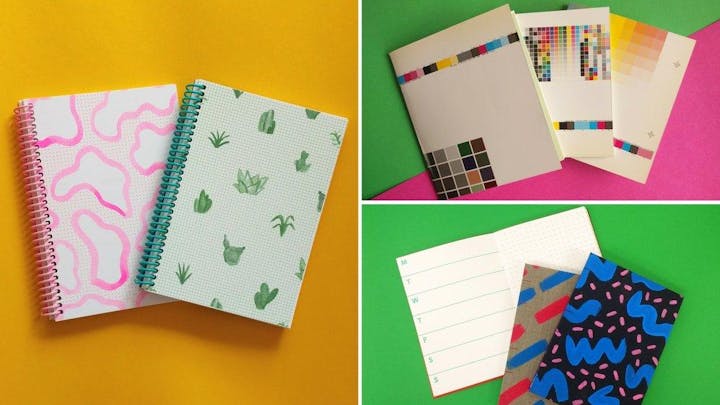 Everyone is Invited Radio Show
Join Alex and Roshni chat about their interests in Art, food and music live on Rounded Radio as part of Everyone is invited.
Join us online and off in the Chelsea Parade Ground for a 30 minute live radio show.
Direct link to the live stream from 5pm:
https://tunein.com/radio/Rounded-Radio-s277871/
Everyone is invited is a radio show hosted by Alex P Bickel where he explores his interests in Art, food and music.
Rounded Radio is an online listening platform dedicated to discovering, supporting and showcasing a wide range of sound and music work by local and international Artists.
Rounded is focused on challenging and exploring listening experiences through a series of regular discussions, live performances and an appreciation of all things musical.
Website: www.roundedradio.com
Instagram: @roundedradio