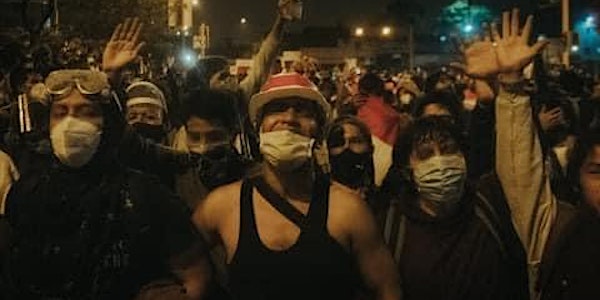 Latinamerica is Moving Conference Panel 1 Extractivism and Performance
Kicking off discussing Extractivism & Performance Activism as the first panel of Latin America is Moving Interactive Conference
About this event
Latin America is Moving Collective
#LatinAmericaIsMoving
#Extractivism
#PerformanceActivism
#ActivismAcademicEngagement
Latin America is Moving Conference is a Seminar Series (3 fortnightly sessions) exploring the many-worlds constructed by Latin American activists at the time of heightened dispossession. While the Covid-19 pandemic has increased precarity in the continent, people are overthrowing governments. They are shedding light into the inconsistencies of the colonial narratives of progress, opening new spaces for citizen participation.
Latin America is Moving Seminar Series will explore Latin American social movements before and after the pandemic, the contradictions they encounter and the worlds they prefigure. We will engage the audience to think about the difficult questions raised by research on one hand and activists and collectives' demands on the other. We also seek to explore the implications of Latin American activism to the politics of usual and academic engagement in Europe. The seminars will have breakout rooms where participants can discuss the presenters' questions.
The first seminar on 18th of February (5pm UK) will explore activism against Extractive Industries and Performance Activism. Our guests will be speaking about Latin American activism and the pandemic, narratives of opposition to extractive industries, and the relationship between politics and performance in feminist activism and Hip Hop.
We welcome attendees to actively participate.
Session 1/3: Extractivism & Performance Activism
Chair: Paula Serafini, CAMEo Research Institute, University of Leicester, author of "Performance Action: the Politics of Art Activism."
5 pm Introduction
First part – Activism against Extractive industries
5.10 – 5.30 Keynote Tom Gatehouse, LAB, editor of "Voices of Latin America: Social Movements and the New Activism":
"Latin America at breaking point: a look back at two tumultuous years."
5.30 – 5.40 Sue Branford, LAB: "Is sustainable mining possible? A contrast between an old-style and a new style bauxite mine in the Brazilian Amazon"
5.40 – 5.55 Break Out Room to discuss the questions posed by presenters
5.55 – 6.05 Feeding back the results of the Break-Out Room
Second part – Performance Activism
6.10 – 6.20 Camila Gonzales Ortiz, University of Reading: "Performing Anger in Las Tesis's A Rapist in Your Path"
6.20 – 6.30 Louise Morris, LAB: "The Power of Hip Hop in Protest with Nakury"
6.30 – 6.45 Break Out Room to discuss the questions posed by the presenters
6.45 – 7.15 Feeding back the results of the Break-Out Room & End Discussion
Photo credit Wayka.pe