Latvian Style Dinner at Balzambars London (London Latvian House)
About this event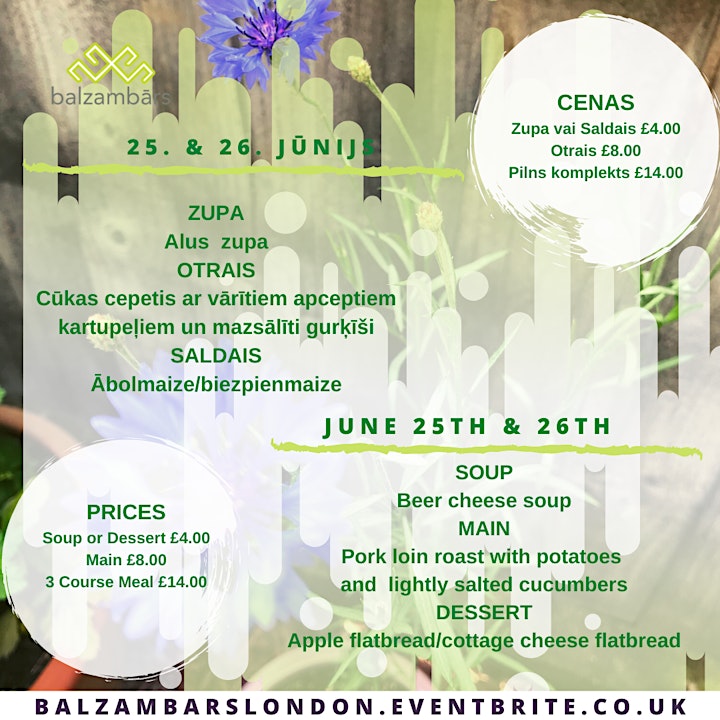 Please scroll down for English*----------------------------------------
(LAT)
Vakariņu piedāvājums 25.un 26.jūnijā: (piedāvājam arī veģetārās opcijas, lūdzu laicīgi sūtiet epastu uz bar@72qt.co.uk)
Vakariņu skaits ir ierobežots. Lūdzam REZERVĒT VAKARIŅAS Eventbrite vai sūtot epastu vismaz pāris dienas iepriekš.
Šobrīd varam garantēt tikai pasūtītās vakariņas.
CENAS: (JĀSAMAKSĀ BĀRĀ VAKARIŅU REZERVĀCIJAS DIENĀ)
Zupa £4.00 Saldais £4.00 Otrais ēdiens £8.00 VISI TRĪS ĒDIENI: £14 (ietaupi £2)
Balzambārs ir atvērts divus vakarus nedēļā: Piektdienās un Sestdienās no plkst. 17:00 - 23:00 (*pēdējie dzērieni 22:30) apmeklētājiem un arī 72 QT viesu mājās klientiem.
Gardas latviešu vakariņas ir pieejamas: Piektdienās un Sestdienās no plkst. 18:00 - 21:00
Balzambārs ir mājīgs Latviešu bārs, kas atrodas pagrabstāvā 72 Queensborough Terrace, Londonas Centrā, mājvieta Daugavas Vanagu Londonas namam un 72 QT viesu mājai, kur visi tiek mīļi sagaidīti un daudzveidīgs dzērienu klāsts ir pieejams, ieskaitot tradicionālos latviešu alus, kā Valmiermuiža un Užava, latviešu ,dzērieni kā Rīgas Melnais Balzāms (tradicionāls latviešu ārstnieciskais liķieris kopš 1752) un gardi latviešu vīni - Rabarberu, Ābolu un Upeņu.
Lūdzu kontaktējaties ar mums caur Facebook, sekojiet mums Instagramā vai sūtiet epastu uz bar@72qt.co.uk
Gaidīsim ciemos!
----------------------------------------(ENG)
June 25th and 26th Dinner Menu: (we offer vegetarian options, please send an email to bar@72qt.co.uk at least two days in advance)
Dinner availability is limited, PLEASE BOOK via Eventbrite or send an email at least two days in advance.
At this time we cannot guarantee that we'll be able to accommodate walk-ins.
PRICES: (PAY AT THE BAR ON THE DAY) Soup £4.00 Dessert £4.00 Main £8.00 ALL 3 COURSES: £14.00 (save £2)
Balzambārs is open two evenings a week: Fridays and Saturdays from 5.00pm to 11pm (*last drinks served at 10.30pm) for the use of guests 72 QT Guesthouse and visitors.
Delicious Latvian-style dinner is available: Fridays and Saturdays 6.00pm to 9.00pm
Balzambārs is a cosy Latvian bar in the basement of 72 Queensborough Terrace, Central London, home to the London Latvian House and 72 QT Guesthouse, where a warm welcome awaits and a good variety of beverages are served, including traditional Latvian beers such as Valmiermuiža and Užava, Latvian spirits such Riga Black Balsam (Traditional Latvian Herbal Liqueur Since 1752) and delicious Latvian wines - Rhubarb, Apple and Blackcurrant.
Please get in touch with us on Facebook, follow us on Instagram or send us an email to bar@72qt.co.uk
We look forward to seeing you!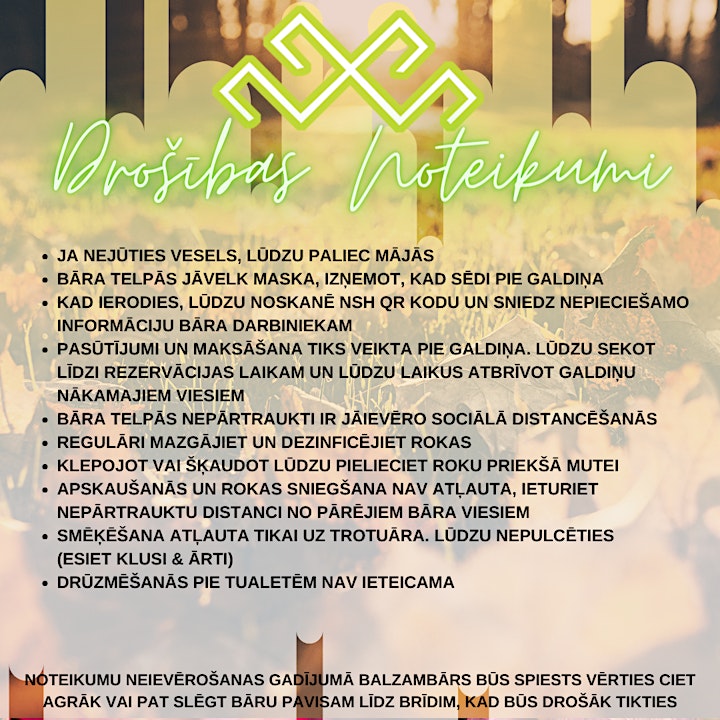 Organiser of Latvian Style Dinner at Balzambars London (London Latvian House)