Description
Laugh Your Way to Happiness
So many of us are seeking happiness
STOP
It's right here! RIGHT NOW!
You are having a laugh you reply
…Yes it's that simple.
Laughter IS the key.
Join the world's hарріеѕt workout in this action-packed day filled with jollity, positivity & laughter, which will еnrісh your hеаlth, wellbeing, and quality of life. Your vibrant expert happiness coaches will be taking you through an energetic and engaging day.
Happiness is a choice – so make it now – sign up for the 18th October for a full day workshop.
1 Day Laugh Your Way to Happiness Workshop Organized by:
Jo-Dee Walmsley CEO of Simply Laughter, Global Laughter Ambassador 07474 012 659
www.simplylaughter.com

Rowee Wood Cancer Survivor & Laughter Yoga Teacher
Venue: Harry Edwards Healing Sanctuary, Shere, Surrey, GU5 9QG
Time: 9.30am - 4pm
Fee: £50 per person including lunch
£40 Early Bird - ends 15 October
Time Lecture/Activity
9:30 – 10:00 Registration & liability forms
10:00 – 10:15 Introduction & Welcome Speech logistics, happiness evaluation form
10:15 – 10:50 Intro to Jo-Dee & Rowee and LY with video
*Our Story
*Where Laughter Yoga comes from
*What is Laughter Yoga
*Benefits of Laughter
10:50 – 11:00 Laughter Yoga exercises with forms in the end
11:00 – 11:20 Coffee Break
11:20 – 12:30 Inner Spirit of Laughter
5 Principles
*Be who you are *Purpose of life *Do your best *Appreciation/forgiveness
*When YOU Change, the Whole World Changes
Laughter exercises for different situations
*Where would YOU like the help
*What can we change for YOU
12:30 -13:30 Lunch Break
13:30 – 15:00 *Adding more laughter into your life, laughing in the face of challenges.
*The importance of a daily laughter practice
*How to do it – 40-day challenge
*Bring your family closer through laughter
Gibberish – the art of nonsense
*Who do we need to say something to
*In pairs – make up a story and tell it to the class
15:00 – 15:20 Tea Break
15:20 - 16:00 Laughter Meditation
Guided relaxation with positive intention 16:00 Discussion & Day Conclusion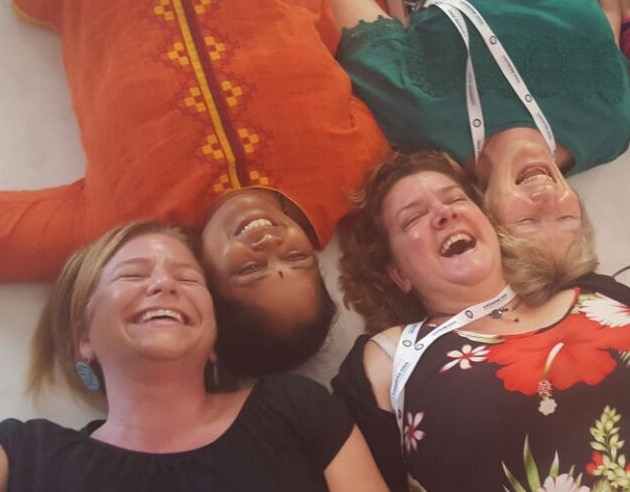 FAQs
What are my transportation/parking options for getting to and from the event?
Please contact Jo-Dee if you need a pickup from the station - . There is plenty of parking at the venue
What can I bring into the event?
Lunch, coffee, tea & water will be provided.
No special clothes or equipment needed by I do recommend comfortable clothing
How can I contact the organizer with any questions?
Please either email Jo-Dee jodee@simplylaughter.com or call 07474 012659
What's the refund policy?
Refund offered before 1 day before event
Do I have to bring my printed ticket to the event?
It is preferable to print the ticket but I do like to save trees so I will have your name on file yay!!