Location
Bristol, TBA idc
TBA idc
United Kingdom
Description
Laughter Facilitation Skills

Saturday 11th July 10-5, Sunday 12th July 2020 10-4.00, with a Laughter Yoga specialist of 22 years' experience.
'A breath of fresh air in the laughter yoga world' (Certified Laughter Yoga Teacher)
Are you ready to live a more resilient, connected, authentic and joyful life? To learn laughter practices to change your life?

Learn laughter skills from traditions around the world (including yoga, huna, zen), and bring more joy, happiness and health into your life and the life of others.
This course is grounded in the yoga insight of changing your life through laughter practices.
('Awesome' Dr Madan Kataria, founder of the global laughter yoga movement)
What is this course/programme?
This certificated course teaches you a wide range of laughter skills. It draws on my own extensive (22 years) experience of laughter yoga and associated laughter approaches (hasyam, huna, zen). It teaches you how best to develop and adapt these skills to suit you - your style, your uniqueness, and how you yourself can get the most from them.

At the end of this course you have learnt laughter as a yoga. You are a laughter workshop leader / laughter facilitator and able to run your own sessions and workshops with a variety of titles*, with exercises from a wide range of laughter traditions, old and new.

( * ask me about this)
Why this learn this programme?
This approach specialises in adapting and refining your own approach (be it a yoga, 'yoga', laughter the best medicine, gelotology, laughter medicine, and every other 'laughter' approach), for your own particular personal and professional circumstances.
It has been described as: 'A breath of fresh air in the laughter yoga world' (Certified Laughter Yoga Teacher)
It is well-suited for those who want both structure and creativity, who want to be flexible and 'flowing', and who want to apply & adapt these skills in all settings, not just 'laughter' workshops. Check out the comments from previous participants.
'Valuable for group facilitation development in the skills of laughter, movement and play'
(Certified Laughter Yoga Master Trainer)
(See below for the range of people, including laughter yoga Master Trainers, who've already been on this course.)
It shows you
- how you can keep evolving and developing this material to meet your own changing needs
- how you can evolve & adapt exercises in this approach
- how you can apply 'laughter' principles in all circumstances, everywhere, all the time.
- how you can do this personally and professionally.

You emerge from this course with a flexible and adaptable range of laughter skills from different traditions around the world. This is what makes this course unique.
The course gives you a manual, exercises, follow-up options, and a certificate.

In this course you learn:

- to incorporate laughter and laughter yoga skills into your personal life with simple, straight-forward, accessible steps.

- how to add these skills into your professional life, whatever your profession.

- how to run your own laughter sessions with exciting old, new and tailor-made exercises.

It shows you how to develop your own style in practical ways, personally and/or professionally. (If you are already a laughter yoga practitioner, this expands your existing skills in ways that generally astound practitioners.)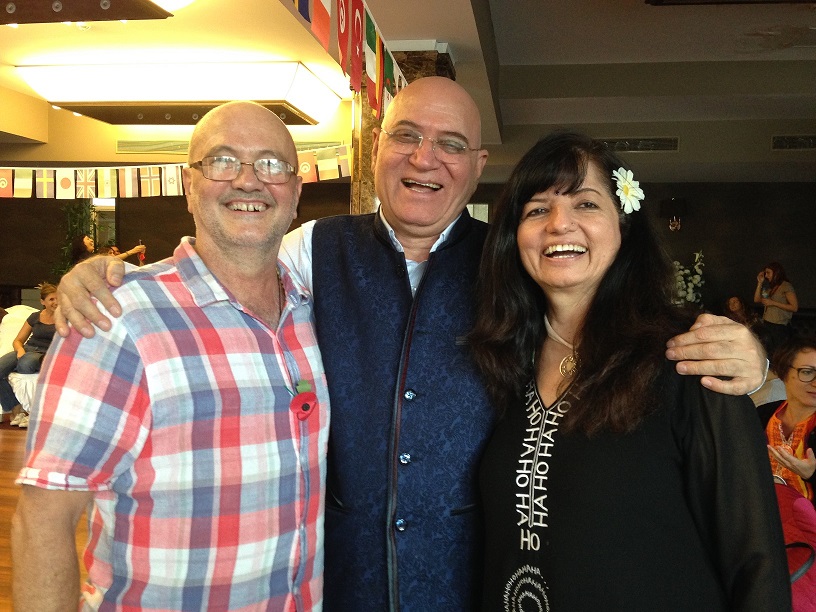 The course teaches laughter skills, laughter exercises and insights from traditions around the world, including:
many forms of Yoga

Huna,

NLP,

meditation,

Appreciative Inquiry,

healing,

voicework,

breathwork,

and more.
- 'Brilliant. Such a relaxed couple of days'
- 'The group was an inspiration and I'm taking away what I needed'
- 'Practical learning, supported by a safe group'
- 'Powerful. I think a few lifestyle changes will be in order after this'
You boost your confidence, your ability to connect, your wellbeing, your sense of empowerment, your creativity, and your spontaneity.
You learn to retrain your brain to laugh more and promote:
*mindfulness*
*happiness*
*stress-free living*.
You learn these skills:
for yourself, for your own personal practice, to improve the quality of your own life.

and / or integrate them into your existing professional toolkit - no matter what your profession, these skills are relevant.

and / or to run your own laughter sessions, for small groups, teams, conferences etc.
The course costs £220, with big discounts for early booking.
Concs available, please ask.

20% discount for existing Certified Laughter Yoga Leaders. 40% discount for a refresher.

Please ask me for your discount code

"This training was different from my previous (laughter yoga) training, therefore complementary to it. The weekend was more about principles rather than being prescriptive; and encouraged a gentler approach to introducing laughter, which could be useful when working with a possibly reserved British public"
This course includes a comprehensive manual with information and exercises on the science, medicine, psychology and other aspects of laughter.
This course enables you to get the necessary professional insurance.
If you are already a Certified Laughter Yoga Leader, this course complements and adds to your exising skills. If you are not, this course is an excellent way into using laughter skills, personally and professionally.

You learn
How to access and generate genuine spontaneous laughter
How to access mindfulness, awareness and embodiment
lots of laughter exercises from many traditions
about Dr Kataria's laughter club initiative

lots of 'Laughter' exercises
the psychology and physiology of laughter and its effects on the mind, body, emotions and spirit
The science, medicine and benefits of laughter
laughter meditation
To create your own exercise for the group
How to adapt this for any personal, work / social / home setting
How to start developing harmonious group dynamics
from each other's insights, expertise and experience
and lots more
Whether you have a personal development interest
are a workshop leader
facilitator
psychologist
Police forensic scientist
presenter & trainer
mindfulness practitioner
teacher
coach
therapist
carer
nurse
wellbeing specialist
NLP practitioner
hoola hoopist
life model
another other specialist - this course has plenty for you.

Comments from previous participants include:
'Thank you for being so warm and kind and connecting me back to people in such a wonderful playful way'.
'Good venue, good group size, time used very effectively - good illustration in practice of being an effective facilitator.'
'I am so much more powerful now. Thank you x '

'I wanted to let you know that I ran a session this morning (which I nearly didn't because I was so anxious) and it was literally the BEST one I have ever done. I used the techniques from your course, with a few touches of my own plus a bit of Kataria traditionalism - and it was just amazing...........it just worked, they really got into the extended period of just moving around the room, stretching and playing with their physicality, and we then spent ages sitting in a circle just laughing in different ways. It was perfect.
I therefore thank you, from the bottom of my heart. My confidence is boosted, and I felt a real sense that I was "leading" the group in something very special. I'm so glad I did your course! I do hope you do an advanced one next year.'

'I'm really glad I came on this course, meeting people who believed in and enthused about what they were teaching and others who were friendly and willing to learn. Thank you for the experience and starting something I see as being a big part of my life from now on, both for clients and personally.'
'Just to say the laughter course really hit the spot for me. I feel in my joy and positivity now, in contrast to how I felt at the start.'