Laughter Yoga online on Zoom - Thursday 7pm UK- Laughter for the health of it
About this event
Laughter Yoga online on Zoom - Thursday 7pm
Positivity & Immunity boost with Laughter Yoga 7.00pm on Zoom - (20 minutes) - Join Zoom Meeting (download the App or go onto your internet browser)
Now is the time to do / try Laughter Yoga! Create happiness when not happy! Increase positivity, immunity, resilience, improved brain function, plus many more benefits.
You will feel the difference within minutes! - see the colourful image below for just some of the benefits!
Book a ticket right now to get the log in details for Zoom
By contribution/free - If you feel that you are able to make a donation we would be very grateful - as all donations will be used to pay for Zoom subscriptions and Insurance to enable sessions to continue to run now and in the future...... Contribute on booking here or by paypal.me/seriouslaughuk. Thank you x
(www.thetimezoneconverter.com if you're not in the UK)
Download the App if on mobile - or laptop click on the link, Yey!
What you'll be doing - Laughter Exercises, deep breathing, and joyful activities. Video on required. For adults.
Contraindications as per cardio exercise - please listen to your body, seek medical advice if feel unwell.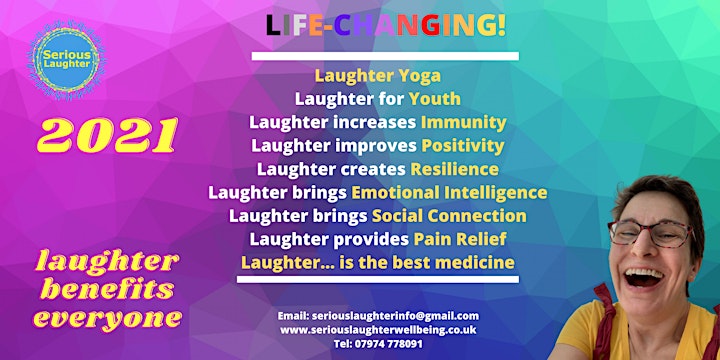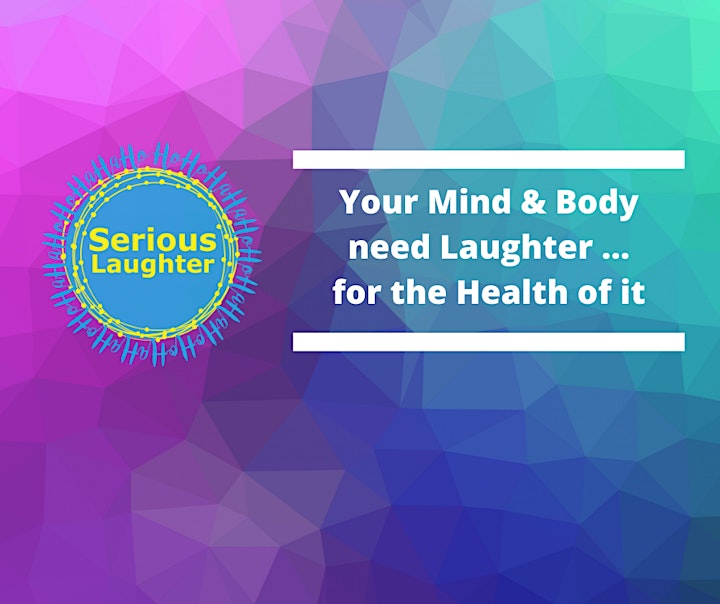 Organiser of Laughter Yoga on Thursdays
Hello and I hope you're keeping well.  I'm Sara Kay.
In a serious world, find the happier, more positive healthier person you can be using Laughter Yoga as your key wellbeing tool.  Bring Laughter for the Health of it into your life - for a happier, less stressed, healthier person. If you would like Serious Laughter to run any workshops just for your company, family, community group or health group, please contact us on 07974778091.  
All our public events are posted right here on Eventbrite.
Take a peek at www.seriouslaughterwellbeing.co.uk
Facebook: https://en-gb.facebook.com/seriouslaughuk
LinkedIn: https://www.linkedin.com/in/sara-kay-b9432532/