Let's laugh those fears away, and enjoy our best Sunday!
About this event
Join in with some light hearted, uplifting laughter yoga games. In this 30 min laughter yoga session, we are going to release anxieties, nurture our inner laughing champions and be silly because we are worth it! There will be smiling, standing, clapping and laughing. Wear something comfortable and bring some water to chuck at each other, haha not really, you'll ruin your laptop if you try that! Do bring the water, but let's drink it. Let's say yay to fun. It's our Fun Sunday!
What happens in a laughing session with Ishi: A typical session combines gentle physical movements, interactive fun games, yogic breathing methods and laughing! The physical movements are gentle. They include simple postures like standing, walking, clapping, touching your toes. The sessions are adapted for anyone and can also be enjoyed seated. The fun and uplifting sessions are the quickest way to feel better and improve wellbeing and live the best day everyday!
Who for: Primarily for women / womxn in Derby/shire, and children 5yrs+ with adult supervision, but this is virtual so you can join us from wherever you are! For groups / households / support bubbles who can watch together you can book one ticket to join the virtual event together. All self-identifying women, and non-binary folx who feel affinity or siblinghood in spaces that centre the experiences of women, are welcome.
How it works: Once you make your booking you will be able to log in to eventbrite to access the Online Event Details with the info and weblinks to join this online event on the day; you will also get an email reminder with a link to the event info.
Access: When booking there is a question about access - please inform us in advance of any access requirements to enable you to take part, ideally by 15th February so we can get everything ready for you, but if after this date we will try our best to make arrangements. Auto 'Live transcript' can be displayed on request.
The session includes warm-up and movements to copy, which can be adapted to your requirements; this workshop will be delivered online via a web-based video calling service. To access this event, you'll need an internet connection, and a computer or device that has a webcam, speaker and microphone (most laptops, ipads and phones have these built-in).
Financial hardship? Need free tickets? We offer 'Donate what you can' tickets to help us cover the costs of putting on this volunteer-run festival but if you don't have money to spare and want to take part we want to help - free tickets are also available via the Register button - we are also issuing free tickets via various local women's charities as always to reduce barriers to participation. Love and solidarity x
ABOUT: This session is led by Ishi Khan in association with Derby CAN (Creative Arts Network), a 3-year, multi-partner Arts Council England £1.5 million funded project led by Derby Theatre to work, co-curate and co-create with different communities, to support and strengthen the performing arts sector in the local area.
As a network, it programmes work in community settings across the city; produces new small-scale productions that will tour into communities and beyond; new mid-scale work that will play on the Derby Theatre main stage and outdoor work which will play at festivals like Festé and across the city.
It will also provide artists with opportunities to work on research and development together and deliver community and artist development opportunities.
Derby CAN is led by Derby Theatre and project partners include: Baby People, China Plate, Crying Out Loud, Déda, Derby City Council, Derby County Community Trust, In Good Company, Maison Foo, Maypole, Purple Theatre, Not Too Tame, QUAD, University of Derby and Wild Rumpus
[image and video: Ishi Khan, laughter therapy sessions]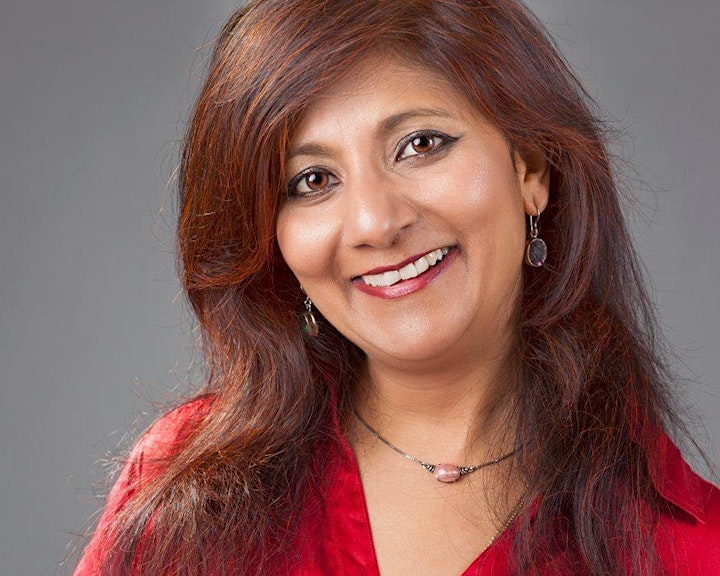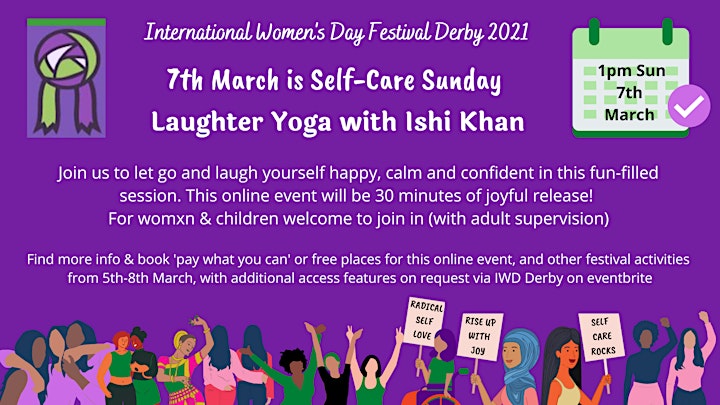 Organiser of Laughter Yoga with Ishi Khan
International Women's Day (IWD) Derby is a voluntary group running inspiring events by and for the community to advance the equality and quality of women's lives.
The IWD Festival is the flagship annual event, with other fundraisers, community workshops and collaborations during the year to create a brighter, safer, fairier future for women and girls