Description

SELF-PACED ONLINE COURSE | 7 MODULES | 3 SIMULATED ENVIRONMENTS
Finance for Business Survival
Become an expert in making cash-smart decisions and
survive

as a business!



---


Entreprenable Business Academy is proud to launch the online course "Finance for Business Survival".
Keep an eye on cash - Learn how to use financial information to prepare a winning business plan, make day-to-day decisions and focus on what you do best (... and not accounting).
Hands-on, forever - Run financial experiments and operate a company in our simulated learning environments. We'll make new scenarios monthly for you to practice even after you graduate.
Learn fast, without friction - Become cash-smart in under 60 hours in your own time, online (no downloads). Learning is teacher-less,but don't worry, you'll join a strong community of peers.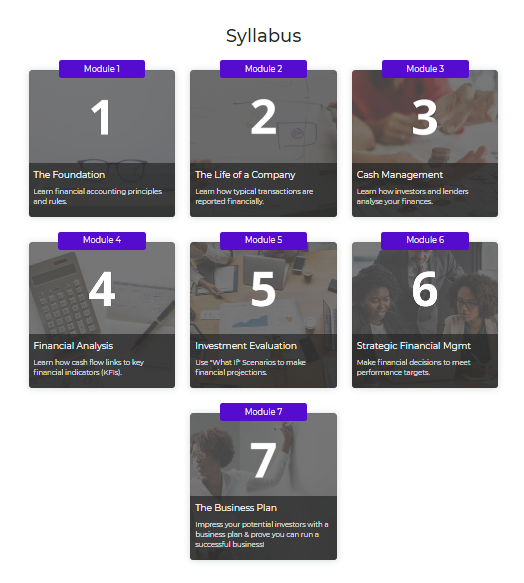 ---
TAGS: STARTUP FINANCE , ACCOUNTING , BUSINESS PLAN , FUNDING , CASH FLOW , START A BUSINESS , ENTREPRENEURSHIP , MANAGE MONEY , BUSINESS LOAN , GROW BUSINESS , PROFITABLE BUSINESS , BUSINESS SURVIVAL.