Description
*Please be aware that this event has now been cancelled due to logistical circumstances, we are very sorry for the inconvience caused*

Launch your dance career with One Dance UK in Scotland
One Dance UK's day-long conference for dance students and recent graduates comes to Dance Base in Edinburgh in 2018, in partnership with YDance.
Launch 2018 offers a unique opportunity for both professional development and networking, creating an unmissable platform through which dance students and graduates can gain insight into the many pathways a career in dance might take.
Launch is full of useful sessions covering a wide range of topics. The day provides seminars and hands-on practical advice from both emerging and established dance professionals, all of whom boast impressive careers both as dancers and in other diverse roles the dance profession offers, including producers, dance scientists and educators.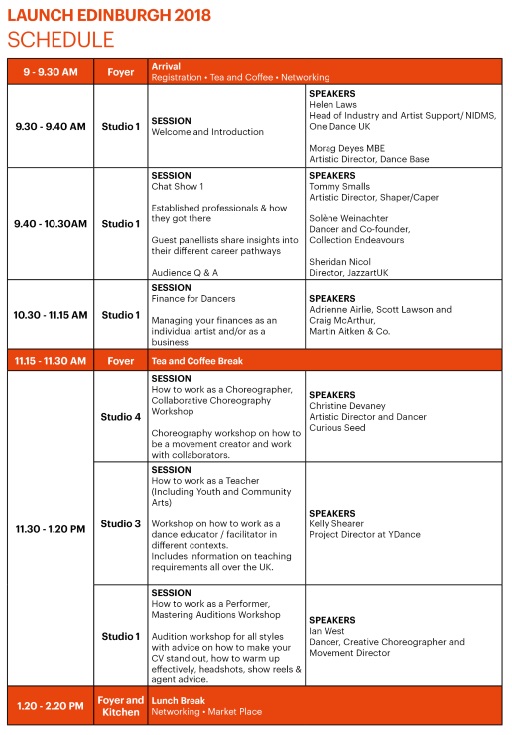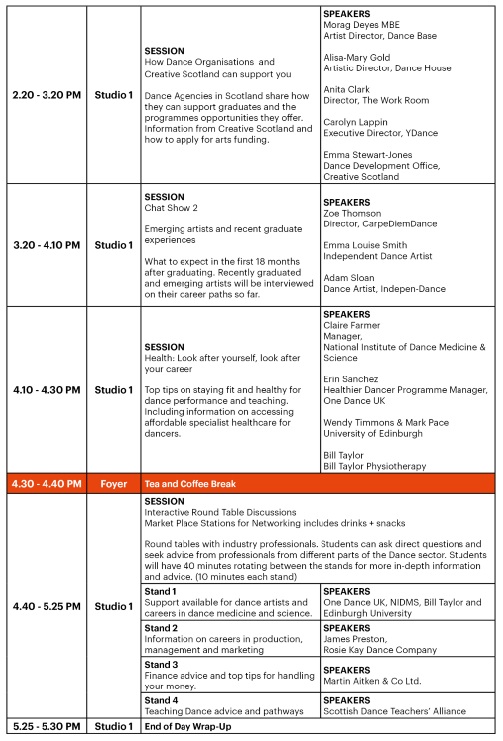 *Programme link here: http://www.onedanceuk.org/event/launch-edinburgh-2018/
Launch is set to inspire and empower a new generation of dancers and dance practitioners to understand better the nature of the dance sector in the UK and how to participate fully within it.
Previous attendee Emily Eason, from Northern School of Contemporary Dance, comments:
"The day has provided me with a lot of information, I feel more prepared and supported as an artist. It has turned some of my fears of graduating into excitement!"
We look forward to welcoming you to Launch 2018!
*Lunch and Tea and Coffees included*
*Session titles and speakers are subject to change.
Ailsa-Mary Gold

Panelist - 'How Dance Organisations and Creative Scotland can help you' session

Artistic Director - Dance House

Adrienne Airlie

Fiances for dancers

Chief Executive, Martin Aitken & Co

Anita Clark

Panelist - 'How Dance Organisations and Creative Scotland can help you' session

Director, The Work Room

Christine Devaney

'Working as a Choreographer in Collaborative settings'

Artistic Director - Curious Seed

Morag Deyes

Co-Chairing event & Panelist 'How Dance Agnecies and Creative Scotland can help you' Panel

Artistic Director at Dance Base

Claire Farmer

Health: Look after yourself, look after your career

Manager - National Institute of Dance Medicine and Science

Carolyn Lappin

Panelist - 'How Dane Organisations and Creative Scotland can help you' session

Executive Director, YDance

Helen Laws

Health: Look after yourself, look after your career

Head of Industry & Artist Support/ NIDMS - One Dance UK

Scott Lawson

Fiances for dancers

Independent Financial Adviser, Martin Aitken & Co

Sheridan Nicol

Panelist - 'Established Artists and their pathways' Chat Show.

Director - Jazzart UK

James Preston

Round Table on Producing and Directing in Market Place Session

Executive Director - Rosie Kay Dance Company

Erin Sanchez

Health: Look after yourself, look after your career

Healthier Dancer Programme Manager - One Dance UK

Kelly Shearer

'Working as a Dance Artist in Youth and Community settings' Workshop Leader

Project Director, YDance

Adam Sloan

Panelist - 'Emerging Artists and Recent Graduates Chat Show' session

Dance Artist, Indepen-dacnce

Tommy Small

Panelist - 'Established Artist and their pathways Chat Show'

Artistic Director - Shaper/Caper

Emma Louise Smith

Panelist - 'Emerging Artists and Recent Graduates Chat Show' Session

Independent Artist

Emma Stewart-Jones

Panelist - 'How Dance Organisations and Creative Scotland can support you' Session

Development Officer - Creative Scotland

Bill Taylor

Health: Look after yourself, look after your body and Market Place sessions

Physiotherapist, Taylor Physio

Zoe Thomson

Panelist - 'Emerging Artists and Recent Graduates Chat Show' Session

Artistic Director/Founder of CarpeDiemDance

Wendy Timmons

Health: Look after yourself, look after your career

Programme Director: MSc Dance Science & Education Lecturer in Physical Education Dance Science Specialist University of Edinburgh

Ian West

Leading on Mastering Auditions Session

Creative Choreographer & Movement Director