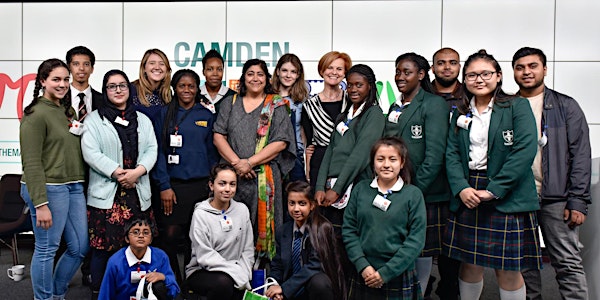 Launch Event: Camden STEAM 21st Century Talent Pledge
Location
Francis Crick Institute
1 Midland Road
London
NW1 1AT
United Kingdom
Description
Camden is a unique borough where science, technology and creativity meet, with world-leading organisations on our doorstep. We launched our STEAM (Science, Technology, Engineering, Arts and Maths) Commission in 2016, formed by leading representatives of Camden's schools, colleges, businesses and other key institutions. Its aim has been to highlight the growth sectors in Camden's economy, and to work with businesses to understand the skills they need now and in the future. Its ambition is to link them strongly with schools and further education, to deliver the 21st Century Talent they need and to guarantee the best opportunities and futures for all our young people.
The STEAM Commission's report, "Creating Camden's 21st Century Talent", launched last June at Google, recommending that a fusion of creative, scientific and digital skills and knowledge will be crucial for young people in the 21st century economy. The report made eight recommendations for Camden businesses and schools, focused on facilitating impactful engagement between young people and businesses.
We are excited to announce that delivery of these STEAM recommendations will commence this September, with a range of initiatives enabling schools and businesses to work together in meaningful ways. We are bringing leaders from Camden businesses, schools and cultural institutions together to launch the Camden 21st Century Pledge and the STEAM Hub. Join us for an evening at the Francis Crick Institute to hear more about the Pledge and how your business or school can benefit.
4.30pm: Drinks reception, networking and the opportunity to view the Crick's exhibition, Deconstructing Patterns: Art + Science in Conversation
5.00pm: 21st Century Talent Pledge and STEAM Hub launch and speeches
5.30-6.30pm: Young people will guide you through stalls giving an insight to each element of the 21st Century Talent Pledge and the opportunity to make your Pledge, followed by networking, drinks and canap

és with Camden's school, business and cultural institution leaders



Speakers include:
Cllr Georgia Gould, Leader of Camden Council
Dinah Caine CBE, Chair of the STEAM Commission
Katie Matthews, Director of Public Engagement at the Francis Crick Institute
What is the Camden 21st Century Talent Pledge?
Signing the 21st Century Talent Pledge will enable you to support local talent, focus your efforts on a range of impactful activities, and build strong relationships with local schools. You will be supported along the way and publicly recognised by Camden Council.
As a school, the Pledge will give you access to a network of committed employers, enabling you to embed STEAM and employer engagement opportunities at a whole-school level.
What is the STEAM Hub?
The Camden STEAM Hub Leadership Programme is a year-long programme training middle and senior leaders from primary and secondary schools across Camden to develop a STEAM curriculum and embed STEAM in the school's careers and employability provision. This pioneering programme will create tools and best practice which will be shared with schools across Camden and beyond. Schools taking part in the STEAM Hub will be particularly engaged with local employers and cultural institutions through curriculum and whole-school activities, providing many opportunities for meaningful collaboration.
This event is invitation only. If you have a colleague who would like to join, or know of a great Camden STEAM organisation to invite, please contact steampledge@camden.gov.uk.