Launch Event – Schumann and Stravinsky by Minerva Piano Trio
Concerts at Christ Church Kensington – Minerva Piano Trio | Experience live classical music and an enchanting organic garden in London W8
About this event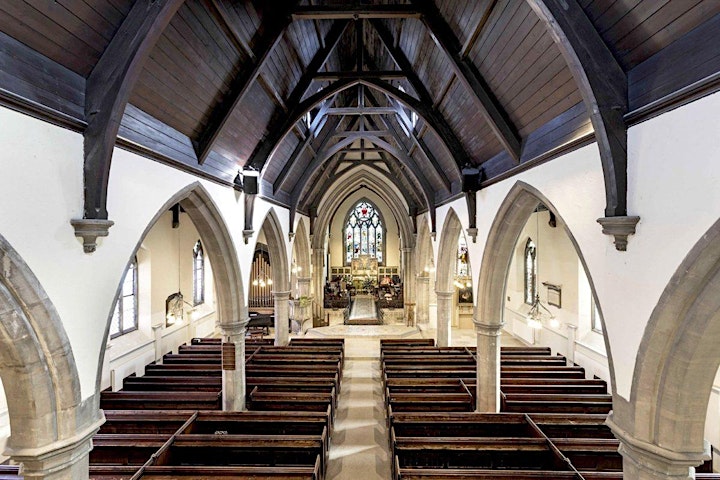 Concerts at Christ Church Kensington is a new concert series which brings together stunning acoustics, diverse musical talents and an enchanting organic garden in a charming neighbourhood in London.
Co-directed by Sam Barber, music director at Christ Church, and pianist Annie Yim, the inaugural concert series 2021/22 includes music ranging from the 12th century to contemporary composers. The bi-monthly lunchtime and evening concerts will feature award-winning soloists and ensembles, as well as student showcases from London music conservatoires.
As a non-profit community project, the concert series aims to pioneer a holistic approach to the concert experience. In partnership with Growing Space, a community organic garden at Christ Church, artists and audiences are invited to the enclosed garden (with covered areas) for a post-concert reception*.
MONDAY 15 NOVEMBER, 7:30 pm
Concert 1: Minerva Piano Trio
An evening of music written by two pioneers of the 19th and 20th centuries: Robert Schumann (1810–1856) and Igor Stravinsky (1882–1971). Schumann's Piano Trio in F major is quintessential romantic music ingeniously mixed with Bachian fugal elements; the neo-classical ballet suite Pulcinella by Stravinsky, which draws directly from Baroque Italian composers, has been reimagined and presented here as a brand new arrangement for piano trio.
Robert Schumann – Piano Trio in F major, Op. 80
Igor Stravinsky (arr. Birchall) – Pulcinella Suite (2021)
Annie Yim piano, Michał Cwizewicz violin, Richard Birchall cello
Doors open at 7:15 pm for general seating.
*Ticket holders will enjoy a complimentary glass of wine at the post-concert reception.
About Minerva Piano Trio
The Minerva Piano Trio have established themselves as one of the UK's most exciting trios whose playing has been described as "wonderfully rich, thunderous, and lyrical" (Classic FM). Acclaimed for their performances of the richly varied traditional repertoire, the Trio are equally passionate about reviving important but rarely performed works, championing leading young composers by commissioning new works and arrangements, and collaborating with other art forms such as dance. They were chosen as Making Music UK Selected Artists 2018 and St John's Smith Square Young Artists in residence 2016/17. The Trio was formed in 2013, and made their debut soon after at the Southbank Centre's Purcell Room in 2014 as Park Lane Group Young Artists. The Trio have broadcast live frequently on BBC Radio 3 and Classic FM and have worked closely with contemporary composers including Roxanna Panufnik, Cheryl Frances-Hoad, Gavin Higgins, and David Knotts. They are grateful for the support of ChamberStudio and the Richard Carne Trust, and have worked with eminent musicians as Gordon Back, members of the former Florestan Trio, and Gabor Takacs-Nagy. The Trio will be recording their debut album with SOMM Recordings in 2022. www.minervapianotrio.com
More about Christ Church Kensington: www.christchurchkensington.com
More about Growing Space: www. growingspace.london
COVID-19 Guidelines
In order to enjoy the concert safely, all visitors should wear a face covering indoors.
There will be a hand sanitizing station at the entrance.
We thank you for your cooperation and look forward to sharing our safe event with you.
Organizer of Launch Event – Schumann and Stravinsky by Minerva Piano Trio