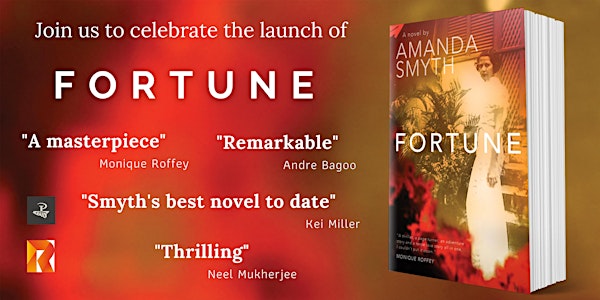 Launch for Amanda Smyth's FORTUNE | Wednesday 21 July | 7pm
Join us for the book launch of FORTUNE by Amanda Smyth with guests Ira Mathur, Jeremy Poynting, Jonathan Davidson and Melanie Abrahams
About this event
FORTUNE: A NOVEL ABOUT AMBITION, LOVE, AND OIL, BASED ON TRUE EVENTS
'A thrilling, gripping, moving book about love, desire, and making something of one's life…written in some of the most beautifully lyrical and clear prose I've read in a very long time.' NEEL MUKHERJEE
AMANDA SMYTH will read excerpts from the book and be in conversation with journalist and writer Ira Mathur and Director of Writing West Midlands Jonathan Davidson following an introduction by Jeremy Poynting (editor, and founder of Peepal Tree Press). The event will be hosted by Melanie Abrahams, literature curator and founder of Renaissance One, and guests will have an opportunity to ask the author questions. The event is a partnership between Peepal Tree Press and Renaissance One.
Eddie Wade has recently returned from the US oilfields. He is determined to sink his own well - despite the dangers - to make his fortune. His sights are set on Sonny Chatterjee's oil-rich cocoa estate. Although big corporations want to get their hands on his land, Sonny puts his faith in Eddie. When a fortuitous meeting with businessman Tito Fernandez brings Eddie the investor he desperately needs, the three men enter into a partnership. A friendship between Tito and Eddie begins that will change their lives forever. But when Tito introduces Eddie to his wife Ada, things become complicated.
Hampered by mosquitoes, heat, monsoon rains and superstitious fears, Eddie and Tito's fortune eventually materialises, shooting from the ground and filling thousands of barrels of oil. But as the pressure builds with signs of danger nearby, and Sonny threatens to sell up, Eddie and Tito decide to sink one last well, hoping that their luck will hold.
With so much money at stake and many lives on the line is there any hope of a happy ending? Re-imagining the 1928 Dome Fire in which 17 people perished, this is a remarkable story which deserves to be told.
Amanda Smyth is Irish-Trinidadian and was born in Ireland. She spent long summers in Trinidad with her mother, who told her the true story of the Dome fire of 1928 that led to one of the worst oil disasters in the history of Trinidad's oil business. This tragic tale inspired Fortune. Amanda is the author of Black Rock (2009) and A Kind of Eden (2013). Black Rock (which was Amanda's debut novel), won the Prix du Premier Roman prize, was nominated for an NAACP award, for the McKitterick Prize and selected as an Oprah Winfrey Summer Read. Amanda teaches creative writing at Arvon, Skyros in Greece, and at Coventry University. She lives in Leamington Spa with her family.
Ira Mathur is an Indian-born Trinidadian multimedia journalist and a Sunday Guardian columnist with degrees in in literature, law and journalism. She has longlisted for the 2021 Bath Novel Award. Her Memoir 'Love the Dark Days' (Peepal Tree Press) is out in July 2022. Mathur studied creative writing in London at the University of East Anglia/Guardian with James Scudamore and Gillian Slovo, and Maggie Gee at the Faber Academy . In 2019 Mathur was longlisted for the Johnson and Amoy Achong Caribbean Writers Prize. An excerpt of her memoir is anthologized in Thicker Than Water, (Peekash Press, 2018). In 2018 she was shortlisted for the Bridport Short Story Prize, the Lorian Hemmingway and Small Axe Literary Competition.
Jonathan Davidson has spent a lifetime finding ways to release poetry into the wild. He has curated festivals, made poetry-theatre performances, and published books and pamphlets. His work has been mainly around the English Midlands, but has also taken him to India, Ukraine, the Baltic States and Central America. His recent books are On Poetry (Smith|Doorstop 2018) a book about his immersion in poetry, and A Commonplace (Smith|Doorstop 2020), a collection of poetry, commentary and ephemera. He has many accolades such as being the Chief Executive of literature development agency Writing West Midlands and a co-founder and director of Birmingham Literature Festival.