Description
On 10th December, join Denis Alexander at Heffers as he celebrates publication of his new edited book, Has Science Killed God?: The Faraday Papers on Science and Religion.

World-leading experts tackle challenging issues of science and faith.

The Faraday Papers provide the general reader with accessible and readable introductions to the relationship between science and religion, written by a broad range of authors who are expert in the field, including John Polkinghorne FRS, Bob White FRS, John Houghton FRS, the late Ernan McMullin and Alister McGrath, who has also written a special Introduction for the book. The Papers are intended to be read by those without a scientific background. Here they are collected for the first time into a single volume.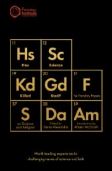 The Faraday Institute for Science and Religion is a UK educational charity and a member of the Cambridge Theological Federation which is an affiliate of Cambridge University.

The launch is free to attend but booking is essential as spaces are limited. Tickets can be booked through this page, by calling 01223 463200 or in person at Heffers bookshop. Please note this is an informal, celebratory event, not a seated talk; a limited number of chairs will be available.
Like this? See a full list of our forthcoming events by clicking here.