Join us as we launch a new conversation guide for trust and community building
About this event

Creators of Peace are launching a guide to conversation circles for trust and community building. These engage individuals and groups in exploring the impact of damaging narratives of human hierarchies and hurting histories.
Only a Shared Humanity can create the new story that will allow us to work together to tackle the urgent needs of our age.
Hear from our panel of speakers followed by an opportunity to participate in a small group interaction.
Speakers
Amina Dikedi, President of Creators of Peace (UK / Nigeria)
Jean Brown, Elder of Creators of Peace International (Australia)
Howard Grace, Initiative of Change UK (UK)
Anne-Claire Frank-Seisay, Secretary of Creators of Peace International (USA)
Isabella Stanley, Intern for Creators of Peace. (Australia)
Omnia Marzouk, Creators of Peace UK Advisory Group (UK / Egypt)
Anvita Bisaria(Melbourne, Australia).
Elizabeth Laskar, National Coordinator of Creators of Peace UK and the Oxford Human Rights Festival Lead . (UK)
This event is in collaboration with Creators of Peace UK, Creators of Peace International, Initiatives of Change UK. Initiatives of Change International and the Oxford Human Rights Festival, the Centre of Development and Emergency Practice (CENDEP) at Oxford Brookes University.
Pictures above: Creators of Peace women at Caux in Switzerland
Note: This event will be recorded and posted on our social media after the event. You have the option to turn off your camera if you do not want you image to be recorded or seen by other participants.
Meet our speakers
Amina Dikedi From 1994 to 2013 Amina served as International Coordinator of Creators of Peace. She has been a Board member of IofC Nigeria since 2012 and is currently the President of Creators of Peace International. Through her work and her caring approach, Amina has earned the respect, trust and friendship of a large network of individuals throughout Africa and continues to build on her links with politicians, senior civil servants, traditional leaders, educators, business people and citizens.
Jean Brown is based in Australia and is one of the elders for Creators of Peace and has been involved with CoP since 1994. Jean is the designer of the Creators of Peace Circles which have spread to 50 countries over the last fifteen years. She authored the CoP facilitation and training manuals and most recently was the convener for CoP's 25th anniversary conference. Jean has worked full-time with Initiatives of Change for 50+ years, including for many years in India and the USA, pioneering projects such as 'Action for Life', a leadership programme for young people, and supporting reconciliation initiatives in South Sudan. She lives in Australia where, together with her family, she is actively involved with community initiatives and regularly mentors women around the world. Trainer, Facilitator for Creators of Peace International
Anne-Claire Frank-Seisay,(French/Dutch) lives in Maryland, USA. She is Secretary of Creators of Peace International and has been involved with the creation of Advocates for a New Story since the first trial workshop in Caux in 2017. Anne-Claire is a freelance facilitator of participatory processes.
Isabella Stanley is passionate about creating societal transformation through socially focused approaches that work to connect people and communities. With an academic background in human geography and psychology, she has recently completed a MA Social Development at the University of Sussex, where her research focused upon the identity politics of UK asylum seekers and detainees. Isabella has previously engaged in social exclusion research with an Indonesian NGO, and is now working with Indigenous Australian students to support their academic endeavors in higher education. She is also currently interning with Creators of Peace UK.
Howard Grace was born in Newbury in 1940. After studying physics at university in the 1960s he worked in a voluntary capacity for 14 years, mostly overseas, with MRA. This included four years in South Africa during apartheid times. In 1979, he fell foul of the security police there, and on returning to the UK trained as a teacher at the age of forty. He then spent 15 years teaching mathematics in a comprehensive school. Following that he founded and led a programme conducting workshops in hundreds of Sixth Forms around the UK on issues related to purpose in life and motivation. In 2010 Howard and his Dutch wife Maria changed their spiritual home the Quakers. Also, with Muslim, Evangelical Christian, and non-religious friends he was one of the founders of the West Berkshire Peace and Integration Forum. In 2019, he became the Newbury coordinator of the Progressive Christianity Network UK. Howard is also the executive producer of the film Beyond Forgiving. https://www.youtube.com/watch?v=inghPuBNSEE. Howard and Maria have two daughters, Wendy and Karen.
Dr Omina Marzouk, President of Initiatives of Change International from 2011-2016 (Liverpool). Originally from Egypt, born in Spain, Omnia has lived most of her life in Australia and Britain. She attended Sydney University and was the first woman recipient of the Hamilton Mott Scholarship at Wesley College. After achieving her Doctor of Medicine with distinction from Liverpool University she served the UK's busiest Children's Emergency Department – Alder Hey Children's NHS Trust for 22 years as a consultant in Paediatric Emergency Medicine. She continued as the Clinical Director of the Emergency Department for 7 years and the Associate Medical Director of the Children's hospital for 5 years. She also held the Royal College of Paediatrics and Child Health national advisory training posts in Paediatrics and Paediatric Emergency Medicine. She has recently retired from clinical work but continues to mentor doctors in Emergency Paediatrics. Dr Omnia Marzouk was the first woman President of Initiatives of Change International from 2011-2016 and was introduced to Initiatives of Change (IofC) while at school in Australia. She has been actively involved since. For many years, she has been particularly engaged in trust-building initiatives and intercultural and interfaith dialogue within the UK as well as taking part in similar initiatives in Europe, the Middle East, Asia and Africa.
Anvita Bisaria is an Environment and Sustainability professional. She spent nearly a decade in the private sector supporting organizations to enhance their environment performance. The highlight of her career is helping design "The Drop" a 3D printed electric car made of recycled plastic. The design of the car was selected for TED's next visionary competition. However she realized that the environment problem is a human behavioral problem. And decided to consolidate her technical capabilities to contribute towards behavioral change initiatives in communities. She and her friend Shannon started an organization called "Regenerative Roots". The aim of the organization is to help revive a sense of belonging rooted in the land, culture and our own spirit. This she thinks is pivotal to healing ourselves and the mother Earth. Regenerative roots hosts a range of events, forums, activities to educate/ re-educate the community. Anvita holds double Masters in Environmental Science and Environment Management from Institute of Science, India and Massey University, NZ.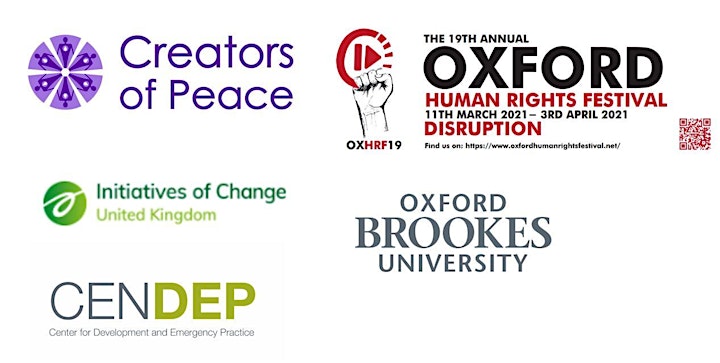 Organiser of Launch of 'Advocating for a New Story of our Shared Humanity'
Raising Awareness of Human Rights through the Arts
FOUNDED in 2003 by MA students on the Development and Emergency Practice programme
which is run by the Centre of Development and Emergency Practice (CENDEP) based within
the school of Architecture.  
OUR AIM is to raise awareness of human rights issues through informative films,
performances, talks, workshops, and exhibitions.
THE FESTIVAL IS CURATED AND LED by students and the organising committee
which is open to all undergraduates and postgraduates across the university including
Film Studies, Business & Marketing and International Relations.
FESTIVAL THEMES have included IDENTITY, HOME and ACTIVISM and we have
explored what these mean in terms of gender, sexuality, race, ability, class, wealth,
religious beliefs, forced migration, homelessness, nationality and much more. 
PAST EVENTS  2017 Ken Loach opened the OXHRF with a screening of his highly
acclaimed film I, Daniel Blake. 2016 Ziauddin Yousafzai, father of equal education
activist Malala Yousafzai, spoke at our screening of their film He Named Me Malala.
WE WELCOME sponsorship and collaborations.
Film, music, performance and arts are all part of our expressions.