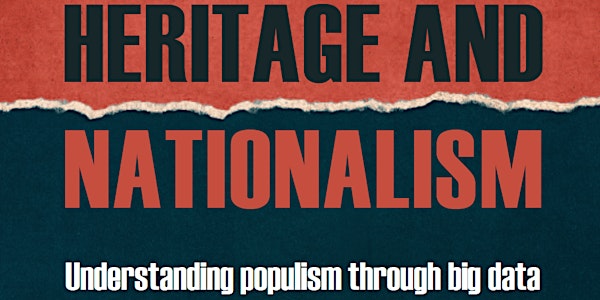 Launch of Heritage and Nationalism: understanding populism through big data
Join us for the launch of the newly published book 'Heritage and Nationalism: understanding populism through big data'!
About this event
About the event: Zoom webinar, 10 June, 2-3.30pm GMT
We hope you will join us on 10 June, 2-3.30pm (GMT) for the online book launch of Heritage and Nationalism: Understanding populism through big data (UCL Press).
The event will start with an introduction by the author, Dr Chiara Bonacchi, followed by responses from four panellists: Professor Rodney Harrison (UCL), Dr Manuel Fernández-Götz (University of Edinburgh), Ass. Prof. Fiona Cameron (Western Sidney University) and Ass. Prof. Dacia Viejo-Rose (University of Cambridge). Then, we will open-up the floor to questions and discussions.
The book explores how people's perceptions and experiences of the ancient past shape political identities in the digital age. It particularly examines the multiple ways in which politicians, parties and private citizens mobilise aspects of the Iron Age, Roman and Medieval past of Britain and Europe to include or exclude 'others' based on culture, religion, class, race, ethnicity, etc. How was the Roman Empire invoked in Brexit Britain and in Donald Trump's United States of America, and to what purpose? And why is it critical to answer these kinds of questions?
Heritage and Nationalism draws on the results of an extensive programme of research involving both data-intensive and qualitative methods to investigate how pre-modern periods are leveraged to support or oppose populist nationalist arguments as part of social media discussions concerning Brexit, the Italian Election of 2018 and the US-Mexican border debate in the US. Analysing millions of tweets and Facebook posts, comments and replies, this book is the first to use big data to answer questions about public engagement with the past and identity politics. The findings and conclusions revise and reframe the meaning of populist nationalism today and help to build a shared basis for the democratic engagement of citizens in public life in the future.
REGISTRATION IS FREE AND REQUIRED : A LINK TO THE ZOOM WEBINAR WILL BE SENT TO REGISTERED PARTICIPANTS (you can find it in the registration confirmation email)