Launch of King's College London's COP26 Digital Project: The Green Steel Opportunity for Australia-China
About this event
As the world maps out a pathway for transitioning to a low-carbon future, energy-intensive commodities are heavily in focus. Despite its importance to infrastructure across the globe, steel production is one of the most environmentally unsustainable sectors, with the industry contributing 7-9% of total global carbon emissions.
China is by far the largest global producer of steel and coal and iron ore, two primary ingredients in steel production, are integral to the Australia-China trade relationship. In 2020, coal and iron ore exports contributed AUD$190billion to the Australian economy with China as its largest customer.
In cutting-edge new research conducted at the Australian National University (ANU), researchers are looking at a more sustainable solution for steel production and a low carbon opportunity for Australia-China trade. Introducing hydrogen into the production method – known as 'Green Steel' - is an emerging technology that will be a crucial component of decarbonising the infrastructure sector. It also has the potential to substantially alter the set-up of the China-Australian production chain, with Australia supplying either hydrogen, direct reduced iron, or steel products to China.
In this King's COP26 Digital Launch Event, our guests will be treated to a first-look at this research and hear directly from the researchers about the viability of the 'Green Steel Opportunity' for China, Australia and the world at large.
Speakers:
Professor Frank Jotzo, Professor, Crawford School of Public Policy; Director, Centre for Climate and Energy Policy, ANU
Frank is a Professor of Environmental Economics at the Australian National University's Crawford School of Public Policy, and Head of Energy at the ANU Institute for Climate Energy and Disaster Solutions. His research and project leadership spans policy instruments for emissions reductions, economics of decarbonisation, opportunities in the transition to net zero emissions systems and international dimensions of climate change and energy policy. One of these programs is the ANU Zero Carbon Energy for Asia-Pacific initiative at ANU. He has led and published applied research on opportunities and measures for greenhouse gas emissions reductions in different countries including China, and in collaborations with Chinese universities. Frank Jotzo has advised federal and state governments in Australia and international organisations, is a lead author with the Intergovernmental Panel on Climate Change, and is joint editor-in-chief of the academic journal Climate Policy. He tweets @frankjotzo.
Dr. Mousami Prasad, Crawford School of Public Policy, ANU
Mousami is a PhD from School of Management, Indian Institute of Technology (IIT) Bombay, India. Her doctoral thesis on Environmental Performance of firms in India was awarded the Excellence in Thesis Award by IIT Bombay in 2019. Her research interests include Energy and Climate Change particularly Energy Economics; Energy Efficiency; Energy Technologies. Prior to her doctorate, Dr. Prasad worked in a stock broking firm in India. She holds Bachelor's in Commerce from Indraprastha College for Women (University of Delhi, India) and Post Graduate Diploma in Business Management. Based on her academic performance she has received several fellowships and awards. She has also served as Research Fellow in IIT Bombay where she was involved in the project to assess the IIT Bombay' economic and social impact. Dr. Prasad is working as a joint Research Fellow at the Energy Transition Hub and the Grand Challenge Program on Zero Carbon Energy for Asia Pacific, Australian National University.
Associate Professor John Pye, ANU
John is an Associate Professor at the ANU's College of Engineering and Computer Science. He graduated from the University of Melbourne in Mechanical Engineering in 1997, and later earned his PhD in 2008 at the University of New South Wales (UNSW). He has also been a Researcher in the Solar Thermal Group since 2006. In 2012, he was Visiting Scholar at Sandia National Laboratories in Albuquerque, New Mexico. John's research expertise include energy generation and conversion, renewable power and energy systems engineering. He supervises students on topics ranging from building energy efficiency to optimisation of solar-thermal receivers. He is currently leading multiple research projects including ones funded by the Australian Renewable Energy Agency (ARENA) and the United States-Australia Solar Energy Collaboration (USASEC).
John Johnson, CEO China and Managing Consultant, CRU China, Beijing
John is a Chief Executive Officer at CRU China, Beijing and is a well-known expert on the global steel & mining industry, having been researching & consulting on these industries for over 30 years. He is an authority on China, where he has lived for 17 years and manages CRU's China's growing presence in Beijing and Shanghai. His views on the China's steel industry are sought by executives around the world. More recently John has focused more on China policy issues, notably those related to ESG and their impact on the steel industry. John is Treasurer of Global Mining Association of China and member of both Energy & Financial Services Forums at BritCham China.
Chair: Hannah Bretherton, Impact and Engagement Manager, Lau China Institute, King's College London
Hannah leads the Lau China Institute's research impact and external engagement strategy, raising the Institute's profile by developing global partnerships and managing outreach, publications and flagship events, including the inaugural China Week. She is also the founder of The China Puzzle - a digital media channel designed to create constructive dialogue on China in the UK. Prior to joining King's College London, Hannah was Member Engagement & Projects Manager at the Australia-UK Chamber of Commerce. In this role, Hannah led the Chamber's Trade Policy Committee, facilitating business-government engagement on the Australia-UK Free Trade Agreement. Hannah began her career working for Australia's former Foreign Minister, the Hon Bob Carr, as a Researcher at the Australia-China Relations Institute, UTS. Following this, Hannah joined the policy institute China Matters, where she conducted research and facilitated senior-level strategic dialogue on China between business and government. Prior to relocating to London, Hannah worked as a Policy Advisor for the NSW Department of Premier & Cabinet and founded a gender equality consultancy called the 3:30 Project. Hannah has published peer reviewed academic journals in the Australian Journal of Politics and History, the China Economic Journal, and the Australian Journal of International Affairs. Hannah received First Class Honours in International Relations from the University of New South Wales and received two scholarships to study in China – at Lanzhou University and Shanghai Jiaotong University.
Primary Event Partner: Australian Centre of China in the World, Australian National University (ANU)
This online webinar will be held on Zoom and registered guests will be sent the access link via email a week before the event. Tickets are free for all to attend.
To tweet about the event, use the tags @lauchinainst, @ANUmedia and @ANU_china on Twitter, and hashtags #ChinaWeek2021 #COP26 #lauchinainstitute #chinaintheworld #kingscollegelondon #ANU
For media and event inquiries, please contact lauchina@kcl.ac.uk.
This year's China Week forum at the Lau China Institute of King's College London is held in partnership with:
Chatham House (Asia-Pacific Programme)
Australian National University (ANU)
The China-Britain Business Council (CBBC)
The Great Britain China Centre
Society for Anglo-Chinese Understanding
Italian Institute for International Political Studies (ISPI)
China Biodiversity Conservation and Green Development Foundation (CBCGDF)
Oxford University Silk Road Society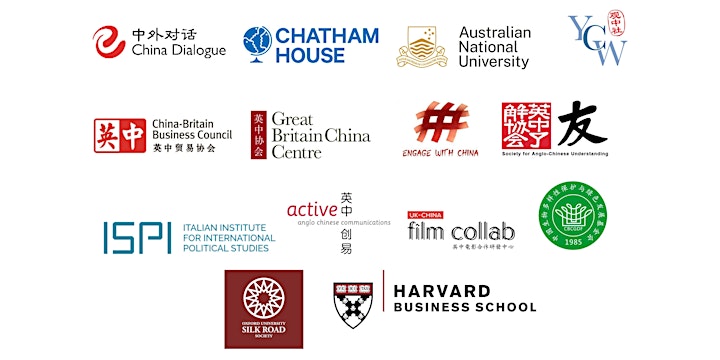 Organiser of Launch of King's COP26 Digital Project
The Lau China Institute is a global centre for the research, study and understanding of contemporary China. We aim to study both China and work with Chinese scholars and others. As such, we seek research collaborations and deeper mutual understanding with the People's Republic of China, ensuring we sit at the heart of King's strategic approach.
Established in 2011, we now have a community of core academics and postgraduate students, including roughly 30 PhD students. We are based within the School of Global Affairs, yet work across all nine faculties and beyond, to engage in multi-disciplinary and innovative research.
The Lau China Institute is based in Bush House, North East Wing, 40 Aldwych, London, WC2B 4BG, part of King's Strand Campus.