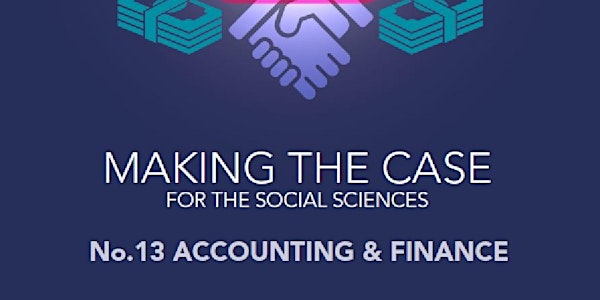 Launch of Making the Case for the Social Sciences – Accounting & Finance
Description
Making the Case for the Social Sciences – Accounting & Finance
Thursday 10 May, Committee Room 14, House of Commons, Westminster, London SW1A 0AA
Please join us at the launch of the latest booklet from the Academy and its Campaign for Social Science, Making the Case for the Social Sciences – Accounting & Finance
The booklet will be launched by the Rt Hon Philip Hammond MP, Chancellor of the Exchequer. The seminar will feature an expert panel of leading researchers and senior policy makers.
Accounting and finance practices affect every aspect of our lives in ways both big and small. They impact the decisions made about the goods and services we use and help us make sense of the world around us. However, they might also be caricatured as 'boring', and even inaccessible, privileging financial considerations over the public good. Recent controversial public debates about matters such as health, social care, and development are just a few examples. Challenging these perceptions, this booklet demonstrates the positive influence of accounting and finance research, where researchers have worked with practitioners, policy makers, commercial enterprises, governments, NGOs and charities to understand and improve the decisions we make. The field is active, broad and exciting, encompassing a wide range of issues beyond its traditional 'bean counting' depictions.
This issue, the thirteenth in the Making the Case for the Social Sciences series celebrating the benefits of social science research and practice to society, is sponsored by the British Accounting and Finance Association and the British Accounting Review.
Please allow sufficient time for security checks at the House of Commons.
Kindly RSVP by Tuesday 8th May. We very much hope we will be able to welcome you to the event and look forward to hearing from you.
If you have any questions, please contact Marta Kask on campaign@acss.org.uk or +44 (0) 20 7682 4667
Organiser of Launch of Making the Case for the Social Sciences – Accounting & Finance