Punk Now!! Contemporary Perspectives on Punk Book Launch. In Conversation with: Matt Grimes & Mike Dines (co-editors)
About this event
Punk Now!! (published by Intellect in 2020) explores contemporary and non-Anglophone punk as well as its most anti-establishment tendencies through a collection of papers from the second Punk Scholars Network International Conference and Postgraduate Symposium hosted by Birmingham City University. This edited collection informs us about punk today and punk at the margins, areas that are often poorly served in punk studies. For this book launch Edward Avery-Natale, Professor of Sociology in the Liberal Arts Department at Mercer County Community College, discusses the background to the development of the volume and its content with the editors Matt Grimes (BCMCR and BCU) and Mike Dines (Middlesex University). They will also be joined by contributing authors of the volume, to discuss their research interests and motivations for their chapters on contemporary perspectives on punk rock. This will be followed by a Q&A session.
Matt Grimes is a senior lecturer in music industries and radio and course director of the BA(Hons) Music Industries course at Birmingham City University. His research interests include British anarcho-punk and its ideological significance in the life courses of ageing fans. He has published on the subjects of anarcho-punk identity and ageing, anarcho-punk 'zines, DiY punk culture, punk spirituality, punk pedagogy and radio for social change, as well as other subjects. He is the general secretary of the Punk Scholars Network and on the editorial board for the journals Punk & Post- Punk and RIFFS. Matt is also a lifelong supporter of Millwall FC.
Mike Dines is a British musician, writer, scholar and publisher. He founded Itchy Monkey Press (http://itchymonkeypress.com) with the publication of the anarcho-punk novella the darkening light (2014), followed by Tales From the Punkside (2014), Some of Us Scream, Some of Us Shout (2016) and And All Around Was Darkness (2017) with Greg Bull. As a scholar he has written widely on subcultures and popular musicHis current writing takes him in the direction of punk and spirituality with the co-edited collection Exploring the Spiritual in Popular Music: Beatified Beats (Bloomsbury, 2021). He is currently a lecturer of music at Middlesex University and is an avid supporter of Portsmouth Football Club
Edward Avery-Natale is a Professor of Sociology in the Liberal Arts Department at Mercer County Community College. He is the author of the book, Ethics, Politics, and Anarcho-Punk Identifications: Punk and Anarchy in Philadelphia as well as numerous articles on the topics of race and racism, Deleuzian approaches to identification, and punk rock and anarchism. He is currently working on an edited compilation that will push the theoretical boundaries of subcultural studies while applying theory to empirical studies of punk rock. He is also working on several articles applying Deleuzian concepts to the sociological study of identifications.
The book can be purchased at https://www.intellectbooks.com/punk-now
Use the discount code PUNK20 for a 20% discount.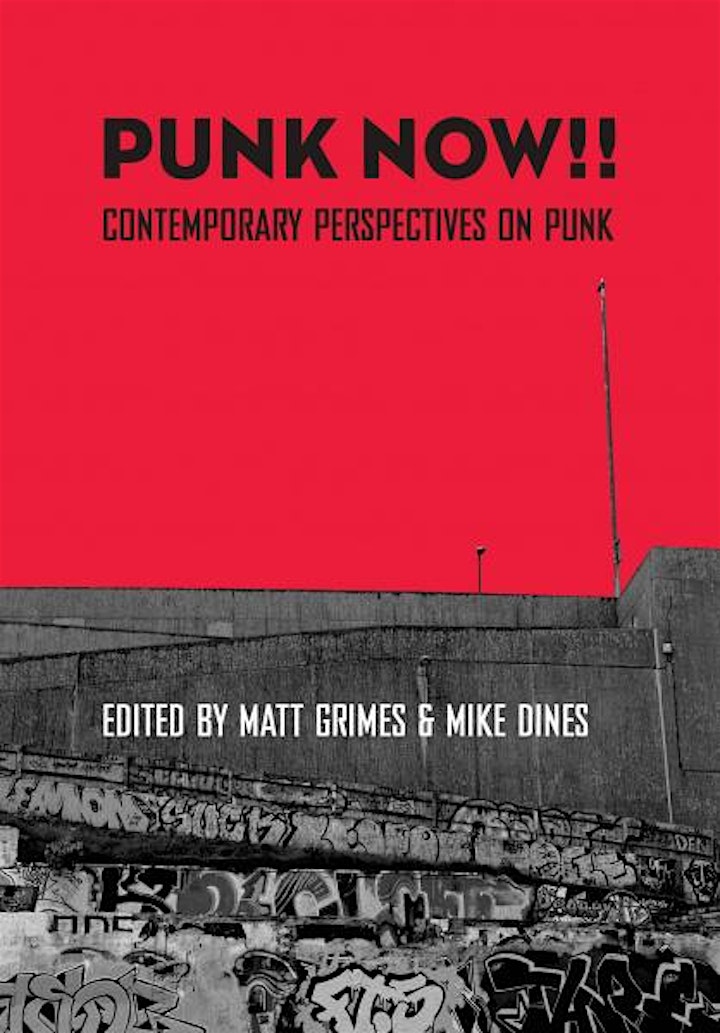 Organiser of Launch of 'Punk Now!! Contemporary Perspectives on Punk'
The Birmingham Centre for Media and Cultural Research (BCMCR) engages in collaborative work across six research areas:


Popular Music Studies
Screen Cultures

History, Heritage & Archives
Journalism, Activism, Community

Creative Industries

Jazz Studies
The BCMCR's mission is to advance research and teaching in the broad range of media and cultural studies and to serve as the focal point for a community of scholars who are committed to critical inquiry and collaborative practice.The Centre provides scholars with the resources necessary to generate new knowledge and to produce distinctive and creative work that challenges traditional disciplinary boundaries and reaches beyond the academy. BCMCR is at the forefront of innovative scholarship in the areas of global media and culture, digital media and new technologies, media history and theory, gender and sexuality, visual cultures, sound and music studies, race and class, media institutions and politics, media practices, and critical media studies.