Description
Decolonising the Archive and Black History Studies presents the PREMIERE screening of 'WINNIE' on Friday 27th April 2018 @ The Arch 29, The Africa Centre.
Black History Studies and DTA are happy to announce our collaborative residency series at the Africa Centre - The SIRIUS B Detoxification Station. This platform will provide functional wellbeing spaces, supporting the healthy future of people of African heritage in the UK. Programme elements include a Windrush Time Capsule, business and finance surgeries, an African-centred 'living library', dynamic energy cultivation sessions, Emotional Emancipation Circles, therapeutic performance spaces and opportunities to (re)vision African futures.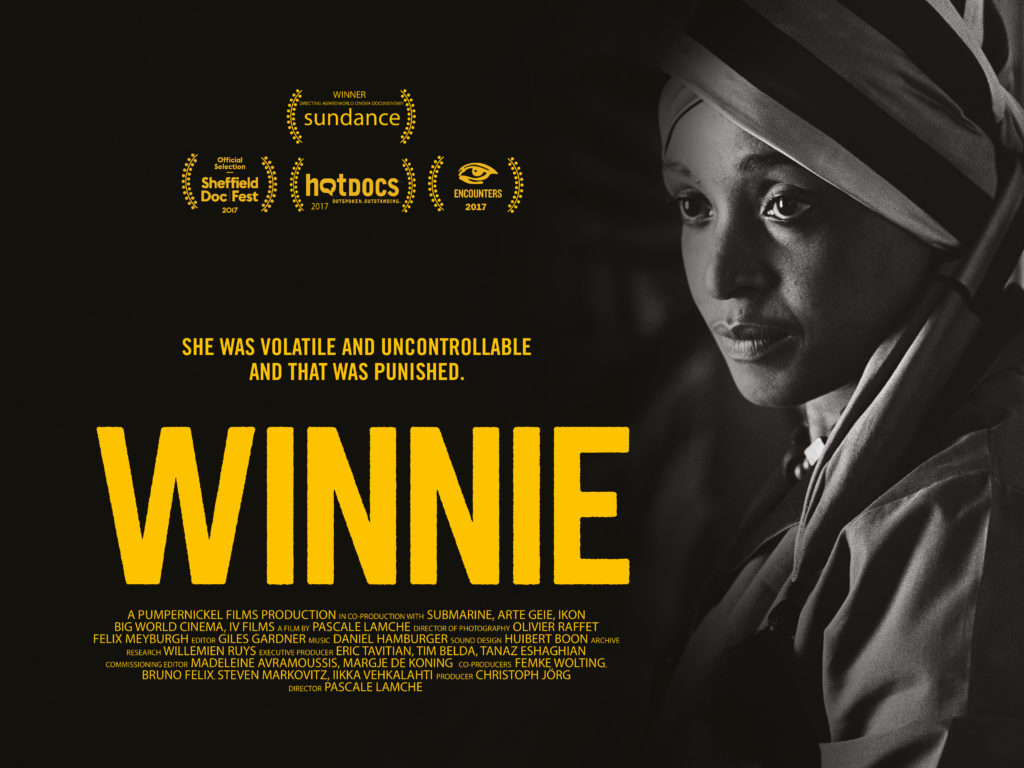 Winnie Mandela is one of the most misunderstood and intriguingly powerful contemporary female political figures. As her husband Nelson Mandela served out his sentence in prison, Winnie took centre stage before the world as the face of the African National Congress. She became an icon for an adoring but fickle public that first cast her as the Mother of the Nation, and then cast her down as a sinner.

Unflinching in her pursuit of progress, history still paints Winnie as a supremely controversial figure, a victim turned perpetrator and looking to redress the balance, filmmaker Pascale Lamche offers a nuanced portrait of a woman condemned for her radical role in the liberation of her South African people under apartheid.

The screening includes a panel Q&A with:

Chitra Karve. Worked for Liberty human rights organisation, as their Ethnic Minorities Human Rights Lawyer; as Assistant to the Executive Secretary of the Anti-Apartheid Movement. Chita is Chair of the non-governmental organisation Action for Southern Africa and member of the Steering Group for the Migrants' Law Project.



Amenti Francis BSc DipRG DipHyn Dip - also known as Amenti the Awakener- Founder of RepairNation, an organisation to assist diasporic communities with support around the effects of PTSD and mental health in the Black community. Amenti has 16 years experience working with people both in a professional and community based setting. Amenti specialises in Trauma Counselling, Sexual abuse especially for children and women and looking at the generational and long terms effects of unresolved trauma. Amenti is also a holistic therapist so can provide information on tools and tricks that can support people to reveal and heal their trauma.
Kefiloe Siwisa - South African Art -ivisit and Curator for 1:54 Gallery


The event will take place on Friday 27th April 2018 at The Arch 29, The Africa Centre, Arch 29, 66 Great Suffolk Street, London, SE1 0BL. Nearest station: Southwark Station (Jubilee Line).

Doors will open at 5.00pm.

The event will start 7.00pm.

Tickets for this screening will be £6.75 plus booking fee.

LIMITED SEATS AVAILABLE AND SCREENING WILL NOT BE REPEATED so purchase your tickets TODAY!

Hot food and refreshments will be provided

There will be a Black Business Marketplace throughout the event, if you would like to book a stall, book NOW.
(Please note, video recording and photographs will be taken at this event and may be used for promotional purposes).

Regards

Black History Studies and Decolonising The Archive