Drug Science is proud to be launching the 'Medical Psychedelics Working Group'. Please join us in celebrating its launch on the 14th of July
About this event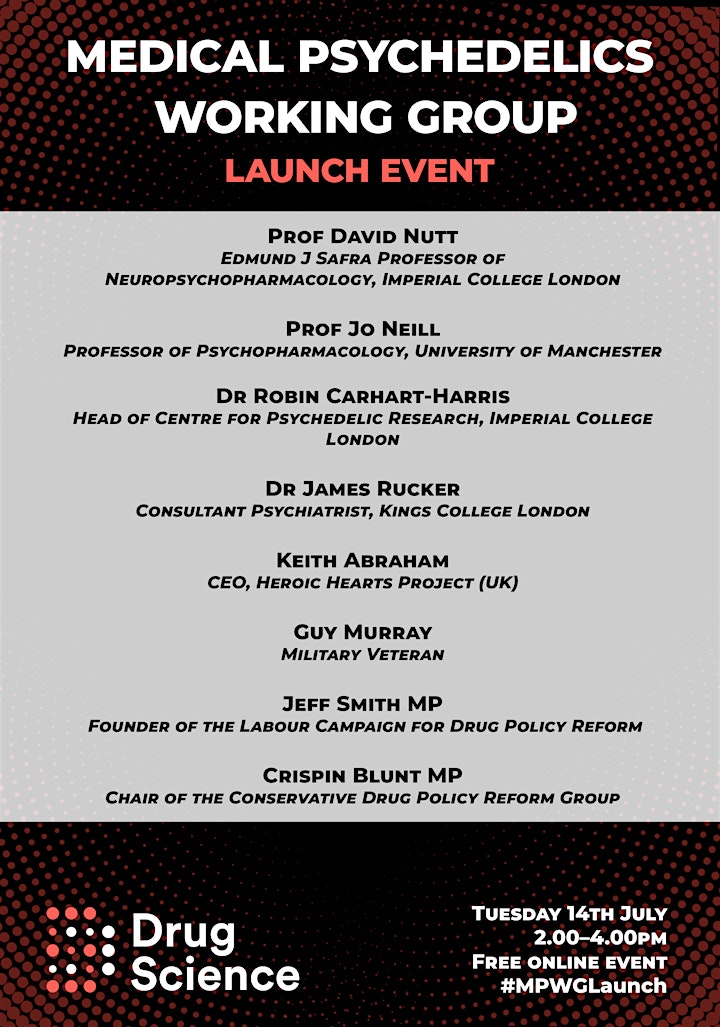 Drug Science believes that the future of psychedelic medicine is extremely promising, and there is potential for widespread application of psychedelic drugs within public health models. The UK is a world leader in the development of clinical psychedelic research, which is now expanding globally.
However, current UK regulations have created serious and considerable barriers to legitimate research associated with Schedule 1 regulations. While current legislation does not preclude scientific research with these drugs, it does make them significantly more difficult, time-consuming and costly to study.
With a greater understanding amongst policy makers, academics, the media and the general public, there are realistic prospects of regulatory approval, leading to the evidenced possibility that medical psychedelics can be used safely, feasibly and with the potential for lasting therapeutic benefits.
Building off the success of the Medical Cannabis Working Group, the Medical Psychedelics Working Group (MPWG) is a consortium of Drug Science experts, leading academics and researchers, policy specialists and industry partners. The group's aim is to create a rational and enlightened approach to psychedelic research and clinical treatment. The group will explore innovation within the psychedelic space with a specific focus on how psychedelics can be integrated into primary and secondary healthcare. Evidence-based science, sharing data, and strong partnerships are keys to success for the psychedelic community.
On the 14th of July, we would like you to join us in celebrating the launch of this group with a series of talks from some of the best and brightest minds in this field:
Session 1 - Policy discussion - Psychedelics for veterans with PTSD
Speakers
Keith Abraham - CEO of Heroic Hearts Project (UK)
Guy Murray - Military Veteran
Jeff Smith - MP & Founder of the Labour Campaign for Drug Policy Reform
Crispin Blunt - MP & Chair of the Conservative Drug Policy Reform Group
Session 2 - The future of psychedelic research
Speakers
Professor David Nutt -Edmund J Safra Professor of Neuropsychopharmacology at Imperial College London
Dr Robin Carhart-Harris - Head of Centre for Psychedelic Research, Imperial College London
Dr James Rucker - Consultant Psychiatrist, Kings College London
Session 3 - The Medical Psychedelics Working Group launch
Speakers
Professor Jo Neill - Professor of Psychopharmacology at the University of Manchester
Professor David Nutt -Edmund J Safra Professor of Neuropsychopharmacology at Imperial College London
Drug Science is a leading international voice on the scientific, ethical and political developments regarding psychedelic drugs. To find out more about how to be a part of this group, we encourage you to join us on the 14th of July. This meeting will be followed up by an exclusive event for collaborators. If you would be interested in collaborating, please contact james.bunn@drugscience.org.uk
Important note:
We will sometimes communicate to you about other Drug Science events or content that we think you would be interested in. By registering for this event you consent to this. If you do not want to be contacted by us, you can change your settings in Eventbrite to not share email addresses with organisers. You can unsubscribe at any time.