Launch of the new Global Migration Data Portal dashboard
Join us for the launch of the new Global Migration Data Portal dashboard!
About this event
Dear colleagues, dear partners,
We are pleased to invite you to the launch of the Global Migration Data Portal's new dashboard. On June 15th, 2021, the Global Migration Data Portal is unveiling a revamped homepage featuring the latest updates on international data on migration. As part of the upgrades, the Portal's iconic world map is being expanded with the addition of a new, interactive dashboard which aims to better visualize and increase opportunities for analysis of migration data and national comparisons.
The new dashboard will enable users to compare several indicators and countries. In addition to the global and regional datasets we already include on our world map, the dashboard will also feature national migration data from pilot countries and estimates on international migration flows from WorldPop. This way, the new dashboard contributes to the overall goal of the Portal to facilitate access to authoritative, updated migration data and analysis in order to increase evidence-informed migration governance and public debate.
The Global Migration Data Portal was first launched in December 2017 and is managed by IOM's Global Migration Data Analysis Centre (GMDAC). The Portal is supported financially by IOM Member States, including the Government of Germany represented by the Federal Office for Migration and Refugees (BAMF), the Government of Switzerland, as well as unearmarked funding granted to IOM and internally allocated through the Migration Allocation Resource Committee (MIRAC).
You are cordially invited to pass on the invitation to interested colleagues. A link to the online webinar will be shared with all registered participants.
Please note: This event will be held in English. The webinar will be recorded and made available online.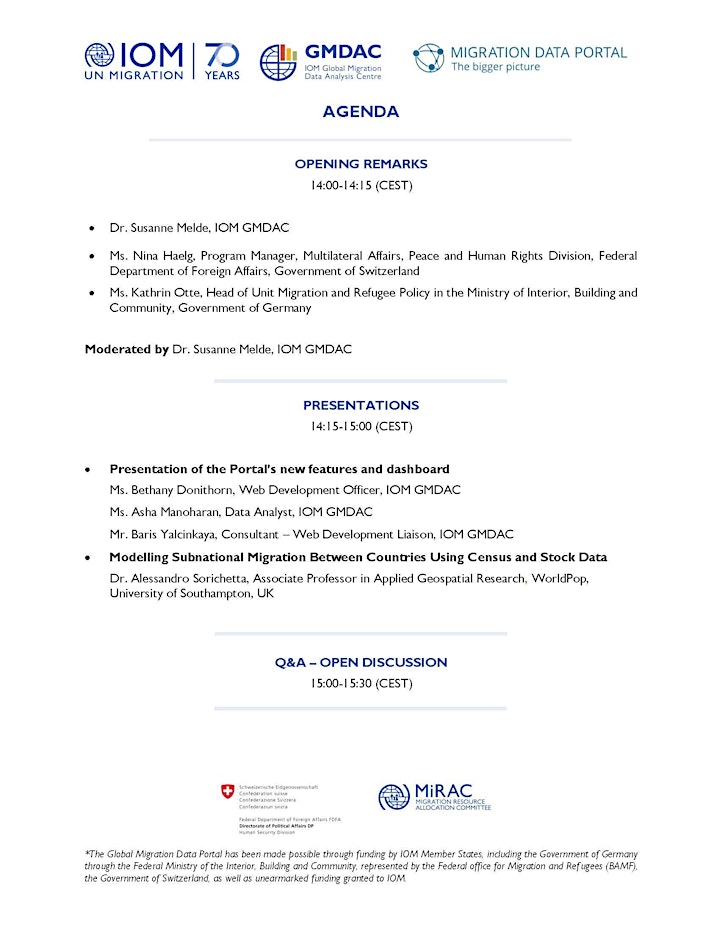 Organiser of Launch of the new Global Migration Data Portal dashboard