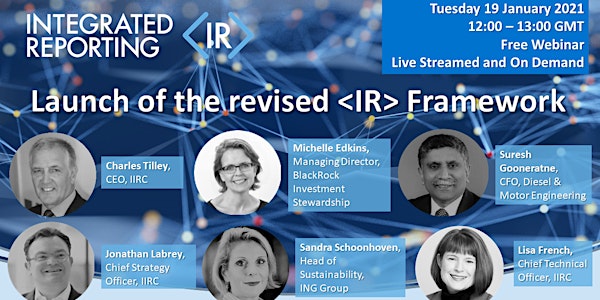 Launch of the revised International Integrated Reporting Framework
Launch of the revised International Integrated Reporting Framework
About this event
The International Integrated Reporting Council (IIRC) is pleased to invite you to a free one hour webinar to introduce and launch the revised Framework.
The conceptual thinking and principles on which the Framework was founded are still as relevant today as when the IIRC was formed 10 years ago. As a consequence, the revision focuses on clarifications and minor revisions that will drive more effective, robust reporting.
Our industry leading speakers offering their expert insights into the Framework are:
Charles Tilley, Chief Executive Officer, IIRC
Michelle Edkins, Managing Director, BlackRock Investment Stewardship
Sandra Schoonhoven, Head of Sustainability, ING Group
Suresh Gooneratne, Chief Financial Officer, Diesel & Motor Engineering
Lisa French, Chief Technical Officer, IIRC
The event will be led and moderated by Jonathan Labrey, Chief Strategy Officer, IIRC.
At the webinar we will:
Introduce the revised Framework and set out how it will support better reporting
Discuss the shift towards articulating broader value creation and what it means for business
Examine how investor attitudes have changed over the last ten years and what it means for investment practices.
A recording of the webinar will be published on the IIRC website.