About this Event
The UK India Tech hub aims at promoting cross border technology transfer in early stage businesses between the two countries. Pontaq will also set up its UK HQ within the Tech Hub. The UK-India Tech Hub will:
Provide Pontaq's portfolio companies, from both UK and India, access to funding, workspace (at preferential rates) and opportunities for internationalisation through both RAD and Pontaq;
Form part of the broader RAD business district, the phase 1 of which comprising ~460,000 sq. ft is complete. RAD is expected to have ~5M sq. ft of estate when fully complete; and
Comprise of 200 seats initially and aims to host at least 50 businesses in the next three years.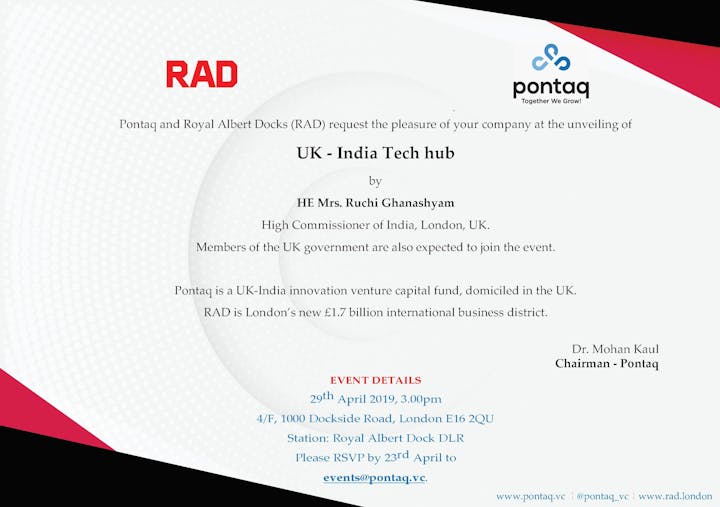 It is believed that this Tech Hub is the first of its kind in the UK – India corridor, in the UK .
It is also believed that, globally, this is the first time a venture capital fund is partnering with an International Business District.
We look forward to seeing you there. Please find programme for the day below.
Event Programme:
Welcome address
Inauguration of the UK- India Tech Hub
Pitches from UK Tech Rocketship winners (7)
Keynote address by HE Mrs Ruchi Ghanashyam
Networking and Canopies