Join us for a very special evening: The Grand Launch of Two New Journey to Justice Projects!
About this event
Join us for a very special evening
Thursday June 17th, 20.00-21.30 on Zoom
The Grand Launch of JtoJ's Two New Projects!
We are delighted to invite you to the launch of two new JtoJ online resource projects, each with its own website. These have been developed and created thanks to our volunteers, funders, participants and film and design partners.
The Economic (In)Justice project
See and hear a wide range of activists around the country share their stories and tactics as they challenge economic inequality, and experts who explain the roots of poverty in this country.
Planned and recorded with our partner production company Rainbow Collective, our new website, designed by Vanishing Point Creative, will be a rich, wide ranging and galvanising resource
The online civil rights exhibition
We always wanted there to be an online version of our travelling civil rights exhibition so that anyone in the world can access and enjoy it.
After five years on the road, stopping in 15 towns and cities, with over 180,000 visitors, we are thrilled to be able to unveil the exhibition online –designed by Surface Impression with whom we have worked closely.
You will be able to see our core US civil rights stories of 'ordinary' women, men and children alongside less told UK stories of people who took and take action for social justice.
We've included the music and poetry, films, photographs and interactivity which are so much a part of our physical exhibition.
Both projects include suggested activities and pathways for teaching and learning.
________________________________________________________________________________
Your Zoom link will be sent nearer to the launch date.
We look forward to seeing you there.
Please forward to anyone who might be interested.
Any questions, please email: info@journeytojustice.org.uk
For our work to date, see: www.journeytojustice.org.uk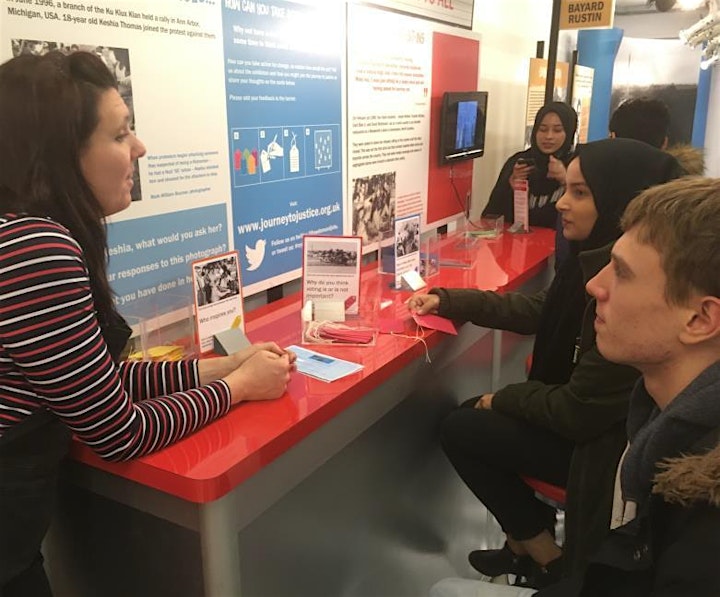 Follow us on: @JtoJustice
www.facebook.com/journey-to-justice
instagram.com/journey_to_justice
LinkedIn.com/company/journey-to-justice