Launch: Professional learning principles for all teachers of mathematics
Description
On the 7 December a new report with key principles on professional learning for all teachers of mathematics will be launched in Ormiston Sir Stanley Matthews Academy in Stoke-on-Trent.
The Advisory Committee on Mathematics Education (ACME) is organising this event to launch the report of its professional learning expert panel.
The Expert Panel was chaired by ACME member Robert Barbour.
Panel members:
Dean Rowley, Assistant Headteacher, Kesgrave High School
Mary McAteer, Director, Specialist Primary Mathematics Practice Programmes, Edgehill University
Karen Mills, Headteacher, Ravenswood Community School and Outer Circle member
Jennie Pennant, Director, GrowLearning, former ACME member and Outer Circle member
John Westwell, Director for Strategy, National Centre for Excellence in the Teaching of Mathematics (NCETM)
The launch will kick off at 15:00 and will include time for networking, group work with members of the Expert Panel that drafted the report and a panel session with experts from policy and practice. The meeting will end at 17:15 at the latest. Refreshments and a light lunch will be available from 14:30.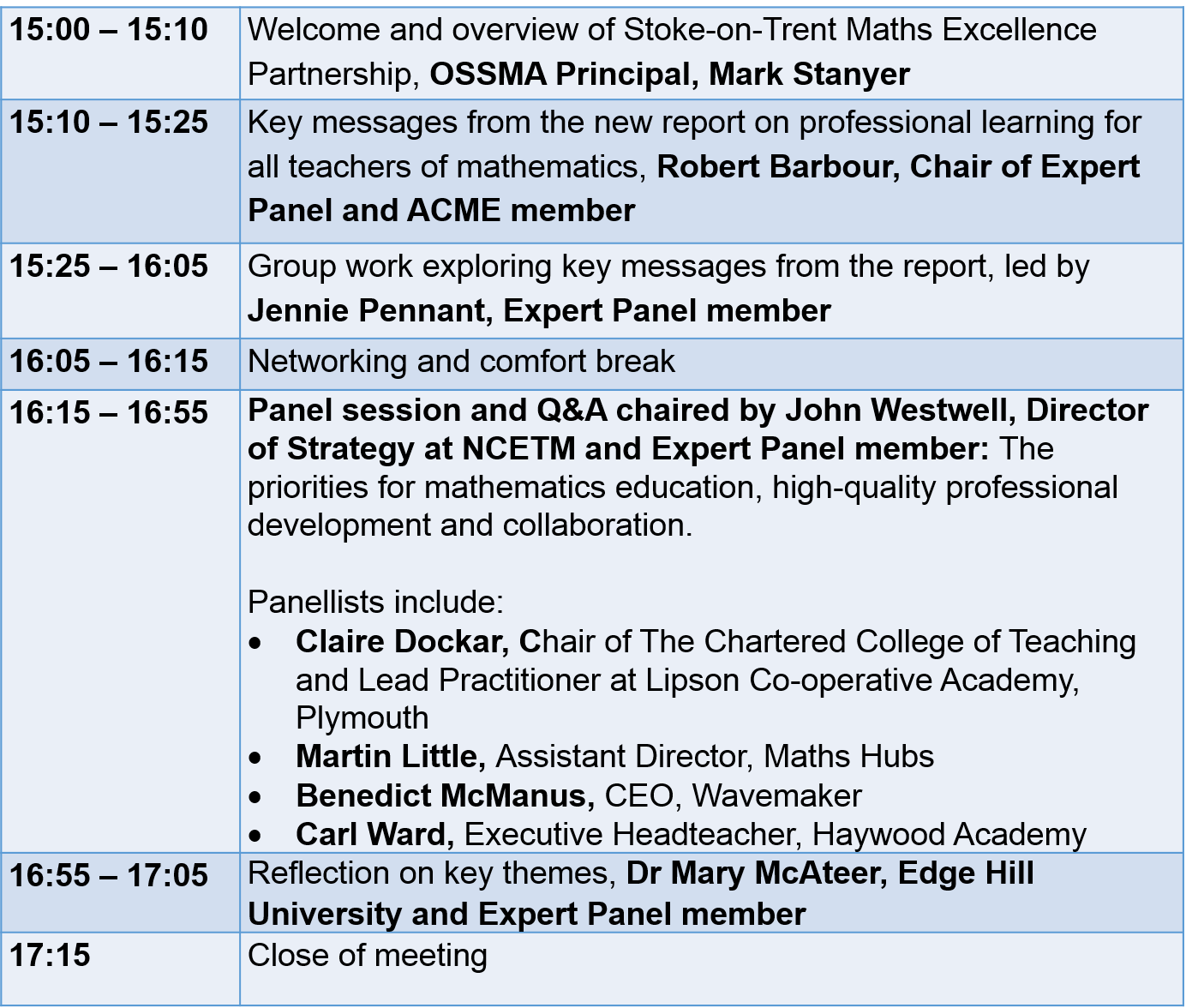 Q. Why are we having this event?
In 2016, ACME convened an expert panel to consider the mathematics-specific knowledge needed by all teachers to progress in their career as a teacher of mathematics, at primary, secondary and Further Education level. The Expert Panel included teachers from primary and secondary level and was informed by a survey of teachers and senior leaders from all phases and settings.
The Expert Panel considered the mathematics-specific knowledge needed by teachers of mathematics and how schools and colleges can foster this learning.
The Expert Panel sets out guidance that should be helpful for teachers, senior leaders and professional learning commissioners and providers, such as (1) how to develop a personalised plan to deepen teachers' knowledge about mathematics and knowledge about teaching mathematics and (2) how to sustain mathematics-specific professional learning through the ongoing support of a collaborative learning group.
Q. Why is mathematics-specific professional development important?
There is a very welcome aspiration for a world-leading education system in which all young people develop high levels of mathematical competence and confidence. To realise the range of mathematics reforms that seek to make progress towards this aspiration, highly-effective teachers of mathematics are paramount. Therefore, high-quality initial teacher education and career-long subject-specific professional development must be prioritised.
Mathematics justifies specific attention given its importance across all phases of education and its centrality to other subjects. It is also acknowledged that young people need to have mathematical and quantitative skills to be able to succeed in our data-driven world. Mathematics is also distinctive given the lack of confidence held by many of those teaching and learning mathematics
Q. Why are we holding the event in Ormiston Sir Stanley Matthews Academy?
Ormiston Sir Stanley Matthews Academy is part of the 'Maths Excellence Partnership'. Stoke-on-Trent, through this programme, has been proactive in seeking to address the recruitment and professional development of teachers of mathematics in partnership with Maths Hubs and other organisations. We will be bringing together teachers and senior leaders from their networks, as well as local businesses and local authority representatives.
Q. Who supported this project?
Funding for this project was kindly provided by Cambridge Mathematics and also draws on ACME's funding from the Wellcome Trust and ACME's core funding from the Royal Society.