Description
Feminist, activist and bestselling author Laura Bates joins us to once again shine a light on the gender inequality lurking in the shadows of our society with her new collections of essays Misogynation: The True Scale of Sexism.
Last year the Weinstein allegations shook Hollywood and brought the topic of sexual harassment to the fore – highlighting for many the silent struggle and ritual abuse suffered by women around the world. Five years after the launch of her pioneering Everyday Sexism project and Girl Up, Laura Bates is back with a fresh collection of essays joining the dots to illustrate the full scale of the issue and its effect on women everywhere.
At this exclusive London event Laura will be discussing her work with the freelance journalist and contributing editor at The Pool, Marisa Bate, followed by a signing of her books.
Marisa's first book, The Periodic Table of Feminism, will be published in March.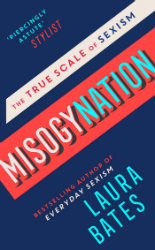 Tickets: £8 standard / £5 Foyalty members* (booking fees apply). When purchasing a Foyalty ticket, please do not forget to bring your Foyalty card with you.
*Not a Foyalty member but would like to gain access to discounted tickets, exclusive offers and giveaways? Click here to register free today!