Event Information
Location
Liverpool Street Station
(Clock Tower, outside Bishopsgate exit)
Bishopsgate
London, EC2M 7QH
Description
Law and Order EC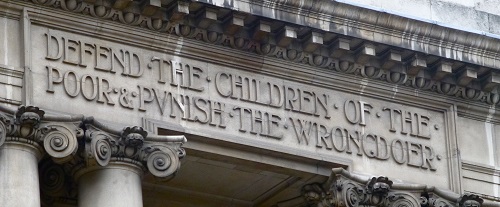 Photo © 2015 Fay Bennett – Central Criminal Court
EC - East Central is the postal district in which the City of London is found.

Whether on the streets or in the courts, the City has a unique relationship with the due processes of law and order. This has come about because of the individual character and circumstances of the City itself. At the heart of Britain's development, and as a target for resentment and anger, the City of London has developed an individual status as a legal authority.
The story of Law and Order in the City of London is one which encompasses shootings and bombings, fraud and unrest, and a struggle to retain autonomy.
Meet below the clock tower on the north side of the Bishopsgate exit, Liverpool Street Station.
Guide's number 07982 132231 - please ring if booking has ended: there may be room!
The walk will take approximately 2 hours. For information on travel, please use Transport for London's Journey Planner.
Date and Time
Location
Liverpool Street Station
(Clock Tower, outside Bishopsgate exit)
Bishopsgate
London, EC2M 7QH