Description
Together in Faith is a unique opportunity for lay people throughout the Diocese of Leeds to come together to learn, share and be inspired.
Some 1700 active and motivated lay church members will meet on Saturday 9th June at the Harrogate Convention Centre. They will hear from a range of stimulating speakers and learn of the latest plans for the diocese to support and encourage lay people. Every participant should leave refreshed, renewed and affirmed in their efforts to live out their faith in their parishes, schools and workplaces.
Speakers include:
Mark Russell (Church Army CEO), Nick Shepherd (author of Faith Generation), Bishop Jo Bailey-Wells (Bishop of Dorking), Cal Bailey (ex-Director of Sustainability, NG Bailey) and Kate Nicholas (author of Sea Changed).
Whilst registering for a ticket you will need to choose the self-select sessions you wish to attend. A full programme of the day and information about each self-select session on offer is available here.
Please note participants will need to select two options as follows:
Either Main Auditorium Option A or Main Auditorium Option B.
Choose a self-select option in the other time slot.
Only ONE ticket can be purchased per order for data collection purposes. Please select a "Parish Delegate" ticket unless you have completed an Extra Places or Youth Participant nomination form and received confirmation to register.

Please see the FAQ page on the diocesan website for more information. If you have any queries, please contact layconference@leeds.anglican.org.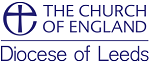 Allchurches Trust is one of the UK's largest grant-making trusts and its mission is to promote the Christian faith and other charitable causes.