Description
LBAcademy UK Tech 2 Africa Founders Roundtable
Please join Ade at our Breakfast Roundtable to Boost your UK Tech Startup Business Growth. Use the opportunity to meet with Founders and get help to grow your business and profit.
He has 10 years business management experience (post-graduation) with Multinational subsidiaries in Lagos., and currently supports indigenous firms on his Africa business trips.
Agenda:
Fast paced, interactive session with mind-mapping.
This event is limited to Four startup founders.
& NO POWERPOINT SLIDES
9.00am Breakfast
9:30am Ade Awokoya
"Boost your UKTech Africa Startup Growth"
10:00am Break-Out session
11:00am Close
Ade will present key growth strategies and show how your business model impacts on your business growth.. This event is limited to Four startup founders..
Moderator: Ade Awokoya mcse mcmi
Founder, LBAcademy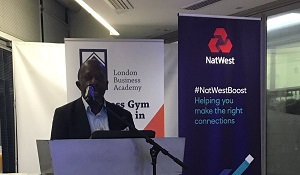 Ade trained and registered in the USA as a Chemical Engineer. He also has proven experience with Banking (SME Finance), Microsoft Certified Partner, Digital Project Manager, UK Export Finance.
He has worked as Business Coach/Adviser with;
London Business Academy
BIS GrowthAccelerator
Pro-actions Business Coaching
Enterpise Nation
Ade is passionate about helping businesses & professionals to benefit from his 25 years business experience across various industries in a multinational basis. He is Co-Founder, East London Export Club.
FAQs
How can I contact the organiser with any questions?
Email info@lbacademy.org.uk or 07985213071