A blueprint for CBD brands to thrive in the new normality online.
About this event
As we re-imagine CBD retail in a post-COVID world, one thing is for sure: customer experience is the new competitive advantage, and the brands that re-think the way they communicate with customers will be the winners.
The first LCG Talks E-Commerce virtual conference aims to equip CBD and legal cannabis brands with a blueprint for everything they need to embrace the new retail reality.
We're bringing together a community of over 500 forward-thinking CBD and cannabis brand owners with leading e-commerce solution providers to connect on driving revenue through amazing customer experiences.
Who: Owners, marketers and senior decision makers from over 500 forward-thinking legal cannabis and CBD e-commerce brands & e-commerce solution providers
What: half a day of data, solution demos and panel discussions
Where: this year's conference will be fully virtual.
When: 18th May 2021
1:50 pm - Introduction
2:00 pm – Mile High Labs - Supercharge your CBD Supply Chain
Featuring: Frederick Hendriksen VP of international Sales and Business Development at Mile High Labs
2:30 pm - 1account - The Future of Responsible retailing in the Cannabis Market
Featuring: Damian Stevens and Michael Hills, Business Development Managers from 1account.
2:45 pm - Panel Discussion - Digital transformation: how retailers can rapidly increase their digital capabilities to survive and thrive in the post-COVID19 economic landscape.
Featuring: Jamie Russell Senior Online Marketing Consultant, Reach PLC, Ed Rodriguez, Traffic Roots, Daanish Siddiqui, Chief Revenue Officer at PuffDigital.com, Róisín Delaney, The Editor, THE CANNAVIST
3:45 pm - Mellow Store - The role of eCommerce in creating & delivering a world class experience for frontier wellness globally
Featuring: James Storie-Pugh
4:15 pm - Event Ends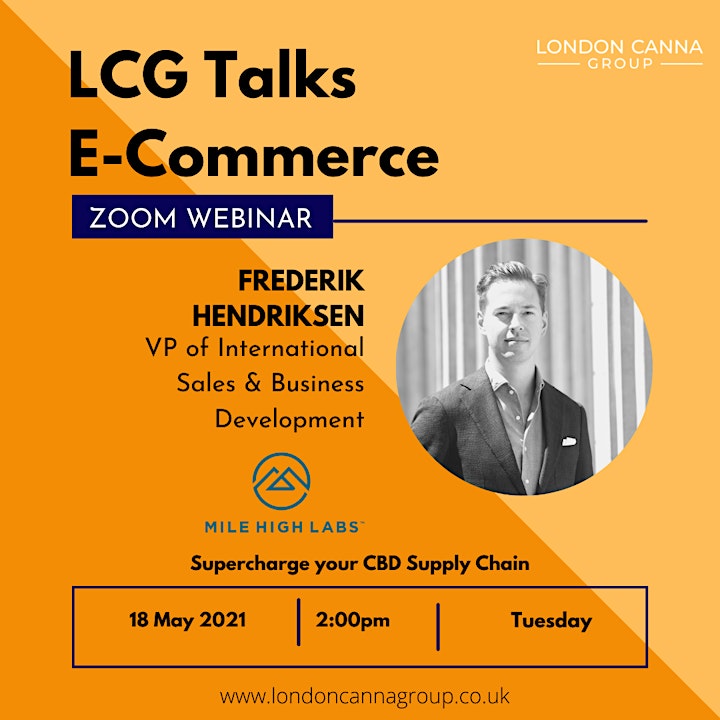 Frederik Hendriksen is VP of International Sales & Business Development at Mile High Labs. He grew up in a small town in north western Denmark, moving to Copenhagen Business School for his bachelor's and master's degrees. During this time he took the opportunity to work in Japan, China, Zambia and London, where he settled in 2014. He joined Morgan Stanley doing Equity Trading and M&A, fast tracking to Vice President and being selected for the most prestigious talent programme MS offers.
Fred resigned from his banking job in early 2019 to join Mile High Labs, the world's leading CBD extractor, building and managing sales for all non-US markets. The company is leading the way in ensuring compliance within the current regulatory framework. MHL is also investing heavily in R&D, working closely with a range of top universities to ensure the highest standards of consumer safety and develop a range of new products.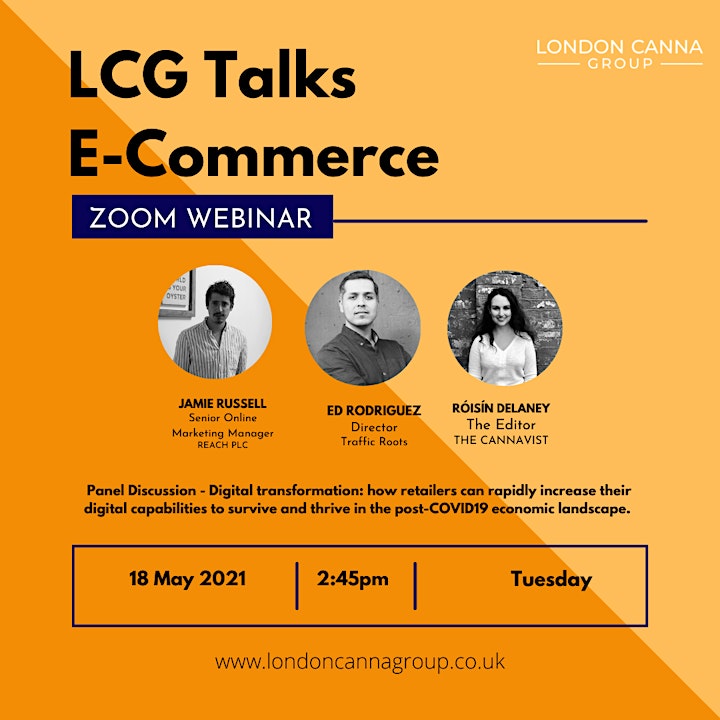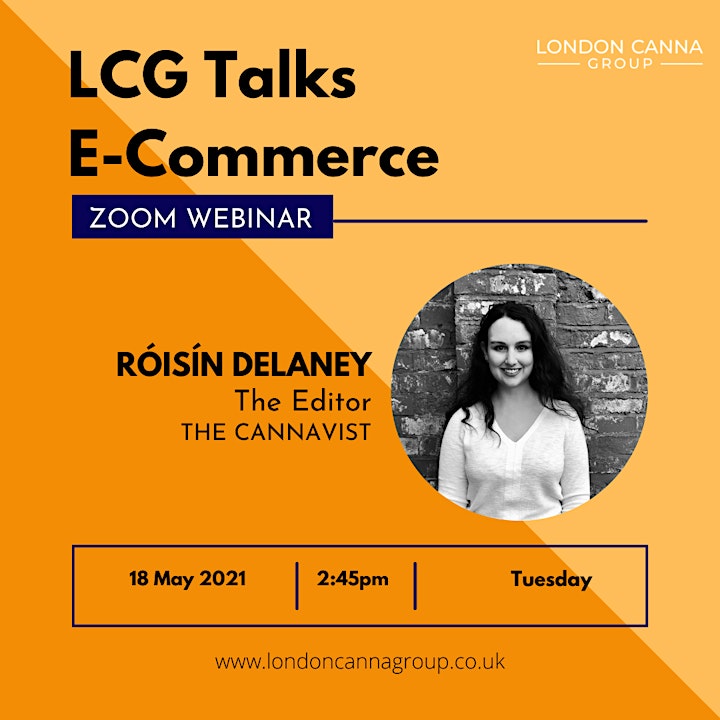 Róisín Delaney, The Editor, THE CANNAVIST
Róisín Delaney is the editor of The CANNAVIST Magazine, the UK & Ireland's first CBD & medical cannabis publication, in circulation since January 2019. Róisín has a decade of experience in multiple media formats, including radio and print, focusing on health & wellbeing publications since 2015. Before launching The CANNAVIST Magazine for Orange Fox Media Ltd, Róisín completed a Master's degree in Journalism at Dublin City University having previously studied at the University of Limerick. Róisín worked in Ireland and in the US for consumer lifestyle and high income magazines around women's health & wellbeing topics. Now in the legal cannabis space, Róisín's creative portfolio includes print and digital publishing, podcast and webinar hosting, and cannabis-specific event coordination. In January 2020, a year after launching The CANNAVIST, Róisín oversaw the introduction of the first ever cannabis publication on British newsstands, with The CANNAVIST now available in WH Smith high street outlets, MMRG convenience stores and independent retailers across the UK. As a journalist, Róisín is driven by the compelling stories of patients and advocates, which she believes can help drive change.
Follow Róisín and The Cannavist Magazine:
@roiscdelaney @cannavistmag (IG&FB) @thecannavistmag (Twitter) The CANNAVIST Business Network (LinkedIn)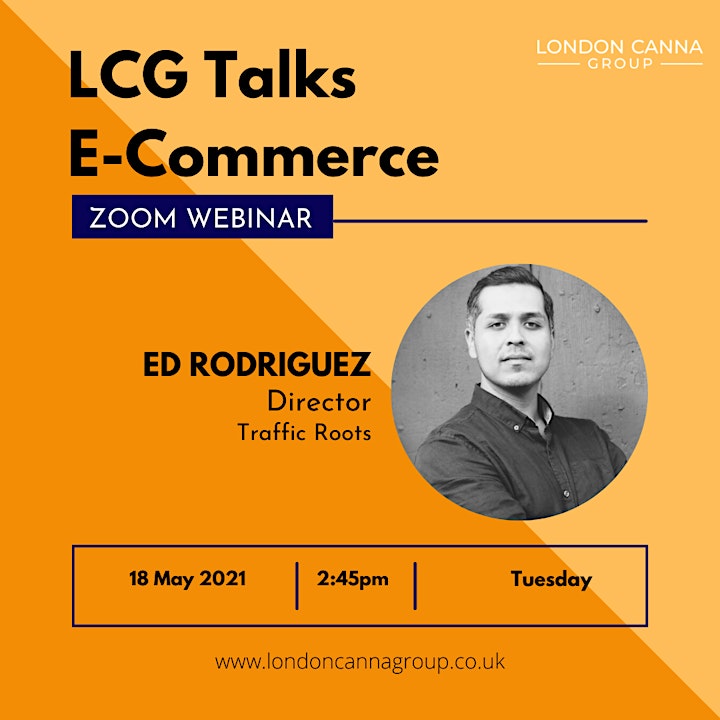 Ed Rodriguez, Director of Programmatic Partnerships & Operations at Traffic Roots
Ed Rodriguez is a digital marketing expert with over 8 years of digital marketing experience, he has spent the last 4 years figuring out the digital marketing landscape for cannabis and vice brands. As Operations director for Traffic Roots (a digital ad network) he works with vice brands around the world to provide them a safe avenue for marketing. The cannabis industry moves quite fast and compliance regulations are continuously changing so Ed and his team find it crucial to be embedded in the industry to keep up with constant change. As the industry has grown Ed has consulted for top brands from the US, Canada, and UK. He understands that every brand is different but the fundamentals for a successful marketing strategy don't change. We must be able to adapt and although COVID forced us all to adapt, the cannabis industry is no stranger to it.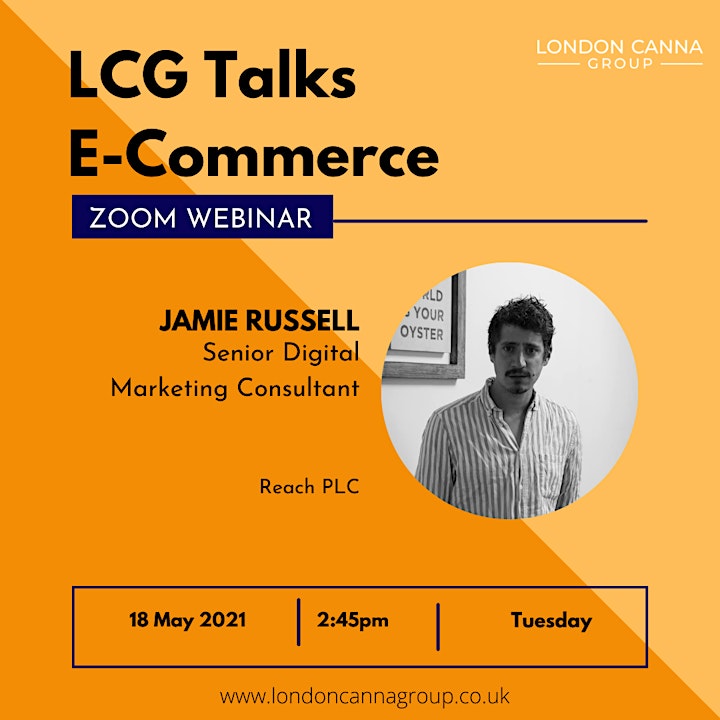 Jamie Russell is a Senior Digital Marketing Consultant for Reach PLC, the largest media network in the UK. With over 42 million unique browsers viewing their content online each month across news websites such as The Mirror and MyLondon, they have an extensive audience, and are leaders in cutting edge data-driven advertising solutions.
Over the last 6 years, Jamie has helped develop and advertise a variety of brands on a regional and national scale, and has a vast working knowledge of digital marketing solutions available within Reach PLC's digital portfolio.
With the emergence of the CBD market, Jamie has been working with experts within the company in order to create specialised packages dedicated to driving engagement and influencing sales for CBD brands across the Reach network.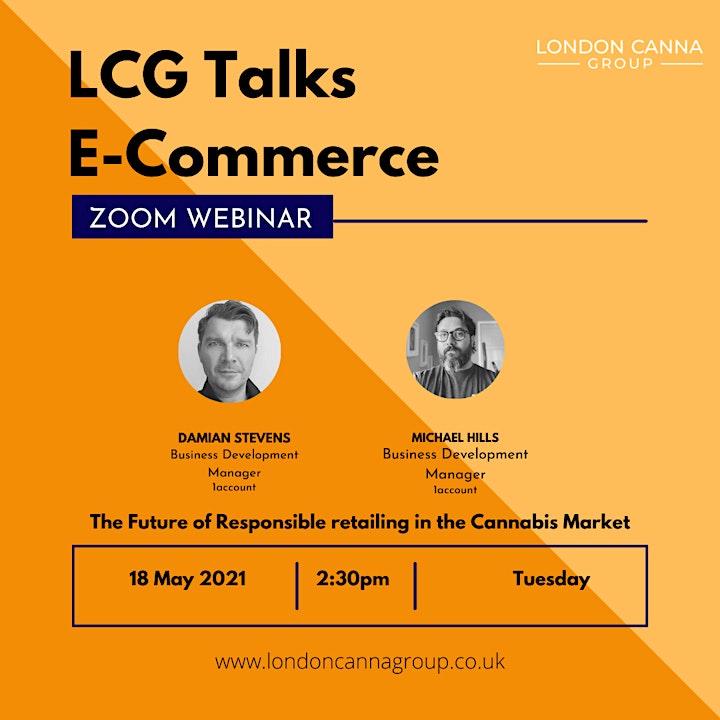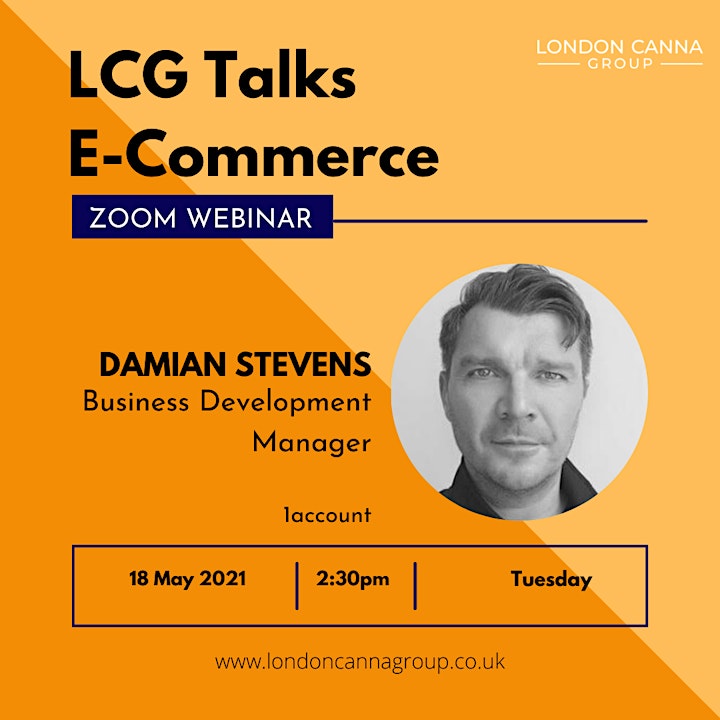 Damian has a wealth of experience and commercial acumen, having held senior positions in companies across the cannabis, CBD and vaping industry since 2015, creating new trademarked products and opening up B2B market channels for vendors in the UK.
Prior to that, Damian spent 12 years heading up business development teams in the IT and cyber security sectors. Since joining 1account, Damian has overseen successful compliance technology integrations for dozens of brands, and will be sharing his knowledge and insight with delegates.
An interesting fact about Damian - he has suffered from 'earworms', 24/7, since the age of 5. Don't be fooled by the name - earworms are nothing to do with 'worms' and are actually Involuntary Musical Imagery (INMI), a catchy and/or memorable piece of music or saying that continuously occupies a person's mind even after it is no longer being played or spoken about.
in 2010 Damian contributed earworm data to Goldsmiths University London which helped research and discover memory in the brain that was unknown before, leading to further funding of the project.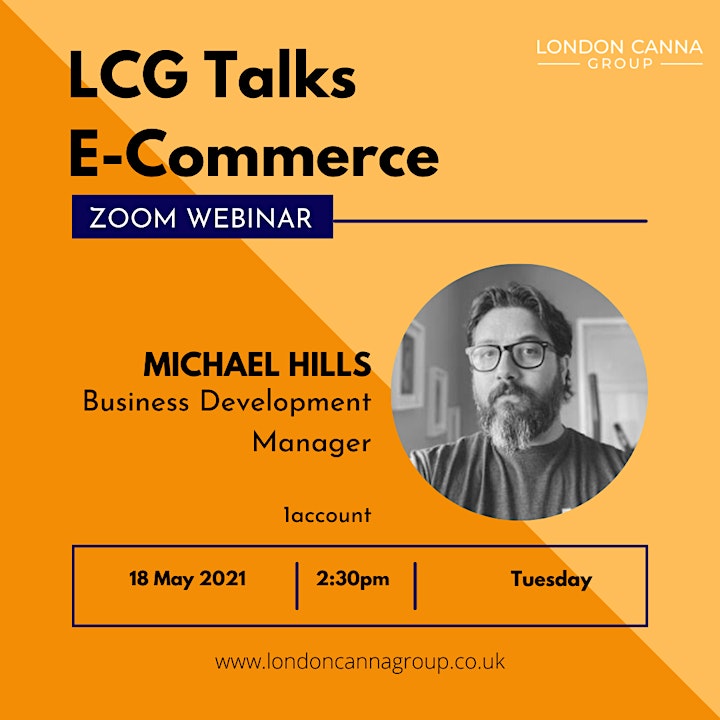 Michael has worked in several vaping, cannabis and CBD businesses over the last 5 years, most notably Vapouriz, where he bolstered the convenience channel with several key accounts. From there, Michael moved to Vape Solutions, creating a groundbreaking category solution that set the standard for today's market.
In his earlier career, Michael spent a decade working with educational organisations with curriculum IT and then moving on to big data technical solutions, at world-renowned organisations such as EBI and ESA.
Since joining 1account, Michael has championed the importance of protecting minors from accessing age restricted products and sites to the e-tail industry and has been instrumental in driving up compliance standards and commercial success across the marketplace.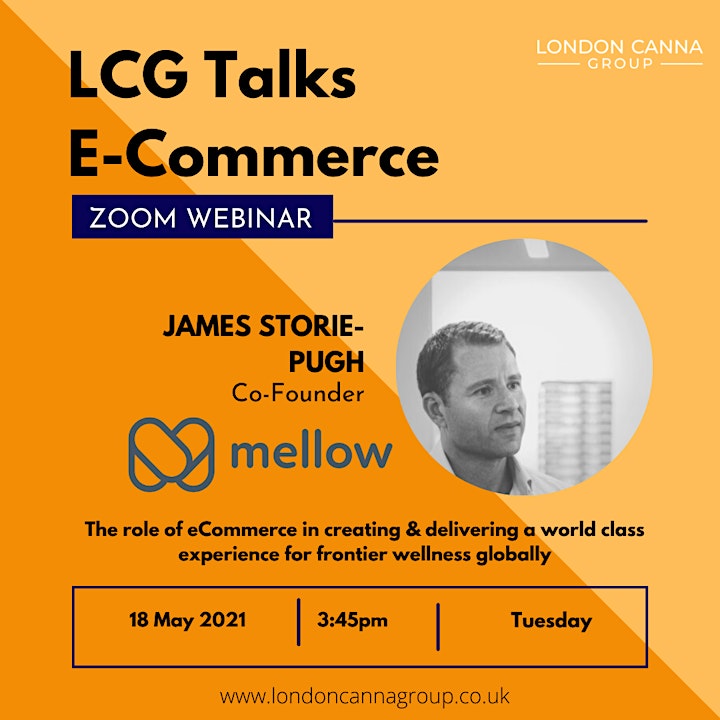 James Storie-Pugh, Co-Founder, Mellow.Store
25 years in global cross border eCommerce. In 2018 set up mellow, a global cannabis eCommerce company, which operates three core business units – 1) mellow.store which is a European wide BtoC health and wellness marketplace focused on CBD 2) Grow by mellow which is a turnkey solution for CBD brands looking to set-up their operation in the UK and Europe encompassing website builds, eCommerce operations and key marketing channels and 3) mellow Asia which is a China cross-border solution for globally recognized brands to sell onto our TMG and JD flagship stores.
London Canna Group is organiser of the Europes largest cannabis trade show and conference Europe Canna Expo, welcoming over 3500 people and 80 exhibitors per event pre-COVID.
All tickets are offered on a first-come first-served basis. If you are an accredited member of press, please contact us for a complimentary ticket via info@londoncbdgroup.com.
Tickets for LCG Talks E-commerce are available in two tiers providing you with the opportunity to choose the one that best fits your needs and your budget.
Free - Watch Live Streaming as it happens
VIP £25
Live Streaming
Access to event recordings on demand
1-2-1 Priority Demo Session with Presenting Sponsors
Digital Goody Bag
Interested to speak at this or future LCG events? Email info@londoncbdgroup.com with your bio, and a headshot.
Small Print
By purchasing/registering for a ticket you agree to be contacted in relation to the event (ticket confirmation, event agenda, post event survey) and being added to our annual newsletter database.
Please note that companies and speakers may change from time to time. The sector is so busy that we often have to make amendments at short notice.
Date and time
Location
Refund policy
Organiser of LCG Talks E-Commerce