Event Information
Location
Wiltshire, UK
United Kingdom
Description
LCS Two Day Trip – Crop Circles, StoneHenge and Avebury with Vaz Sriharan, Himesh Gohil, Polina Nova
Saturday 22nd July and Sunday 23rd July
Join us on this special two day special excursion to some of the most powerful spots in the UK.
We will have a day out exploring and learning about crop Circles with Francine Blake - an expert on the subject. Francine will help us to discover how crop circles are created, where they come from and what is the significance of them. She will then guide us to any recent discoveries so we can experience the energy and magic in these powerful hotspots.
On the second day, we will visit StoneHenge and the Avebury Stone Circle where we will connect to these ancient and powerful sites and heal with powerful guided meditations.
Join us for one day or two as we set out from London on Each day to explore with a day packed full of activities for the spiritual explorer. Full itinerary is listed at the bottom of this page.
---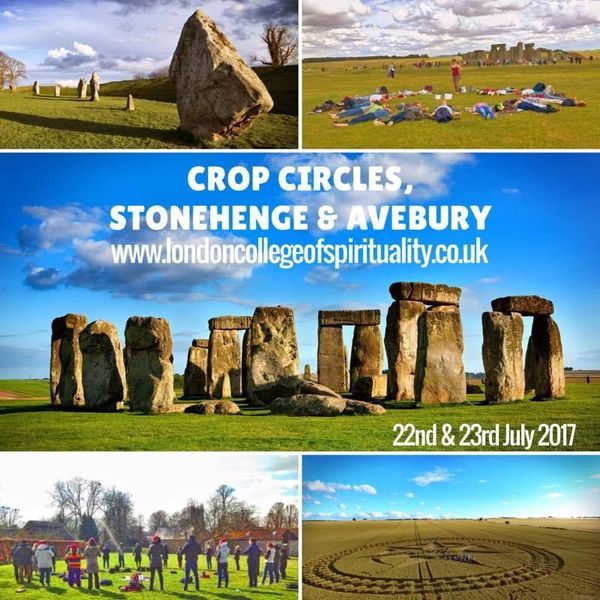 CROP CIRCLES
Crop circles continue to amaze and baffle as they appear each year in ever more exciting formations. Although Britain is a main area for crop circles they have appeared around the world in ice, sand, sunflowers, corn and even tree tops yet it is in Britain that they appear most spectacularly and especially in Wiltshire, the destination of this day trip.
Crop circles have been with us for some time, however the intensity and complexity of formations have been growing in this country only since the 1970s. This is an amazing gift being presented primarily across the wheat fields of southwest England. By now thousands of formations have appeared and many consider them to be a major spiritual awakening trigger for humanity.
This day includes a lecture on crop circles from Francine Blake who will help to unravel some of the mysteries of crop circles. She will explore how the circles may have been formed, their effects and their possible meaning. Francine Blake is one of the world's leading authorities on crop circles. She founded the Wiltshire Crop Circle Study Group in 1995 to study all aspects of crop circles: physical, metaphysical and spiritual. Francine lectures internationally and is one of the main organisers of the annual crop circle conference in Wiltshire.
We aim to visit two Crop Circles* and hold a Transmission/Meditation within one of the circles. Francine has very good connections with local farmers and will be able to give us access to circles which are sometimes not very accessible to the general public. The experience is dependent on circles during this time, yet mid-July is usually peak season for circles.
*How many sites we can visit will depend on where good sites are available and how much time we have in the day to visit them.
STONEHENGE
Stonehenge is perhaps the world's most famous prehistoric monument. An ancient ring of stone monoliths whose origins and original purpose remain a mystery to us today. This site has been used by pagans and druids of the years to perform shamanic rites and festivals and its energy is deeply magical.
Years of neglect has damaged the site and today, access to the stones themselves is restricted but we can get very close to the circle and feel the power of this site.
We will visit this site and perform a transmission bringing down energy of light and healing, working with this land to assist in personal growth and ascension.
AVEBURY
Avebury is the world's largest prehistoric circle, dating older than Stonehenge itself (according to historians). The stone circle is said to be a gateway into a multidimensional portal where connection, healing is heightened. The ancients visited these stones on pilgrimages as part of their earth-based spirituality.
Avebury is the site of many crop circles, intensified energy streams, UFO sightings. It is situated on the exact centre of the St. Michael leyline (which runs from Cornwall to Norfolk). Avebury represents the Sun and the Moon - the perfect place to visit during the Equinox, which represents Balance and Integration. Find out more here
We will be holding a Crystal Bowl Ceremony & Transmission within the circles, led by Vaz, Himesh and Polina
---
Day 1
Meet at HARROW ON THE HILL station at 9:00am (on the Metropolitan and Mainline)
Depart at 9:30am Sharp - Travel to Frome for the talk and Crop Circles
Lunch (Not provided, please bring a packed lunch)
Visit Crop Circle(s)
Arrive back at HARROW ON THE HILL station by 8:00pm
Day 2
Meet at HARROW ON THE HILL station at 9:00am (on the Metropolitan and Mainline)
Depart at 9:30am Sharp - Travel StoneHenge
Lunch (Not provided, please bring a packed lunch)
Travel to Avebury
Arrive back at HARROW ON THE HILL station by 8:00pm
Please bring
Waterproofs
Warm Clothes (Scarf, Gloves, Hat etc)
Something to Sit on (for meditations)
Sunglasses
Suncream
Lots of water
Packed Lunch
Both days will bring lots of fun and socialising as we connect with the grou, with friends and with meditation ceremony. There will be plenty of time to socialise and enjoy a very special sacred day, we hope to have you with us!
Your Facilitators are Vaz, Himesh, Polina and Francine
---
Pricing
One Day Crop Circles: £85
Includes pick up and drop off to Harrow-on-the-Hill Tube Station (Metropolitan Line)
All transport to the talk with Francine and any crop circles we visit
One Day StoneHenge and Avebury: £85
Includes pick up and drop off to Harrow-on-the-Hill Tube Station (Metropolitan Line)
All transport and access fees to StoneHenge and Avebury
Full Package Two Days: £150
Includes all of the above
Date and Time
Location
Wiltshire, UK
United Kingdom