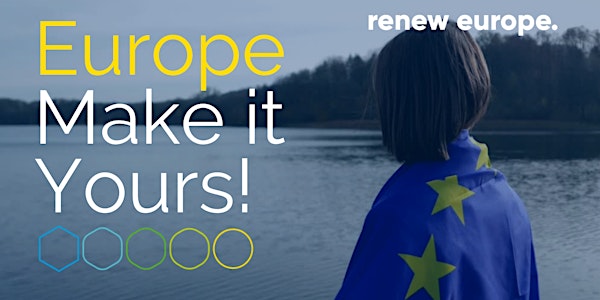 Le bien-être des animaux marins - Conférence pour l'avenir de l'Europe
Proposer vos idées pour améliorer le bien-être des animaux marins grâce à l'UE // Share your ideas on how to improve marine animals welfare!
About this event
(English below)
FR
La conférence sur l'avenir de l'Europe offre aux citoyens européens une occasion unique de débattre des priorités de l'Europe et des défis auxquels elle est confrontée. D'où que vous veniez et quelle que soit l'activité que vous exercez, elle constitue l'enceinte au sein de laquelle vous pourrez réfléchir à l'avenir que vous souhaitez pour l'Union européenne.
Le Parlement européen, le Conseil et la Commission européenne se sont engagés à écouter les Européens et à donner suite, dans les limites de leurs sphères de compétences, aux recommandations formulées.
D'ici le printemps 2022, la conférence devrait parvenir à des conclusions et fournir des orientations concernant l'avenir de l'Europe.
Dans le cadre de cette vaste consultation, les eurodéputés Pierre Karleskind, président de la commission pêche du Parlement Européen, et Pascal Durand, membre de l'intergroupe sur le bien-être animal, vous proposent de contribuer à la réflexion législative sur la manière dont le bien-être des animaux marins pourrait être amélioré grâce à l'Union Européenne.
Cette discussion, accessible à tous les citoyens européens, prendra la forme d'un workshop libre et gratuit, le mercredi 8 décembre de 17h30 à 19h. Une intérprétation sera disponible en anglais et en français. Cet événement est organisé par le groupe Renew Europe.
ENG
The Conference on the Future of Europe is a unique opportunity for European citizens to debate on Europe's challenges and priorities. No matter where you are from or what you do, this is the place to think about what future you want for the European Union.
The European Parliament, the Council and the European Commission have committed to listen to Europeans and to follow up, within their sphere of competences, on the recommendations made.
By spring 2022, the Conference is expected to reach conclusions and provide guidance on the future of Europe.
As part of this wide-ranging consultation, MEPs Pierre Karleskind, President of the European Parliament's Fisheries Committee, and Pascal Durand, member of the Animal Welfare Intergroup, would like to invite you to share your ideas on how the welfare of marine animals could be improved through the European Union.
This discussion, open to all European citizens, will be conducted in the framework of a free workshop on Wednesday 8 December from 5.30 to 7pm. A French and English interpretation will be provided. This event is organized by Renew Europe.