Description
MONDAY 30th April 2018

With: Dr Tim Salomons
Associate Professor Psychology and Neuroscience
(University of Reading, UK)

Le Pub Scientifique started in London 2012 as a monthly meeting place for clinicians, therapists and (really) anyone working in the area of complex pain to come together and share ideas. It was inspired by the classic Pat Wall quote: "any discussion of work after 6pm can only be done if it is outside the clinic/lab and with a drink in hand" !

We are continuing this tradition to Amsterdam and invite you to come talk with us, think with us and drink with us!
Beer included!
www.lepubscientifique.wordpress.com/
This APRIL Tim will lead the discussion on:
"Train your brain to cope with pain?"
Although pain has a sensory component, it is also a complex cognitive and affective experience. Understanding the mechanisms of the cognitive and affective components of pain may provide insight into interventions aimed at reducing the suffering and disability associated with long term pain conditions. My work examines the neural mechanisms that underlie cognitive and affective modulation of pain, with particular emphasis on how the perception of control alters the experience and processing of pain. Understanding these neural mechanisms also requires examination of how we draw inferences from neuroimaging tools. I will therefore also show work from rare populations that provides critical perspective to our understanding of neural pain processing.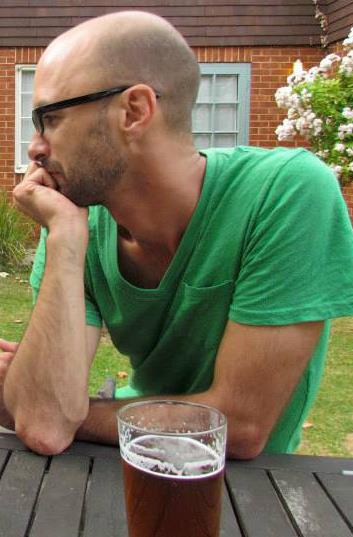 A bit about Tim:
I am interested in the cognitive and biological mechanisms that make pain salient and how individual differences in these mechanisms might underlie differences in coping and treatment response.
Pain is often experienced in the context of injury or a pathological process occurring in the body. We describe pain as being in a body part (e.g. "I have a burning pain in my hand"). But pain does not always correspond to processes occurring in the body. Sometimes it continues after injury has healed, or occurs without any apparent pathology. Other times no pain is felt despite clear signs of injury. Finally, our emotions, expectations and thoughts can increase or decrease the amount of pain we feel.

My work aims to understand how the brain and body interact to create the experience of pain, and why some people might be prone to develop pain while others are relatively resilient. I am especially interested in the biological mechanisms that underlie cognitive and affective responses to pain and how this knowledge might help us treat pain.

For more information and a list of his publications please visit:
http://www.personal.reading.ac.uk/~xy905589/publications.html
Schedule:
18.30-19.00: Lets drink a beer/koffie and meet each other
19.00: Talk begins
20.00 - 20.30: more beer!
20.30 - 21.30: end of the talk
21.30....up uto you!