Description
You've got a great product. You've developed your services to perfection. You provide quality, value and the highest level of customer service.
So... now you need some clients, right?
Without sales, a business cannot function, grow and succeed. You're already doing a great job for all your existing contacts - but you need more. How are you going to do it?
For anyone who hasn't come to business from a sales background, lead generation can be a terrifying conundrum.
Lead Generation - What's Holding You Back?
This workshop tackles all the major questions around B2B lead generation and provides practical actions for you to take away and apply to your business development strategy. We'll focus on:
Perfecting your target market

How and where to source leads

Qualification - which leads to spend your time on

Effective value propositions

Pitching your company

Generating opportunities
This session is ideal for business owners or those responsible for lead generation within their organisation.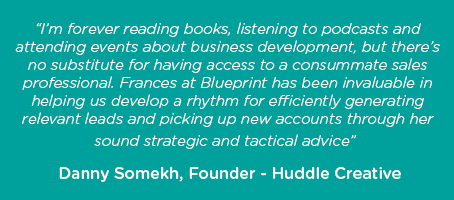 Your Coach

Frances Kelly is the founder and managing director of Blueprint, a business development agency for the creative sector. Prior to setting up Blueprint in 2012, Frances was a leading tech and SaaS business developer. She was the top global salesperson at Traffic Live, a project management and resourcing system for creative agencies. Prior to this, she developed the graduate sales training program at Arkadin Global Conferencing which was rolled out to across the whole European operation.
Frances is committed to the art of outbound business development and good sales practice. She believes that with hard work and proven techniques, anyone can be successful at sales.