Sales Have Ended
Ticket sales have ended
Sale of this ticket category has now ended. Please purchase another category or if all sales have ended, contact Total Perspectives on 01224536561 or you can purchase tickets at the registration desk at the AECC on the 5th of May 2017. Please note that ticket availability at the registration desk is not guaranteed.
Sales Have Ended
Ticket sales have ended
Sale of this ticket category has now ended. Please purchase another category or if all sales have ended, contact Total Perspectives on 01224536561 or you can purchase tickets at the registration desk at the AECC on the 5th of May 2017. Please note that ticket availability at the registration desk is not guaranteed.
Description
Michael Hyatt, Carey Lohrenz, Andy Stanley, Jim Loehr and Ian Cron - these are names you would normally associate with the Amazon best sellers lists, but on the 4th of May you will be able to see them via broadcast, live in Aberdeen as part of the Leadercast Live event.
Leadercast Live is the largest one-day leadership event in the world. Broadcast live each yer from Atlanta to over 100,000 people in hundreds of locations around the world, Leadercast Live brings together many of the world's most recognised and respected global leaders to create a leadership experience unlike any other.
In addition to these global speakers, local speakers Neil Clark, Dr Tharaka Gunarathne and Janice Douglas will join the attendees in Aberdeen to talk first hand about their leadership experiences.
Neil Clark, was a Royal Airforce pilot for over 10 years and served both in active duty and as an instructor. He is the CEO of IHF and has extensive experience in developing safety systems around human factors with clients including BP, NHS, Wood Group, Maersk, Enquest, Ricardo and Step Change in Safety. Neil will be drawing from his experiences in the RAF to share personal experiences on what it means to Lead Yourself.
Dr Tharaka Gunarathne is a Consultant Psychiatrist and Medical Educator who, since his appearance at TEDx 2016, has become a highly sought after speaker who has spoken for FTSE 100 franchises, Banking and Finance, Human Resources, Charities, Academic Institutions and more. With his unique insights into the human mind, interpersonal behaviour and principles of business psychology, Dr Tharaka teaches on Personal Development, Communication and Leadership.
Janice Douglas has over 30 years' experience in competence, management, quality and training and is currently Competency Director at Competency Plus Ltd. She is also a regular speaker at various conferences in Scotland.
An exciting addition to this year's conference is Fifth Dimension, who will inspire you in new and magical ways to Lead Yourself better.
See what previous delegates have to say about the conference;
Les Crawford, Construction Manager, Scotia Homes - "Thoroughly enjoyed it especially the local speakers. I have implemented some of the leadership items now within my scope of work. All of my colleagues enjoyed the full event. Many thanks."
Kris Bachoo, Learning Prog Director, QA Ltd - "Thank you for the most interesting and inspiring event. I loved the speakers, the set up right down to the catering and fantastic saxophonist! Your event would knock TED out!"
Gregor Howitt, Partner, St James Place - "I came away inspired and challenged by the day and have taken time to reflect. I will certainly tell others about this event and have put the date in my diary for next year"
Mick Beavers, MD Control Valves Solutions - "The conference was awesome, one of the best I've attended. My team and I got lots from it. Thank you!"
In order to become those leaders to the outside, we have to lead ourselves first. We must walk the talk. In 2018, we will be focusing on that very concept. How do you lead yourself effectively? How do you develop your core principles and values so that your leadership is an outpouring of your innermost self? And how much more will those who follow you benefit from your leadership when you lead yourself well? Join us as we explore these and more at this year's conference and leave equipped for your next challenge.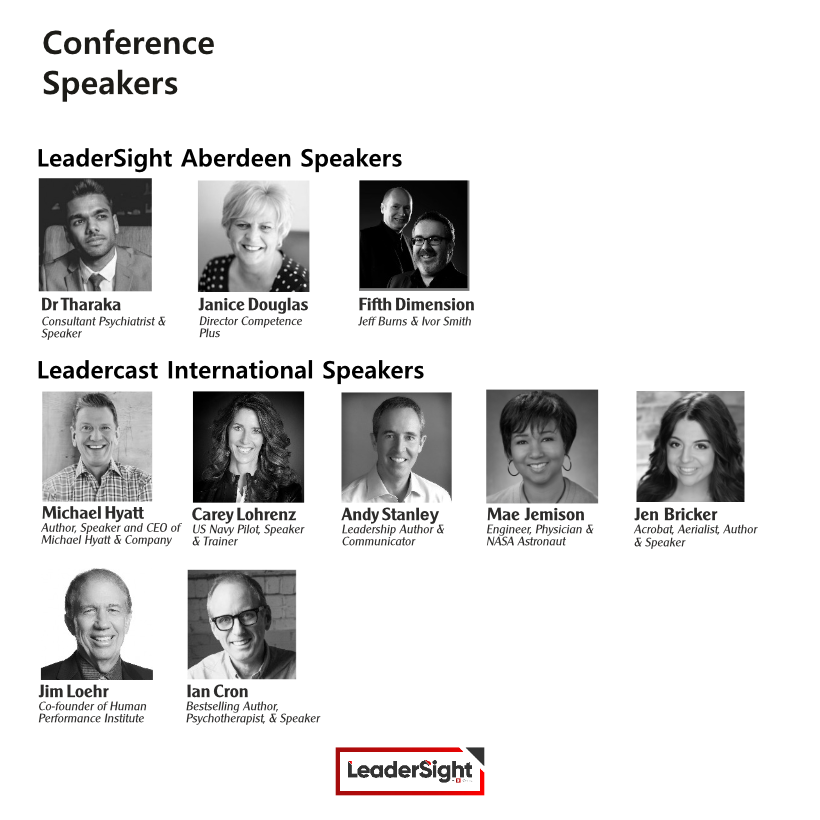 We have a host of partners and sponsors joining us to bring this unique event to the Northeast for the 4th year running and London for the 1st time. They are;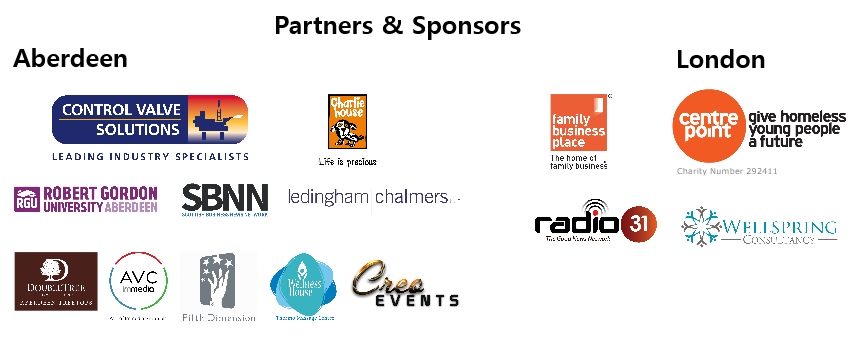 This event presents a unique opportunity to support the great work carried out by Charlie House. Charlie House is a locally based children's charity which supports children with complex disabilities and life limiting conditions. To find out more about what they do, please visit www.charliehouse.org.uk .
For futher event information, visit www.totalperspectives.com

Do you need a hotel room while attending the conference? Our hotel partner, Hilton Tree Tops, Aberdeen is providing discounted room rates for our delegates. Click on the image below to access the hotel booking page.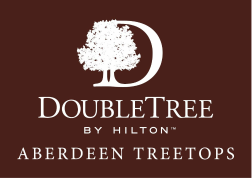 ---
FAQs
Discount [Promotional] Code Use
Discount codes have been provided to our various partners and sponsors and cannot be combined. Only one code can be used for each ticket purchased. Codes are only valid as stated and cannot be extended beyond the end date.
Can seats be reserved while purchasing tickets?
There is no seat reservation during the registration/ticket purchase online. But reservations for groups (4 or more) can be arranged. Please contact us on 01224536561 or info@totalperspectives.com with your registration details for group seat reservations.
What are my transport/parking options getting to the event?
There are extensive and spacious facilities to park for FREE at the Hilton Tree Tops.
Where can I contact the organiser with any questions?
You can contact Total Perspectives on 01224536561 or by email info@totalperspectives.com
Is my registration/ticket transferrable?
Yes – if you would like to change the name on your ticket please log in to your Eventbrite order and this can be done manually by the ticket holder.
What is the refund policy?
Unfortunately, we do not offer refunds. But you can transfer your registration to some one else. You can do this by logging into the Eventbrite ticket profile and changing the registration information yourself.
Can I update my registration information?
Yes – if you would like to update any of your registration information please log in to your Eventbrite ticket profile.
________________________________________________________________________________________
NOTICE:
TICKET INCLUDES: A brochure for each registered attendee and admittance to the conference. By attendance each attendee grants permission to be audiotaped, video-taped, and/or photographed by any means and grants your full likeness, voice, and/or words to be used by Total Perspectives.
TAPING: No audiotaping or videotaping of the sessions is allowed.
NEWSLETTERS: Registrants will also begin receiving exclusive content, offers, and product information from Total Perspectives via our e-newsletters. You may unsubscribe from these newsletters at any time by following the link provided at the bottom of each email. We will not share your email address with anyone.
ALL RIGHTS RESERVED: Total Perspectives reserves the right to substitute speakers and/or times due to circumstances beyond our control.
LIABILITY: Each attendee assumes all risks incidental to the event/conference and Total Perspectives shall not be liable for bodily injury, property damage, theft or losses suffered or incurred by the attendee while attending the event/conference.
CANCELLATIONS: There are no refunds or credits on account if you are unable to attend this event. Tickets are completely transferable, however - in the event you are unable to attend, you may transfer your ticket to a third party. Notification to Total Perspectives of ticket transfer is not necessary, this can be done via your Eventbrite ticketing account. All trademarks shown are the property of their respective owners.