Description
We'd like you to join us for our first Leaders in Tech: Munich event of the year!
We'll explore what makes e-commerce Companies Like Zalando, Home24 or AboutYou successful? What did they do right and why do classic companies fail regularly?
Alexander Damm on MVP development, software ownership, methodologies for prioritizing requirements and the question of why an 800-line requirement sheet is a direct route to the failed mammoth project!
Alexander Damm studied digital media technology at the TU Ilmenau. Subsequently, as an Account Manager at Mediawave internet solutions GmbH, he headed numerous e-commerce projects for international clients. In his current role, he has been responsible for marketing and sales since 2013. He also advises Mediawave on customer projects. As a digital commerce expert, Alexander Damm regularly serves as a speaker at conferences and author of technical papers.
You will then have the opportunity to exchange views with colleagues on market trends and technologies. Take the opportunity to cultivate and expand your network.
_______________________
Agenda:
19:00 - 19:30 Arrival, food, drinks and networking
19:30 - 20:00 Presentation by Mr. Damm followed by a Q&A afterwards
20:30 - 21:30 Networking
The event is free as always and the talk will be in German.
For those of you who may be new to the group, this is a community for Senior Technology Leaders such as CTOs, CIOs, VPs and Heads of IT, we provide a platform for them to meet with fellow their peers from established and/or innovative businesses in Berlin.
We share best practices, discuss up and coming advances in technology/methodologies & generally connect with like-minded individuals with similar interests/challenges.
_________________________________________________________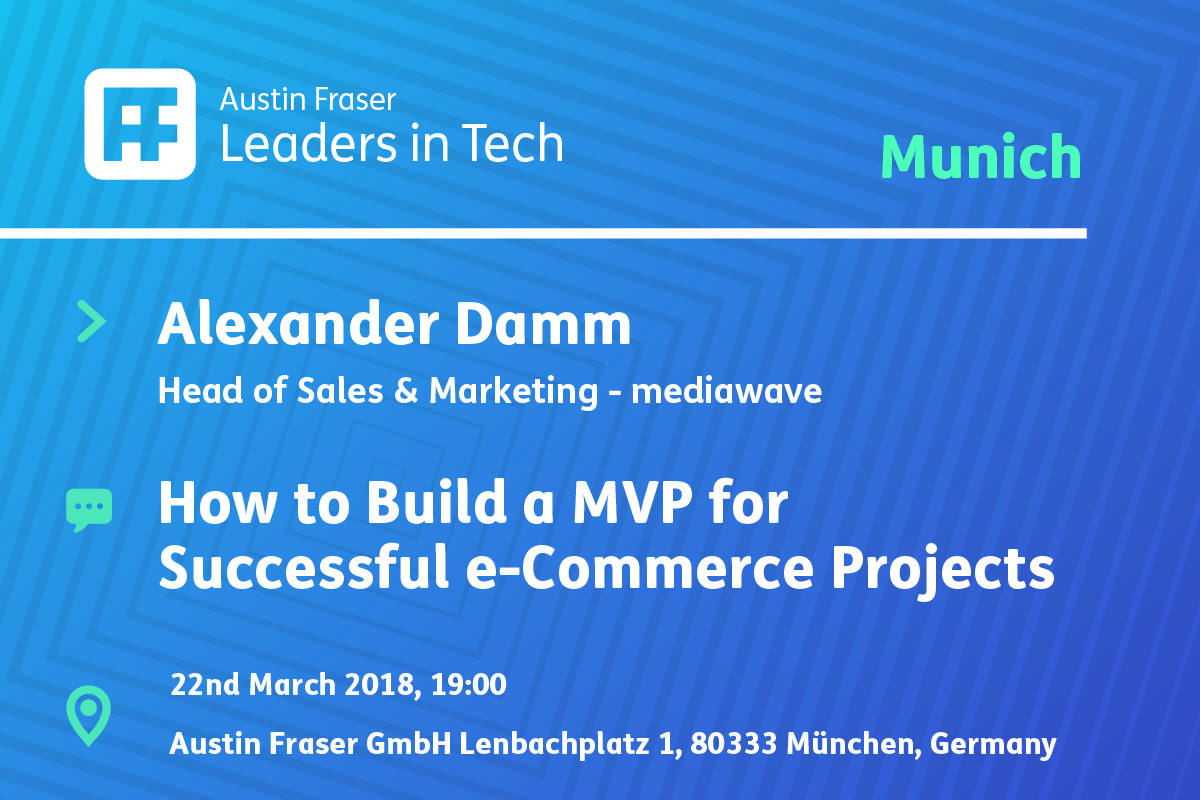 Wir freuen uns, das erste Leaders in Tech München MeetUp 2018 ankündigen zu dürfen.
Thema: "How to build a MVP for successful Digital Commerce Projects?"
Was macht E-Commerce Unternehmen wie Zalando, Home24 oder AboutYou erfolgreich? Was haben sie richtig gemacht und woran scheitern klassische Unternehmen regelmäßig? Alexander Damm über MVP-Entwicklung, Software Ownership, Methodiken zur Priorisierung von Anforderungen und die Frage, warum ein 800 Zeilen langes Anforderungssheet der direkte Weg ins gescheiterte Mammut-Projekt ist!
Dipl.-Ing. Alexander Damm hat an der TU Ilmenau Digitale Medientechnik studiert. Anschließend leitete er als Account Manager bei der mediawave internet solutions GmbH zahlreiche E-Commerce-Projekte für internationale Kunden. In seiner jetzigen Rolle verantwortet er seit 2013 die Bereiche Marketing und Vertrieb. Daneben unterstützt er bei mediawave für Kunden-Projekte beratend. Als Digital Commerce Experte ist Alexander Damm regelmäßig als Speaker auf Konferenzen und als Autor von Fachbeiträgen tätig.
Im Anschluss haben Sie die Gelegenheit, sich mit Kollegen bezüglich Markttrends und Technologien auszutauschen. Nutzen Sie die Gelegenheit, Ihr Netzwerk zu pflegen und zu erweitern.
_______________________
Agenda:
19:00 - 19:30 Networking
19:30 - 20:00 Vortrag von Herrn Damm mit Q&A im Anschluss
20:30 - 21:00 Networking
Die Veranstaltung ist wie immer kostenlos.
Für das leibliche Wohl ist auch gesorgt.