Description
Leaders Now is a series of breakfast meetings aimed at the social sector and is run in partnership with The House of St Barnabas; the Soho based charity, whose not-for-profit members' club is run as a social enterprise to help London's homelessness back into lasting work. These influential figures share insights into their leadership journeys, and guests have the opportunity to engage in discussion and question and answer sessions in an intimate setting.
The free breakfast meetings are a networking space for those interested in, or working for the social sector. Through the partnership with The House of St Barnabas the events bring together current and aspiring leaders to encourage new thinking and collaboration about social and ethical leadership.
---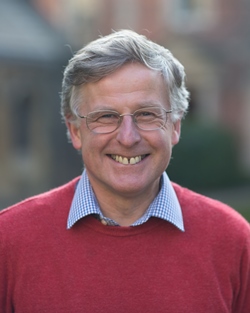 Charles Wookey, CEO, A Blueprint for Better Business
Charles Wookey is CEO of A Blueprint for Better Business, an independent charity that acts as a catalyst for change in business. Blueprint helps businesses realise their true long term potential: to serve society, respect people, rediscover their purpose and thereby earn a fair and sustainable return for investors. Charles was one of the founders of Blueprint and a key contributor to the thinking behind the Blueprint approach which asserts that people are not solely self-interested and that business is not solely driven by profit. Under his leadership Blueprint has moved from being a small initiative launched in 2012 with a conference that looked at how corporate purpose and personal values could be united to serve society, to an independent charity that is engaged with a growing number of major global companies and whose ambition is to help corporates be truly purpose driven, acting to deliver clear benefits to society as well as delivering long term sustainable performance. From the outset Blueprint has sought to bring together all strands of society. He qualified as a Chartered Accountant at KPMG in London and holds a BA in Physics and Philosophy and a Postgraduate Diploma in Theology from Merton College, Oxford. Charles worked as a senior research officer at the Institute for Fiscal Studies and as a Clerk at the House of Commons where he was Clerk to the Trade and Industry select committee. He went on to become assistant general secretary of the Catholic Bishops' Conference of England and Wales, where he was principal advisor to the Bishops on domestic public policy issues.
---
Check Clore Social Leadership website for more details and news, and sign up to our newsletter for up to date information. Follow us on Twitter @CloreSocial.
If you would like to find out about how you can support the work of The House of St Barnabas, please get in touch via contact@hosb.org.uk 0207 437 1894 or visit their website www.hosb.org.uk
Twitter: @HoStBarnabas